resume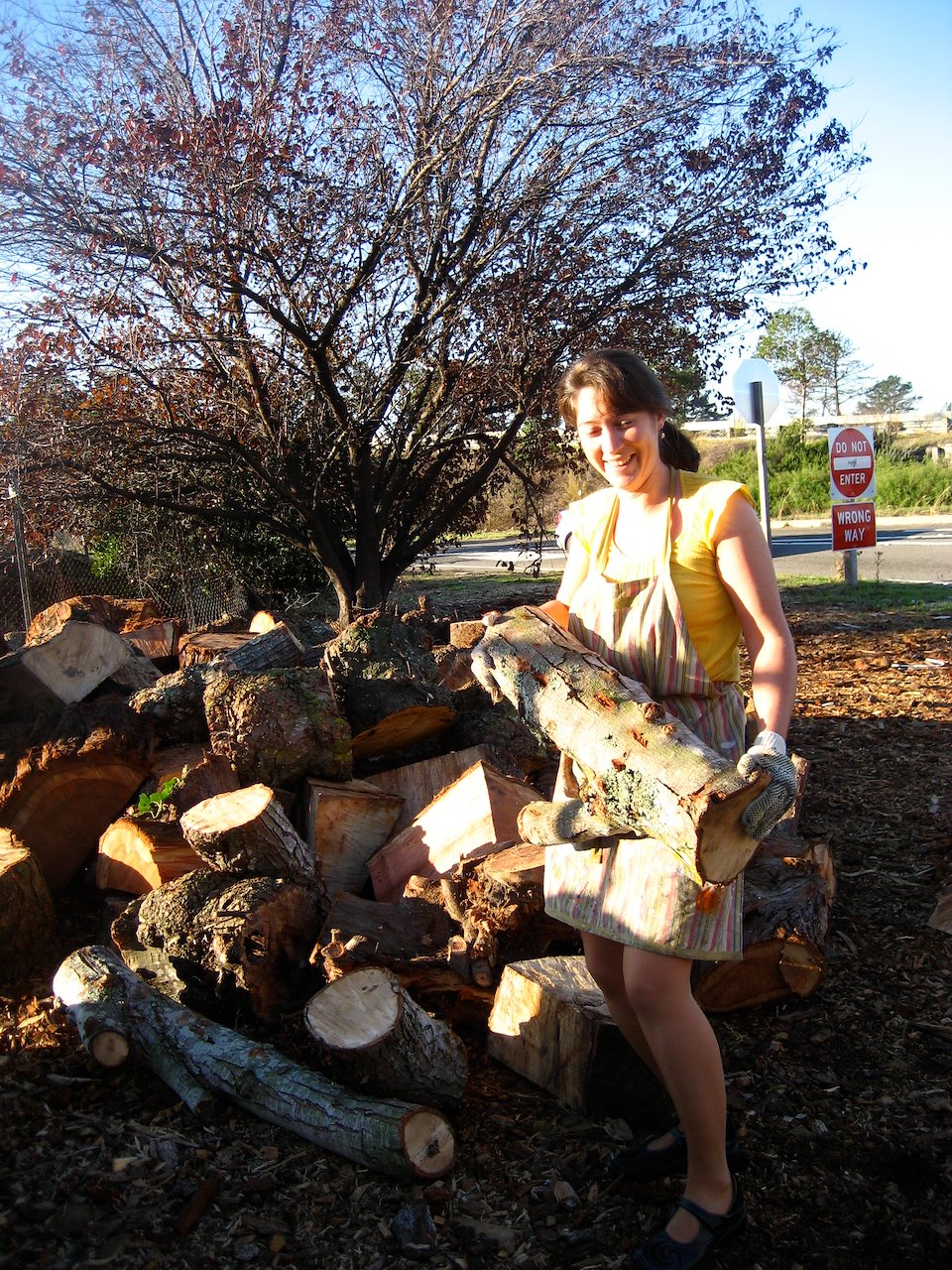 sourcing wood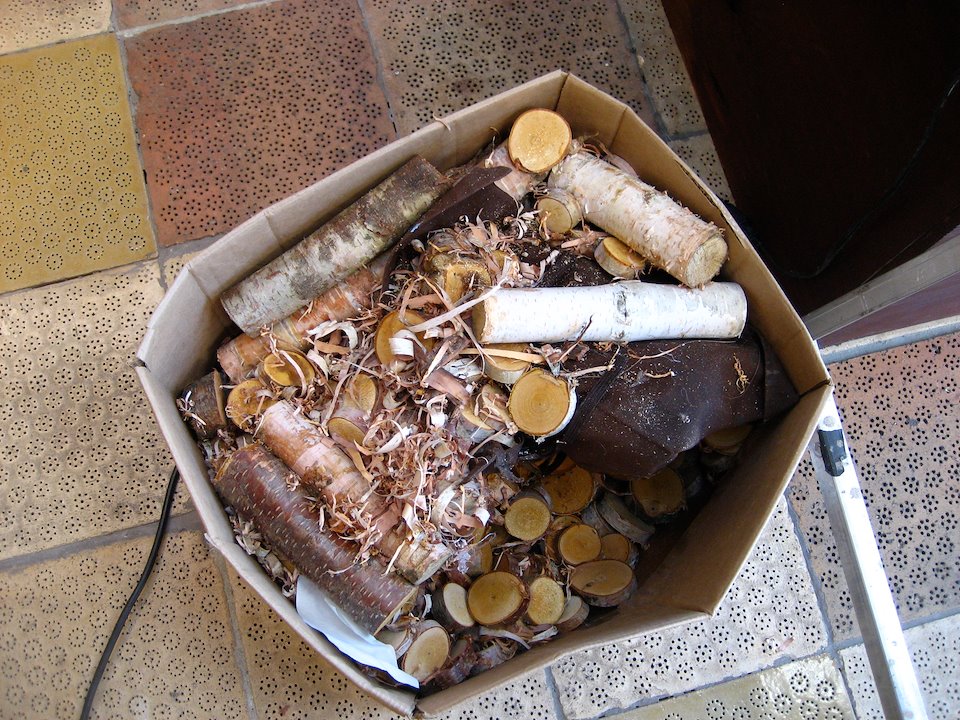 cut up disks of birch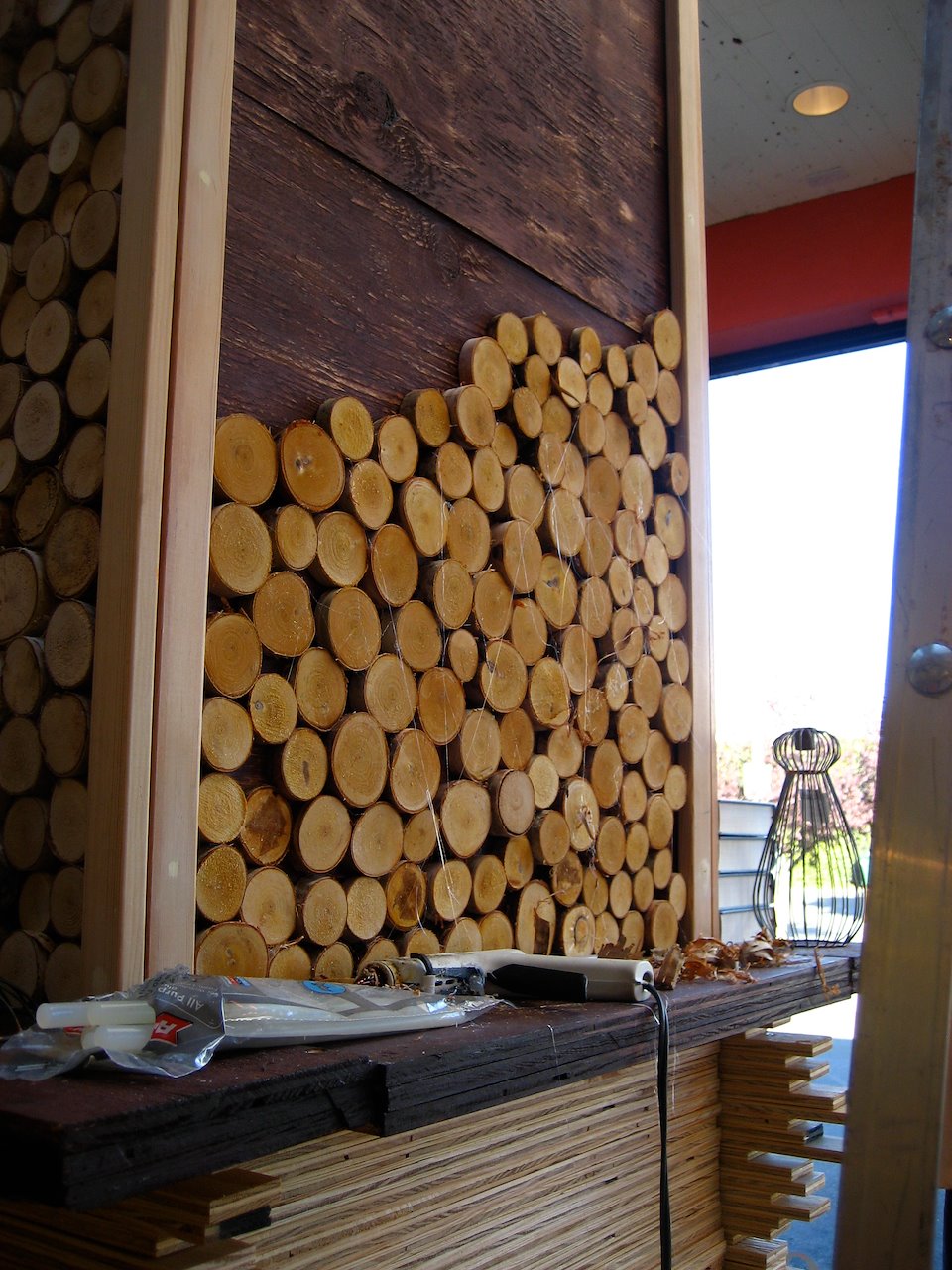 wood gluing fireplace chimney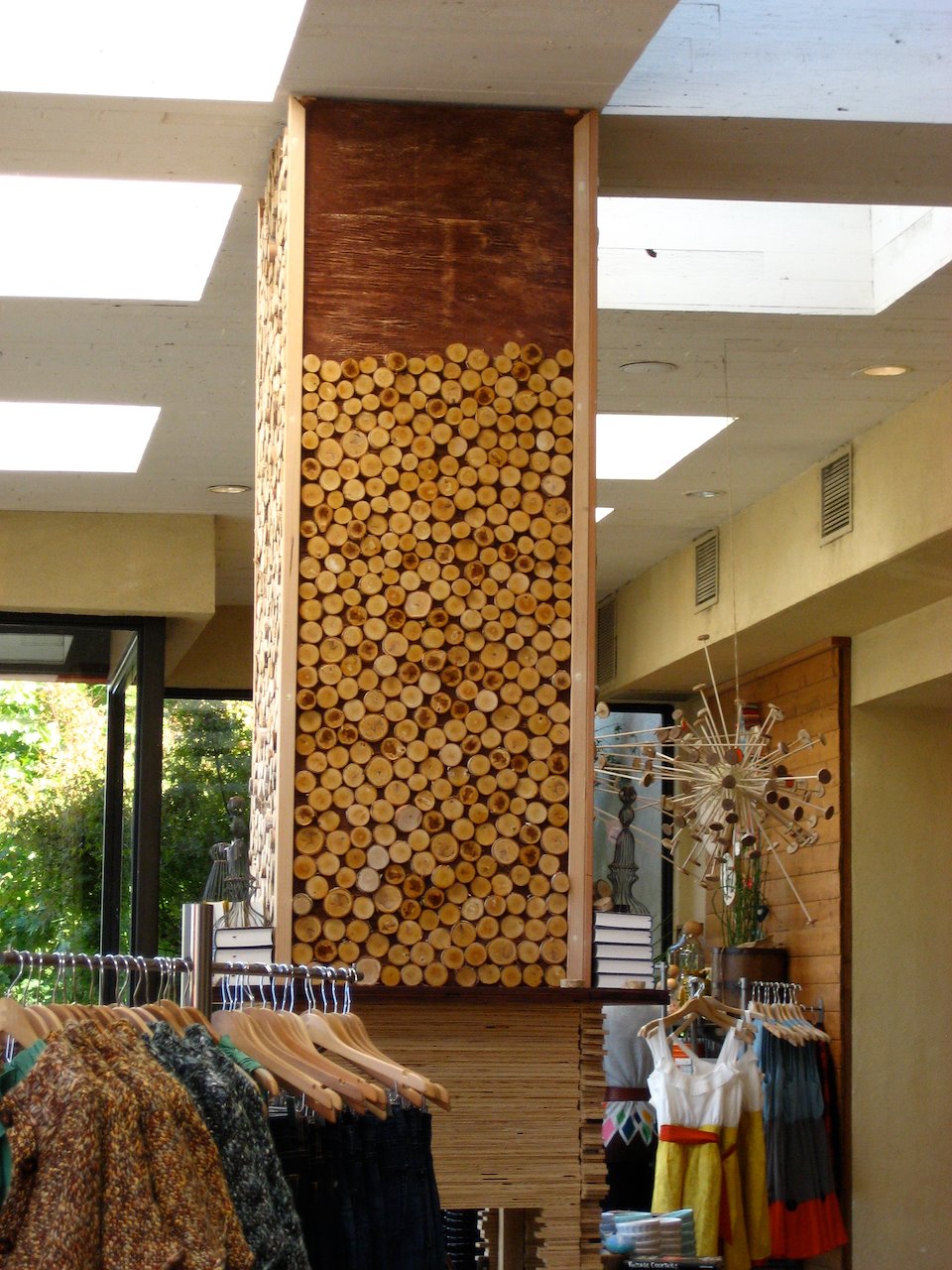 working building fireplace chimney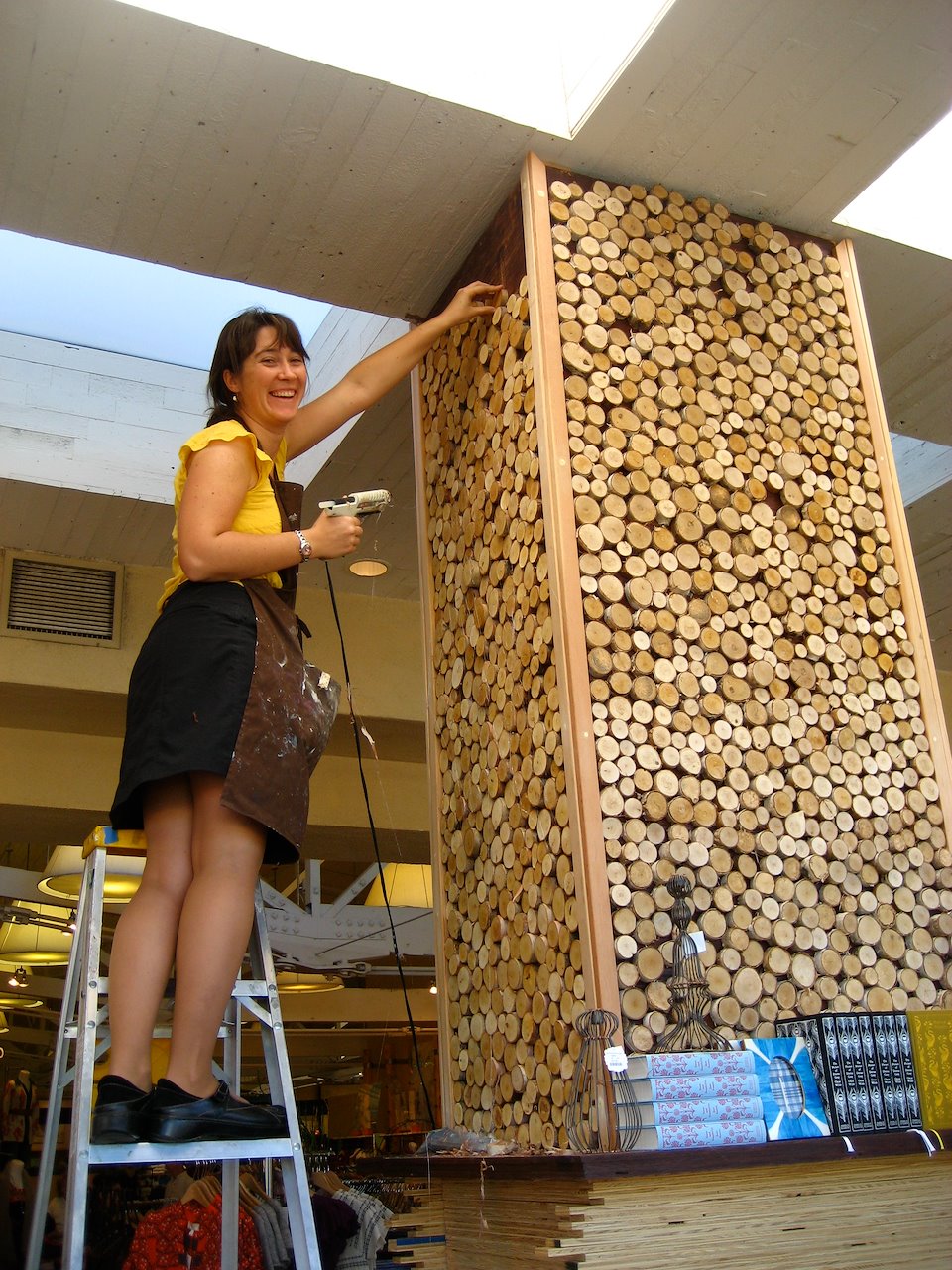 finished installation of pop up fireplace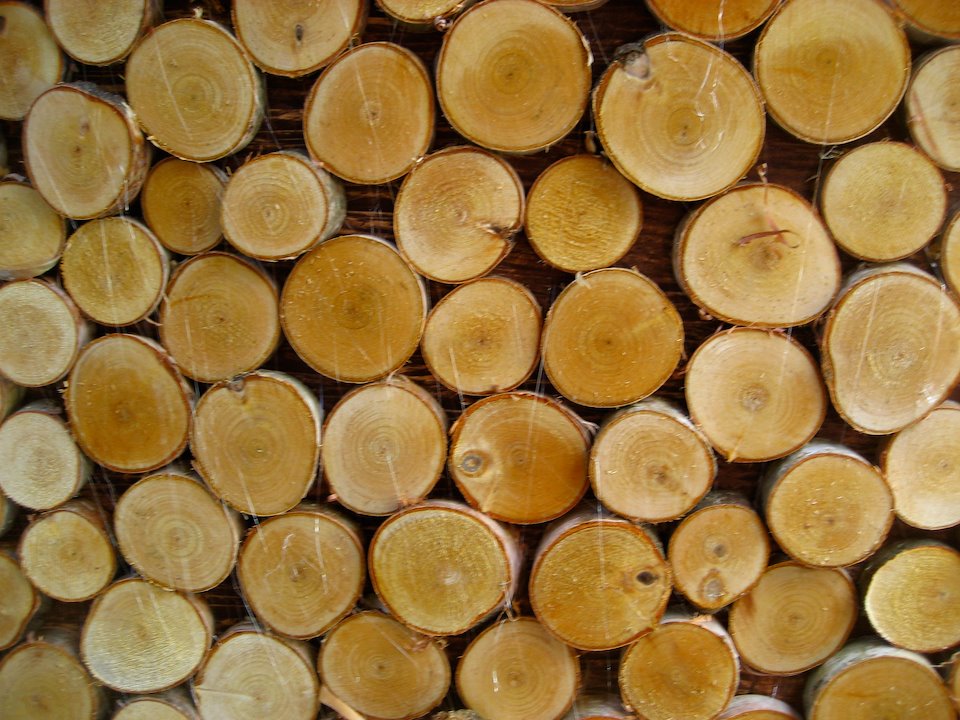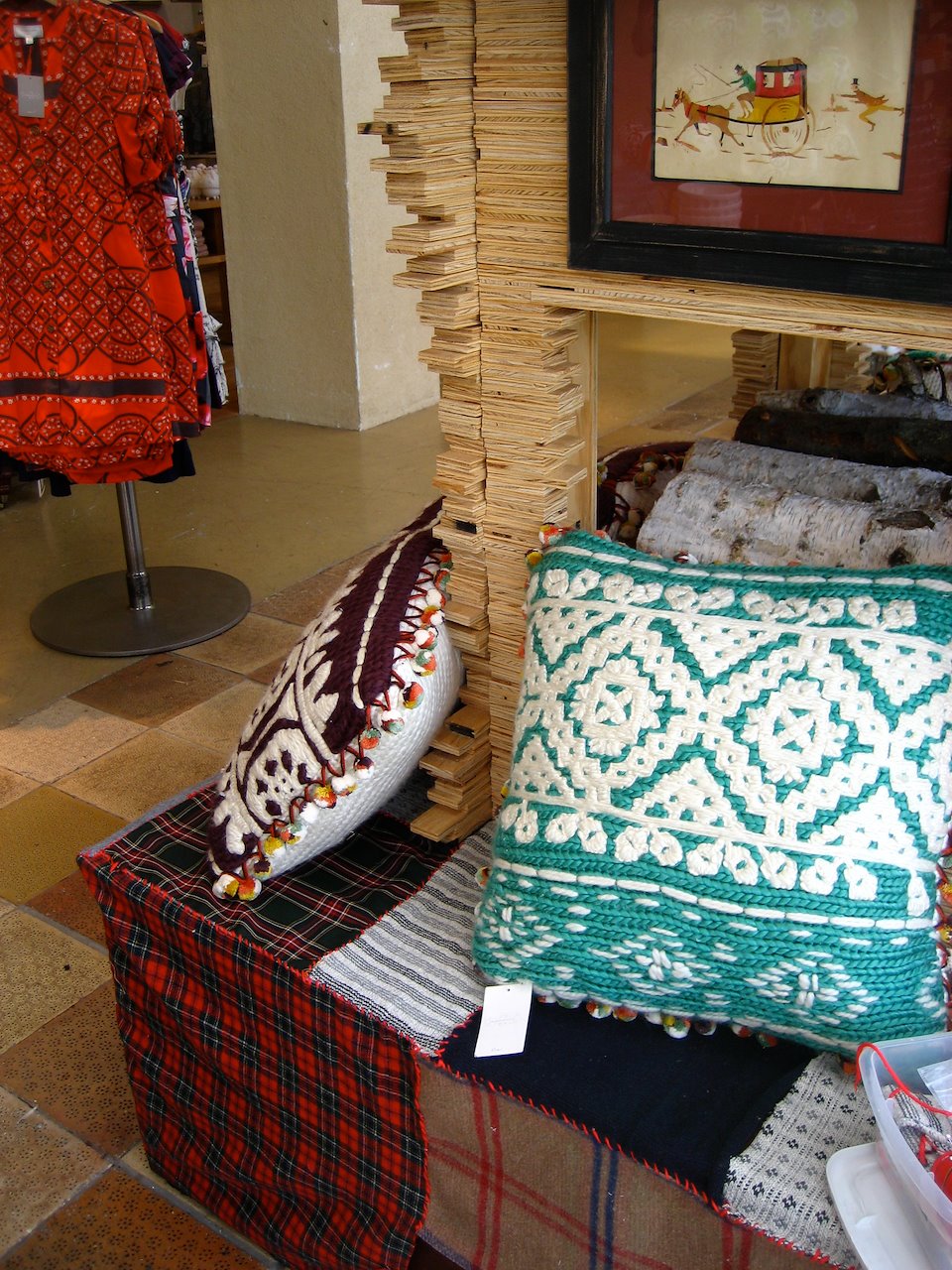 Hand sewn patchwork bench around fireplace to showcase cushions
close up detail of patchwork bench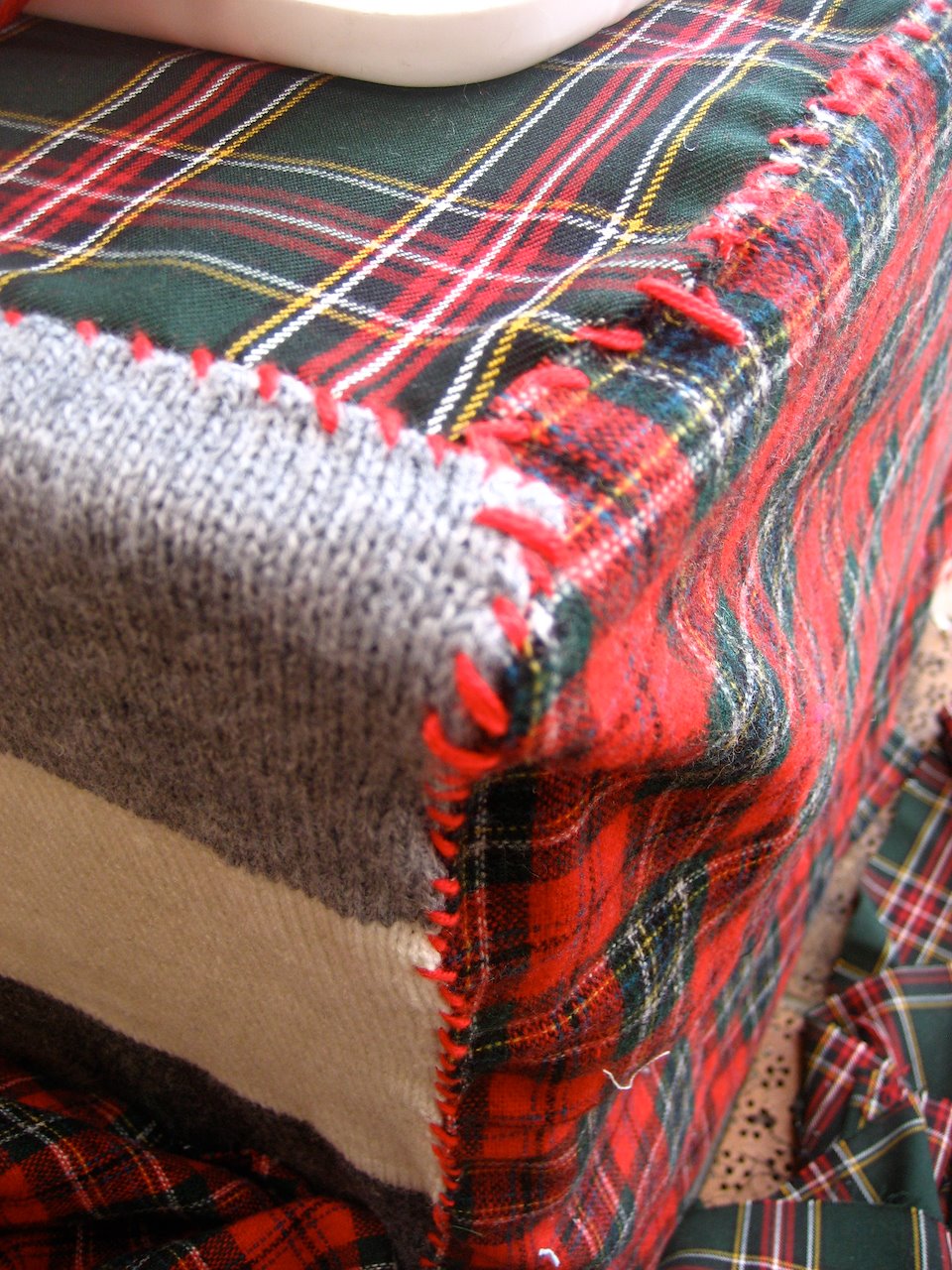 closeup detail of blanket stiching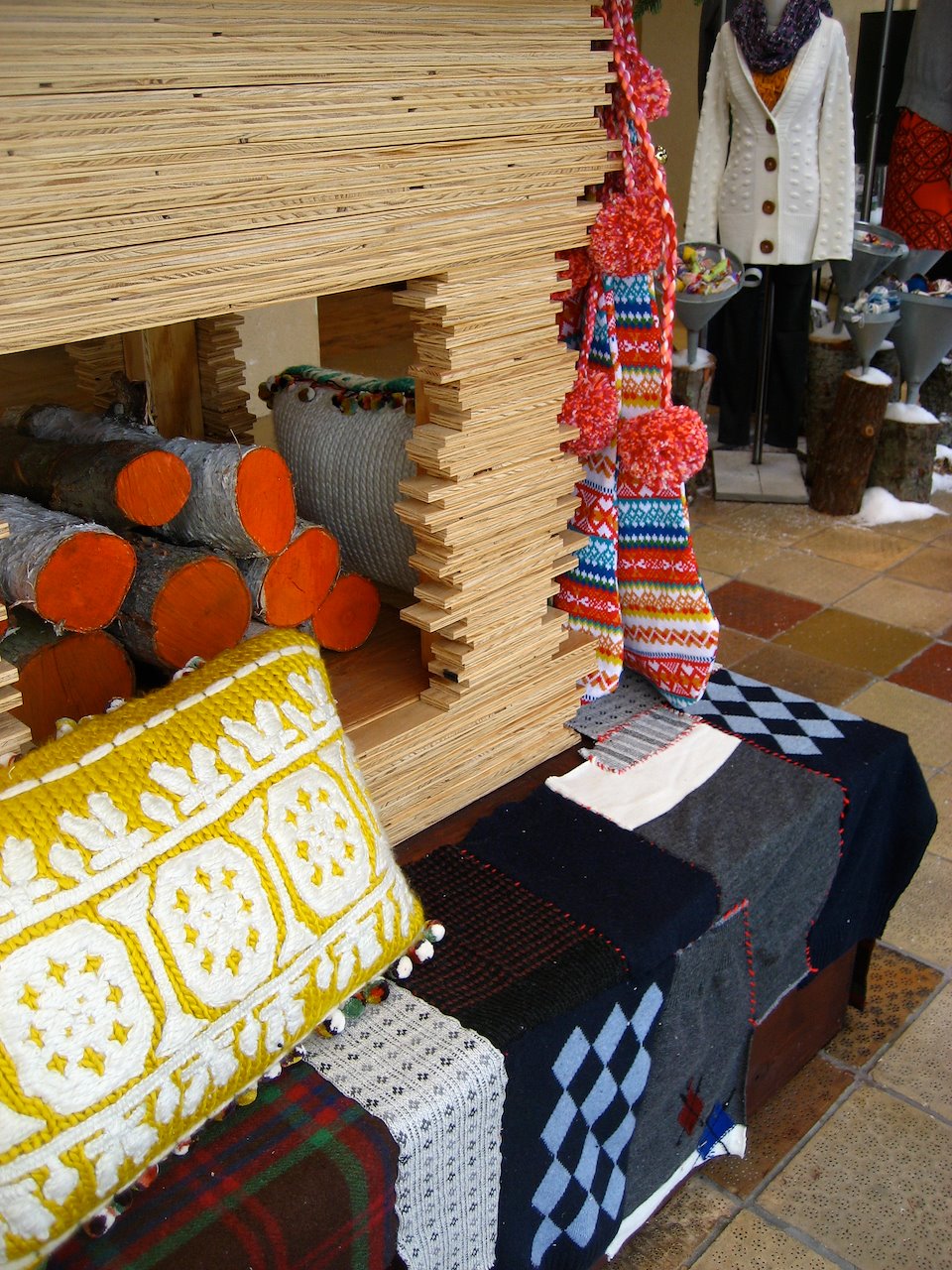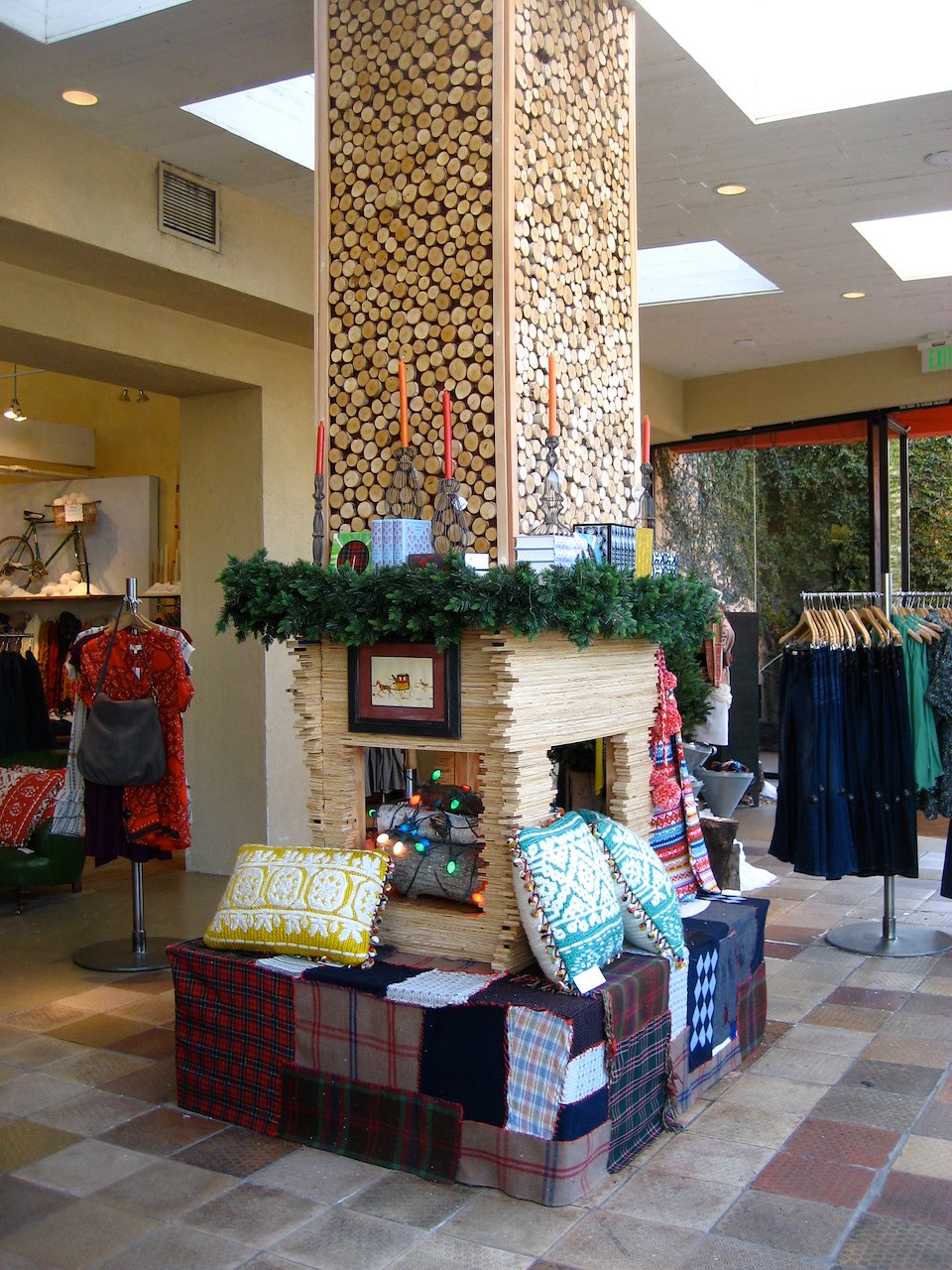 Finished fireplace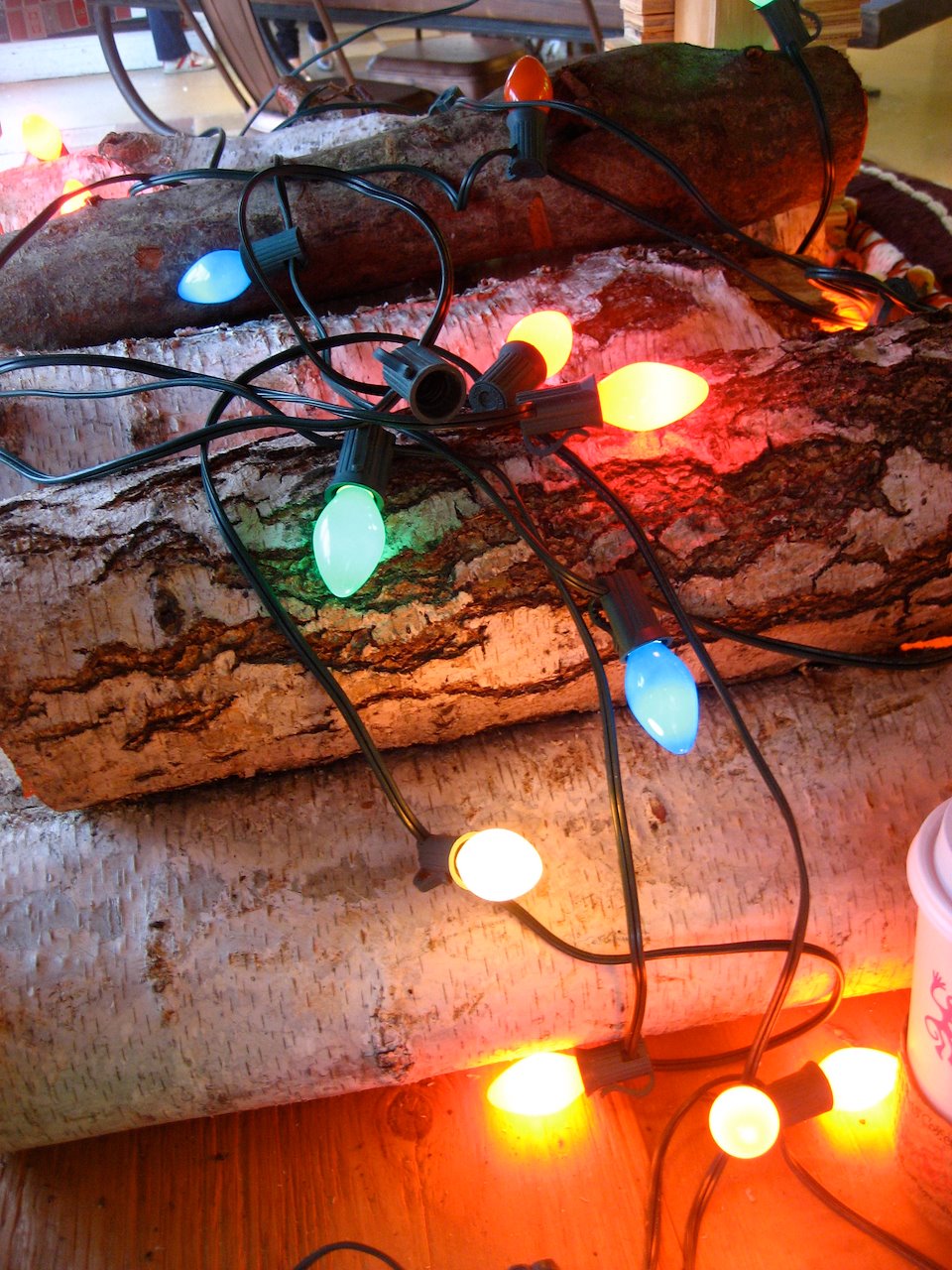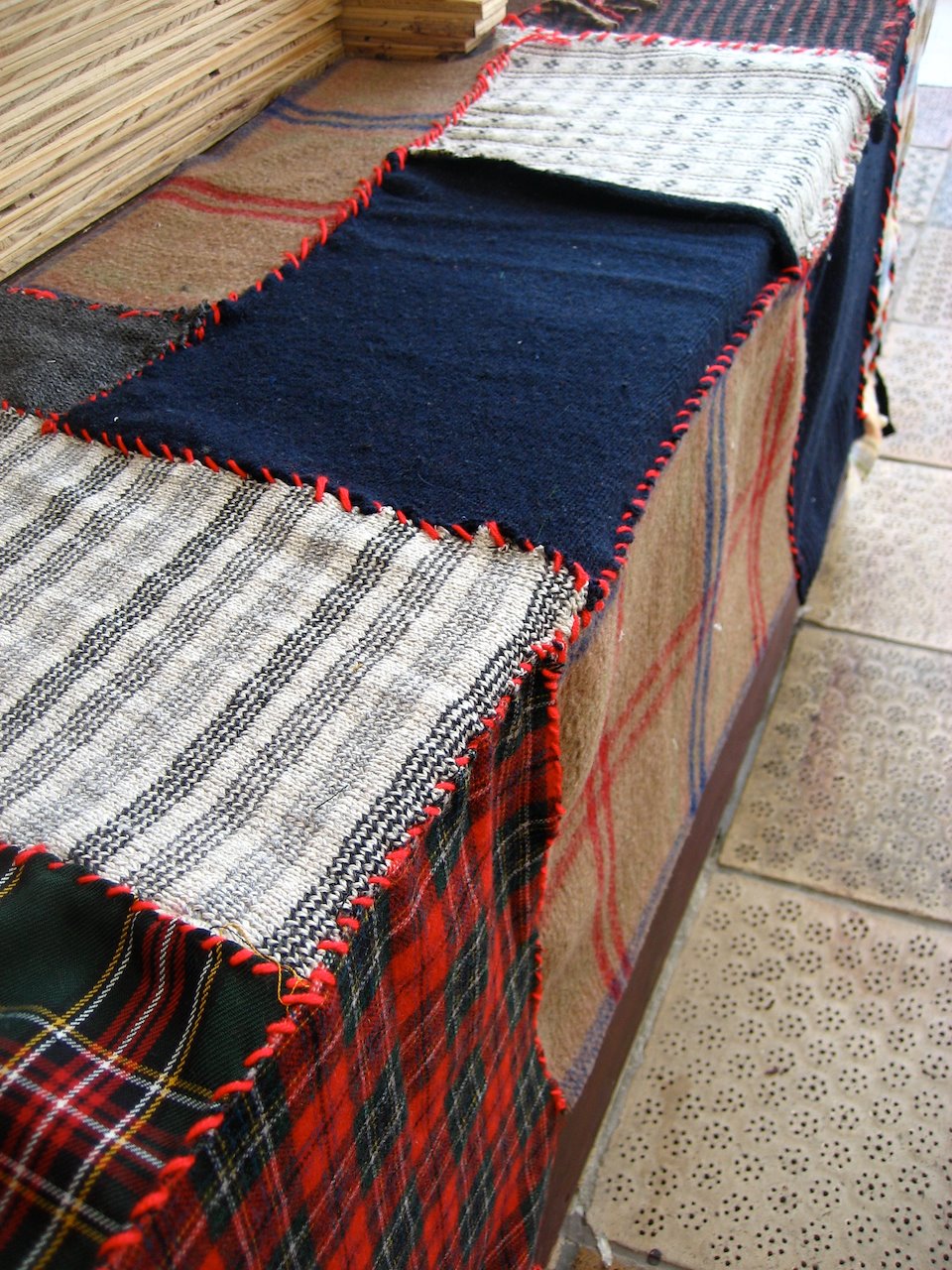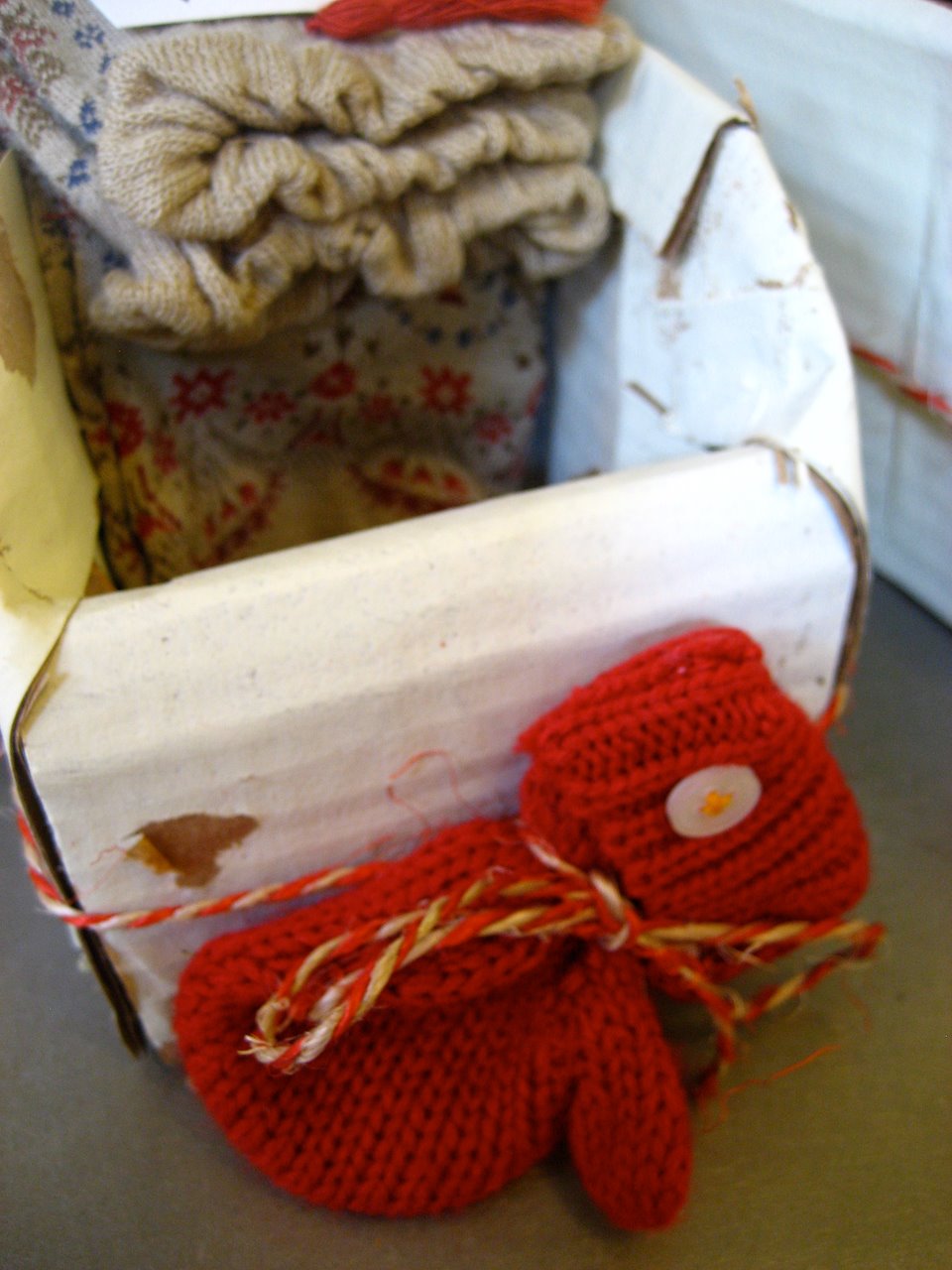 Display box add on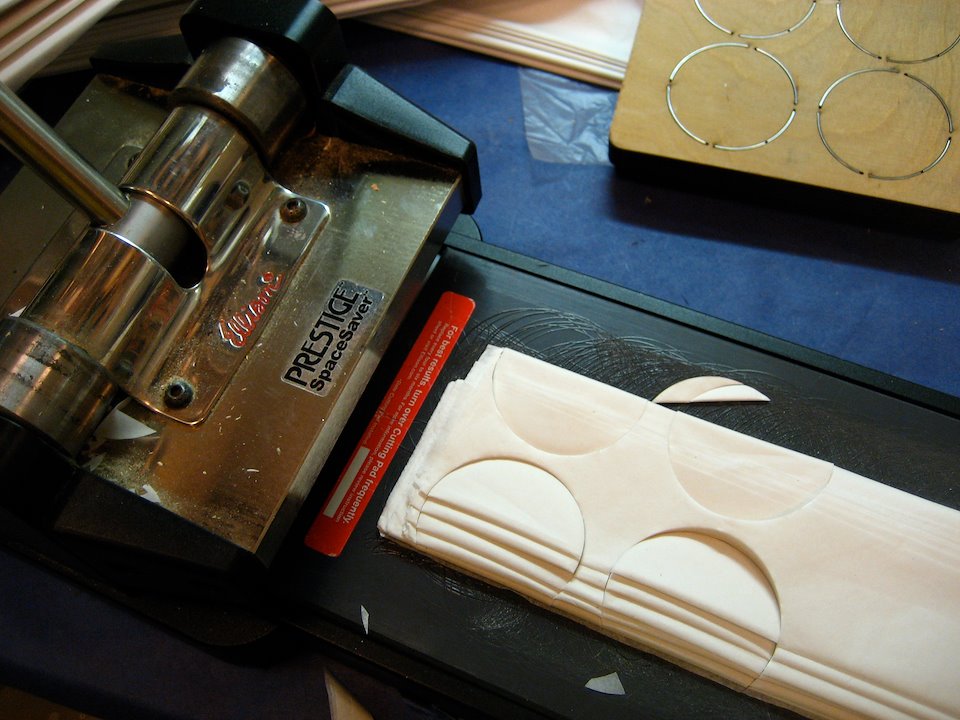 Using a Die cutter to create circle shapes for pouf installation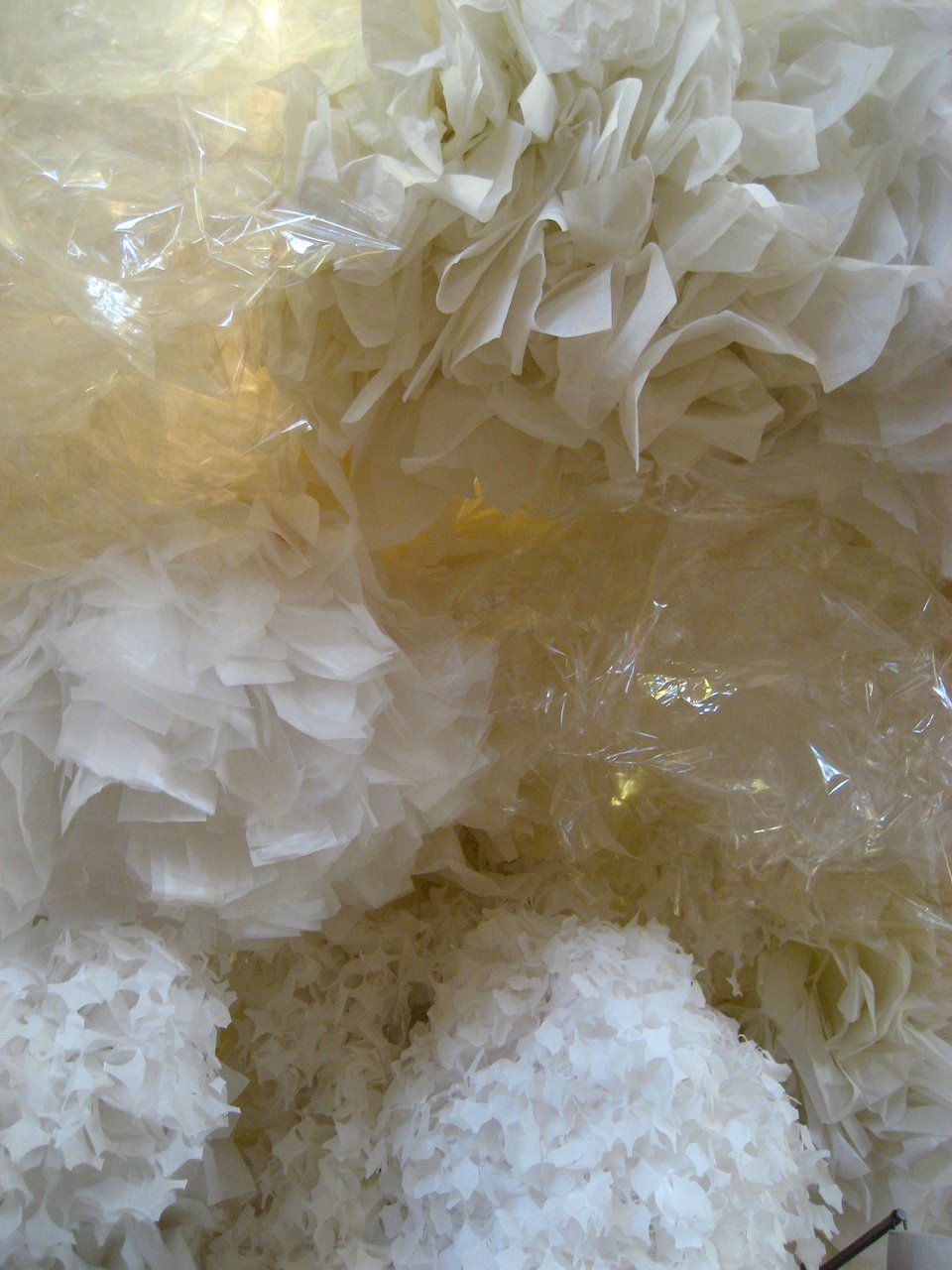 Snow pouf Installation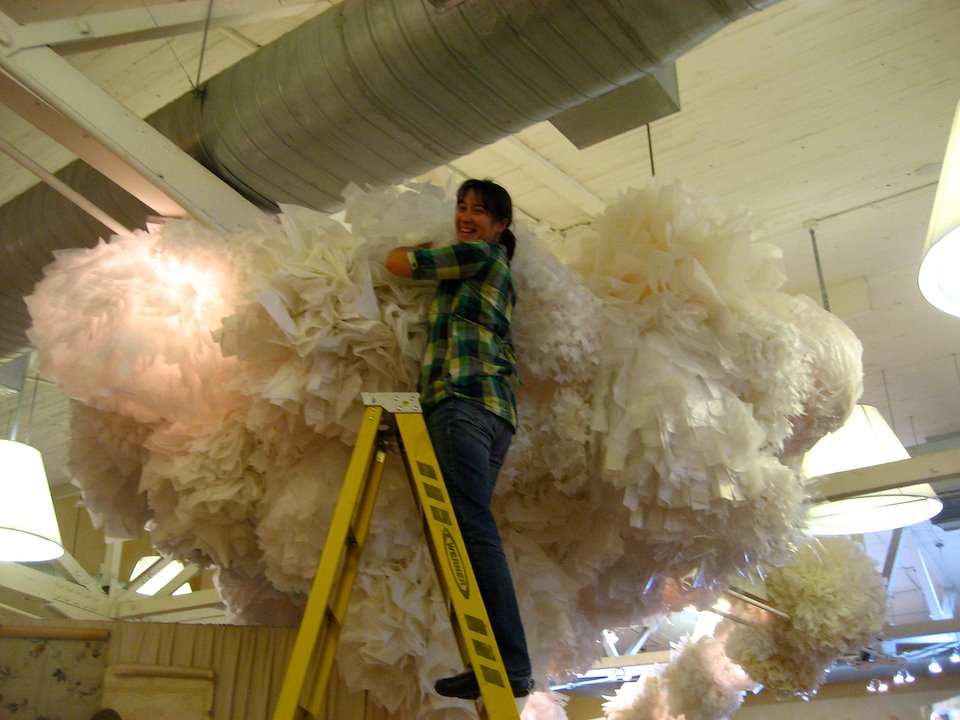 Installing snow pouf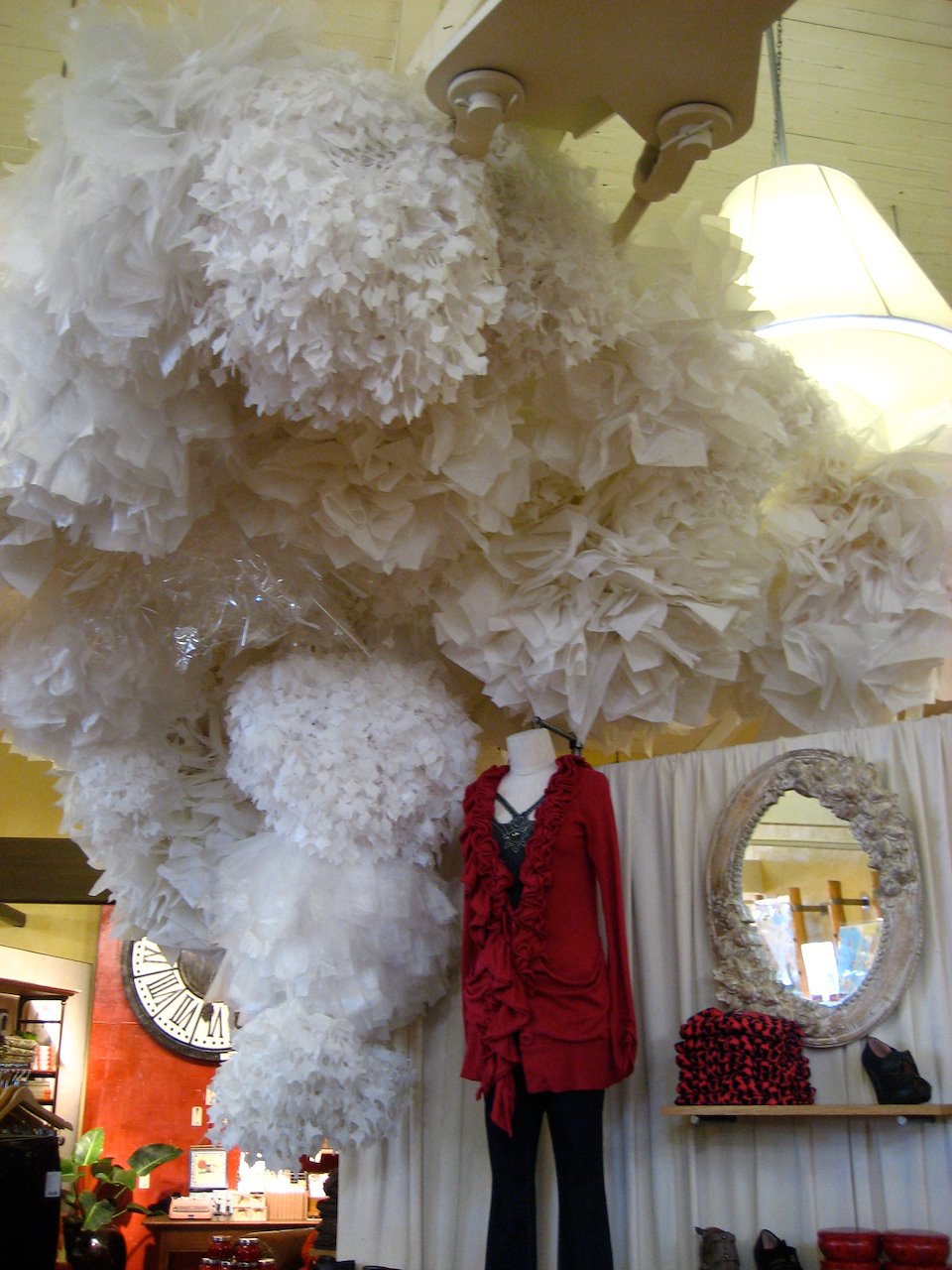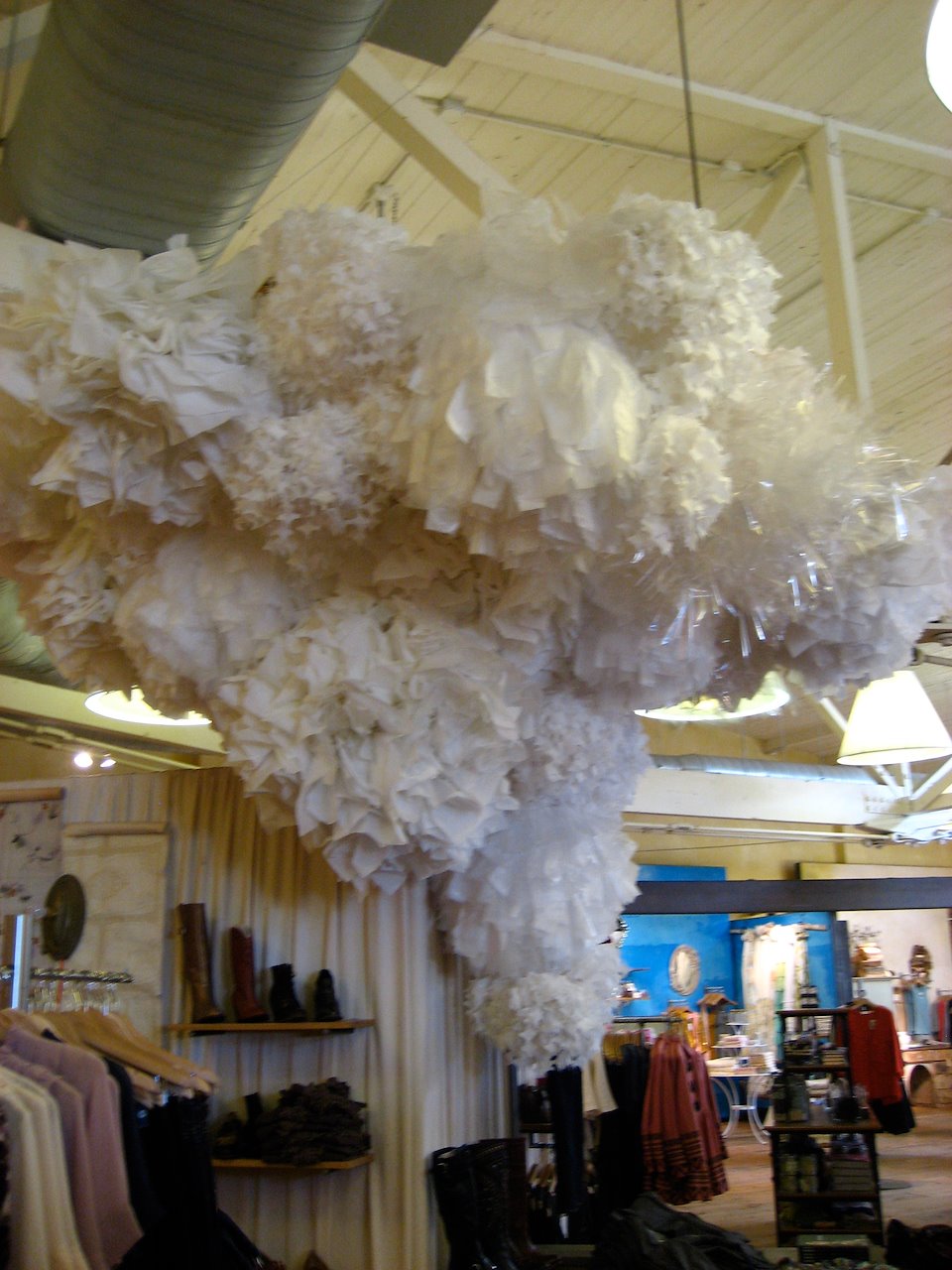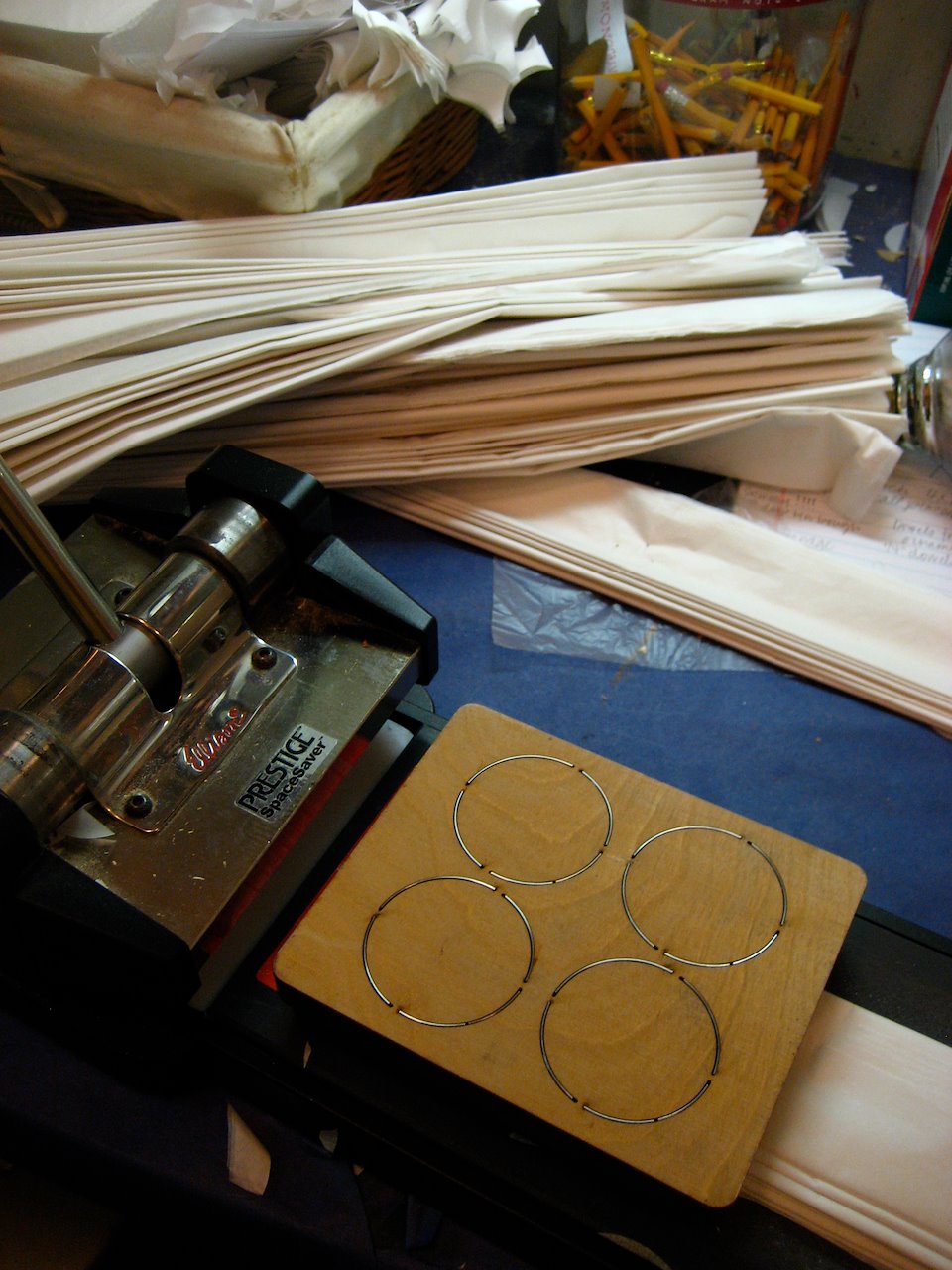 Die cut circle machine to cut tissue paper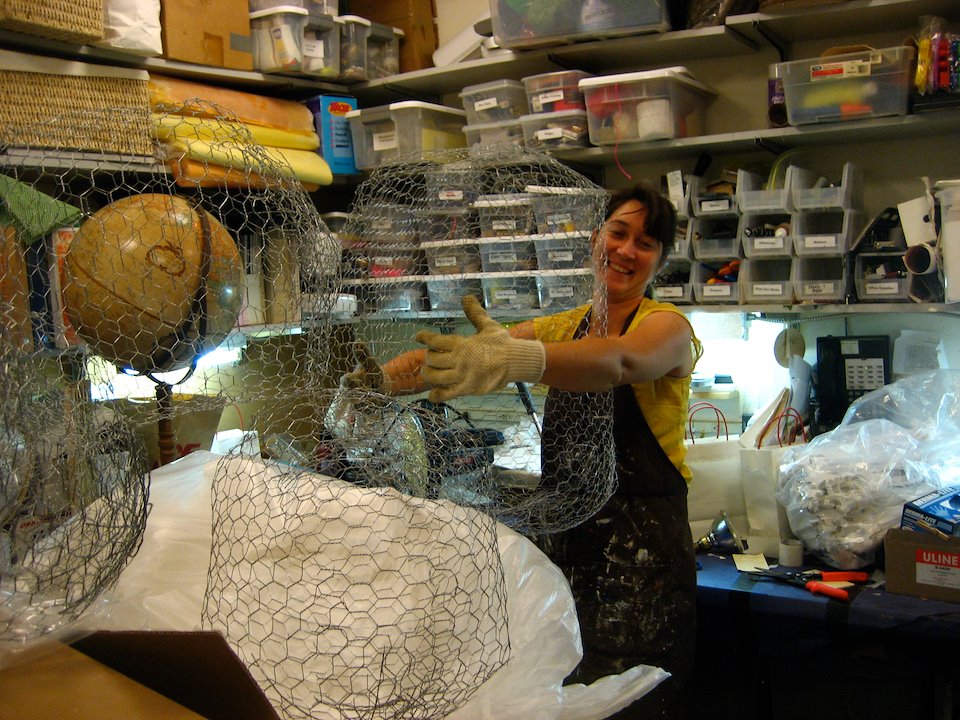 making chicken wire frame for body of pouf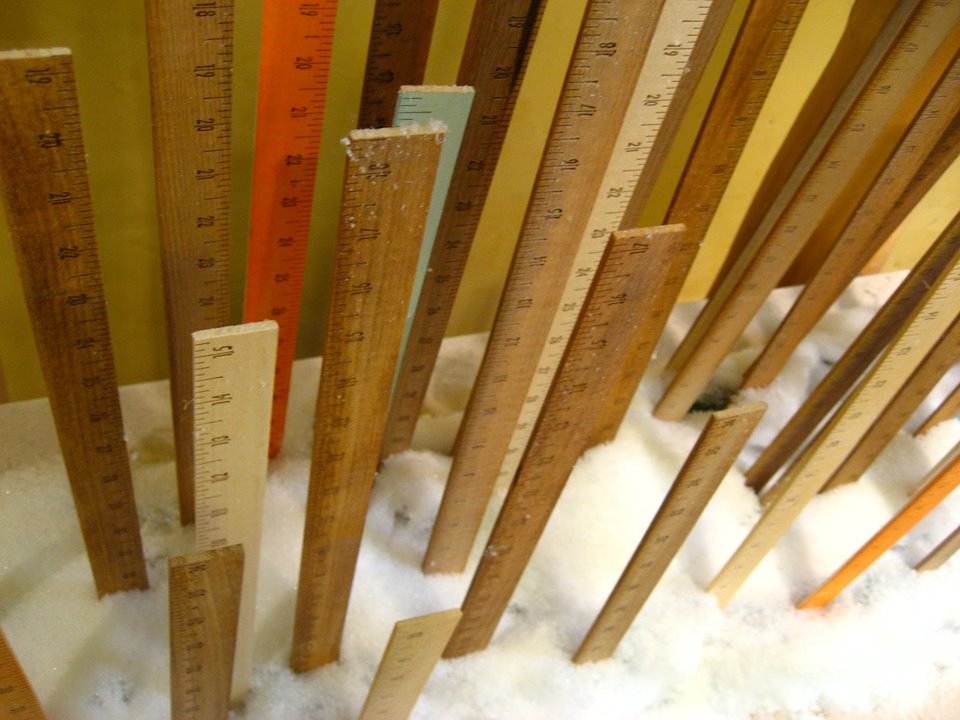 Ruler snow cityscape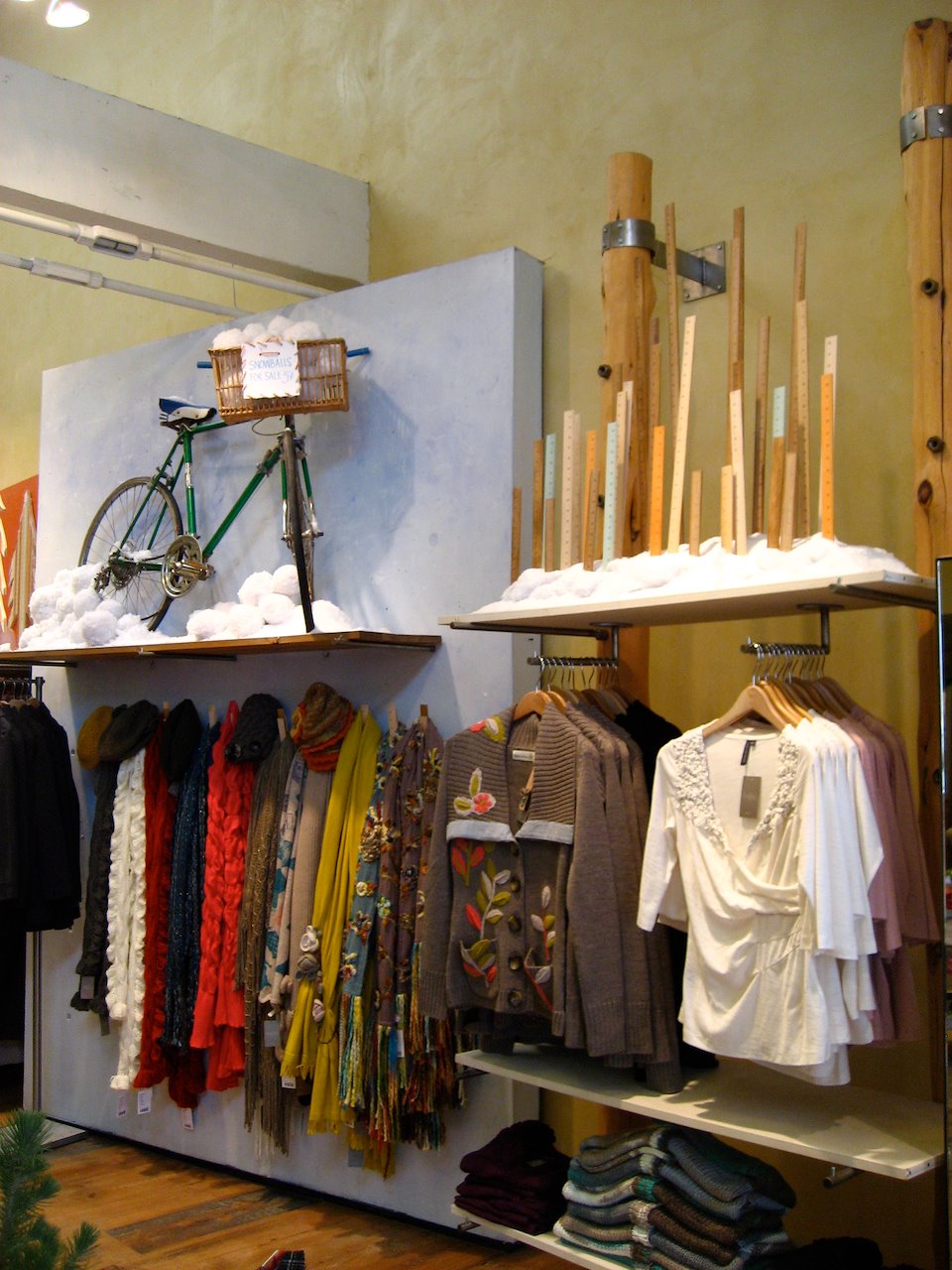 ruler and bicycle snowy cityscape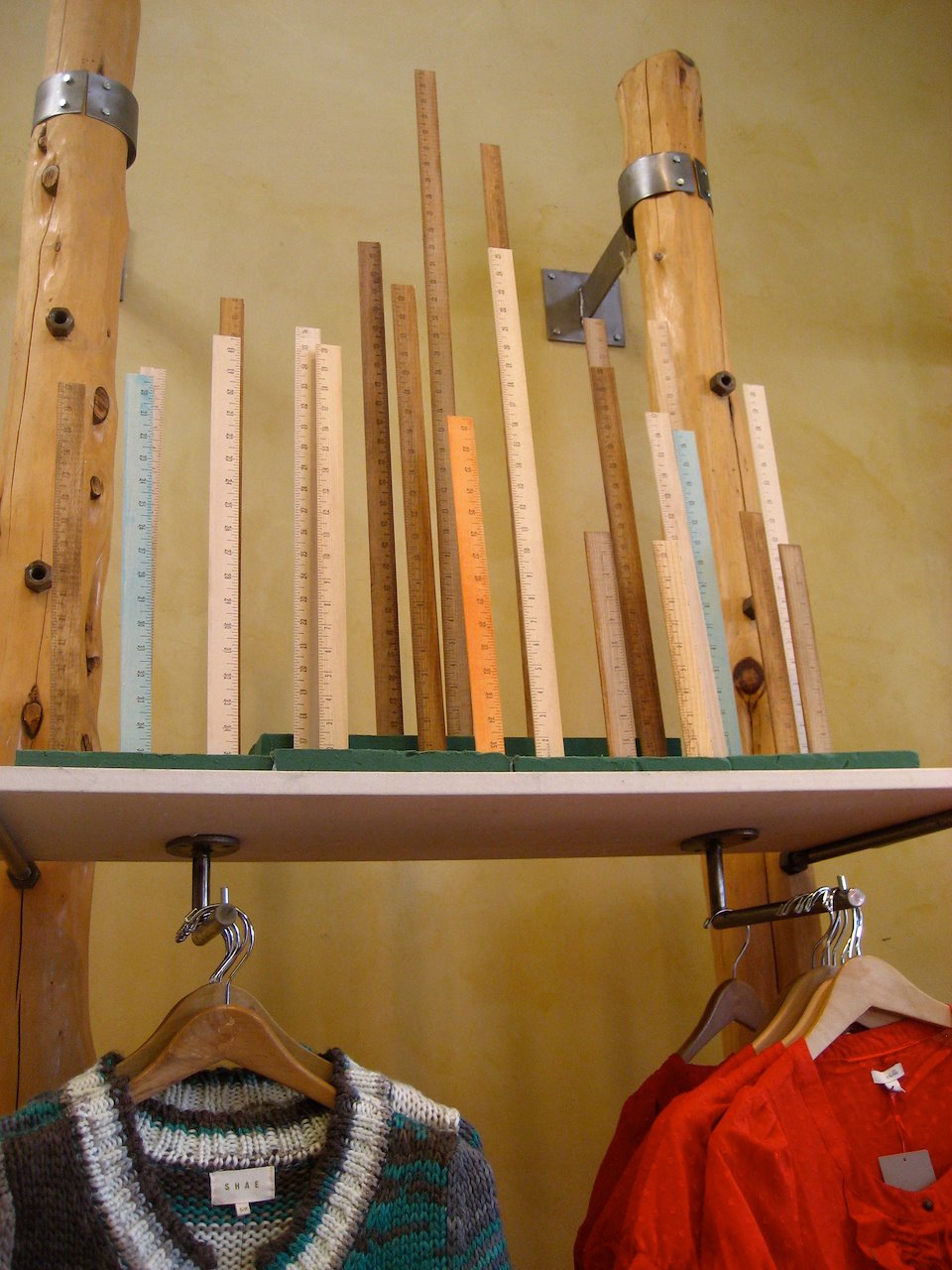 Installing ruler cityscape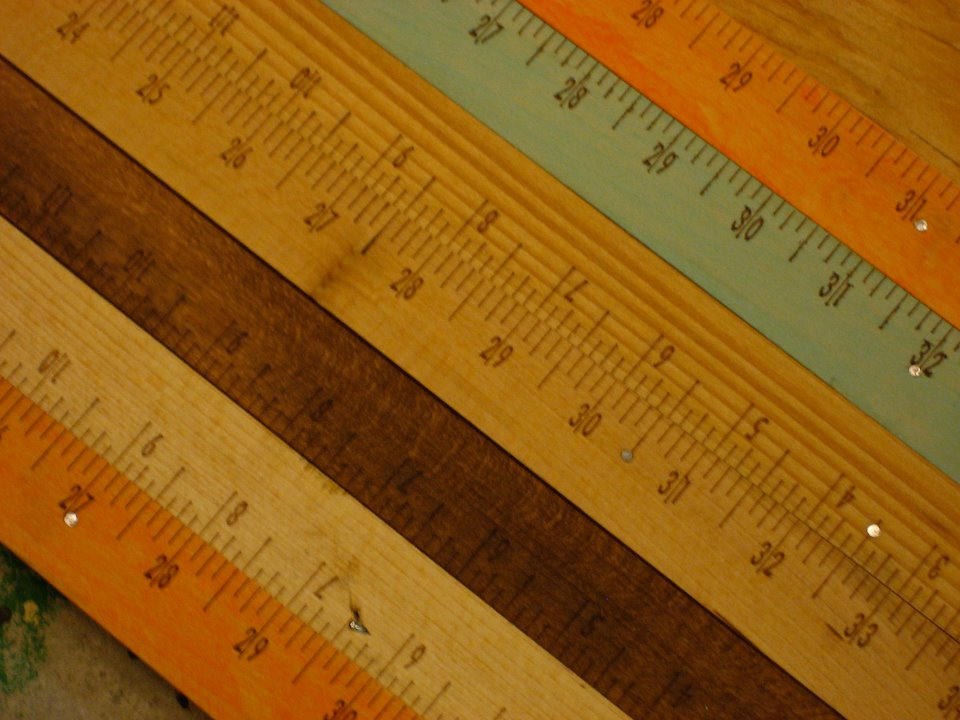 Gluing rulers together
Installing white streamers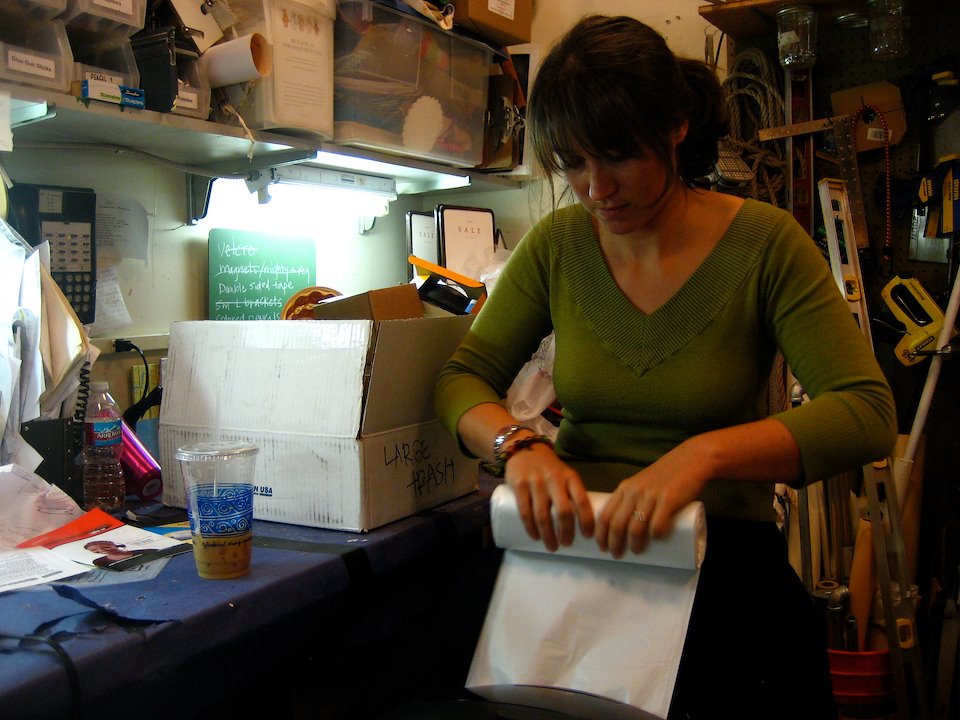 Sending white trash bags through a shredder to make streamers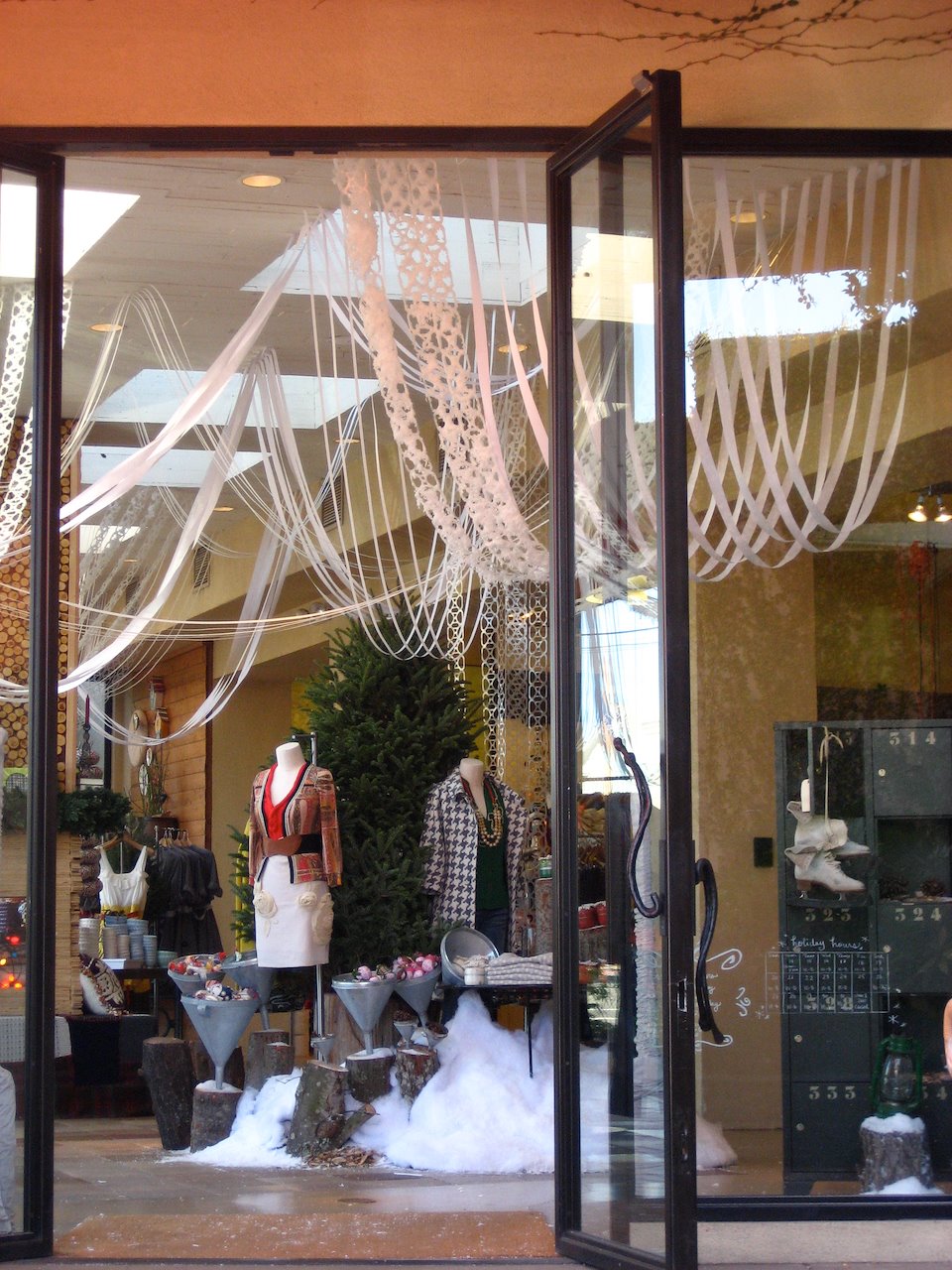 Finished white streamer instalation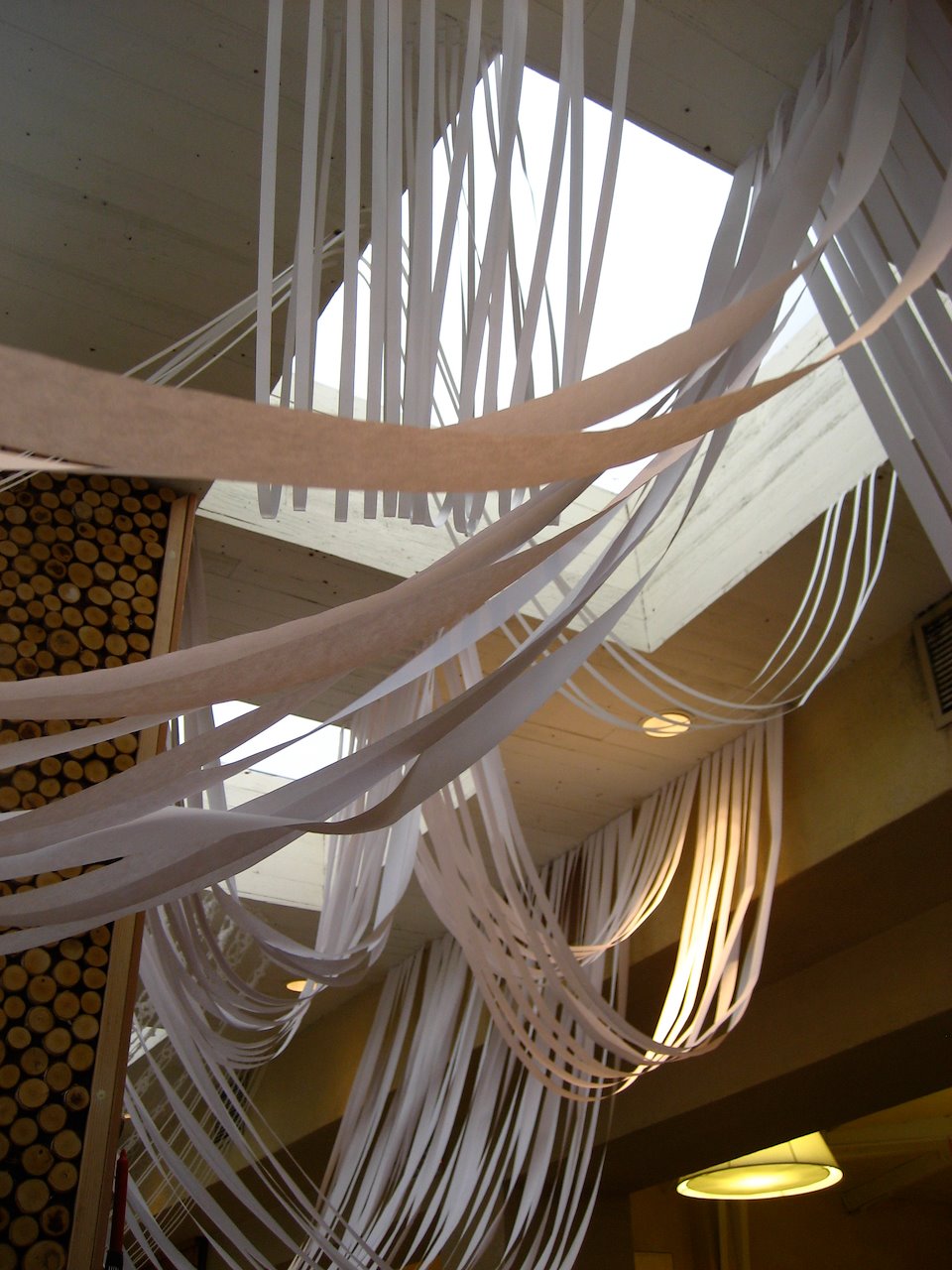 White streamer under skylight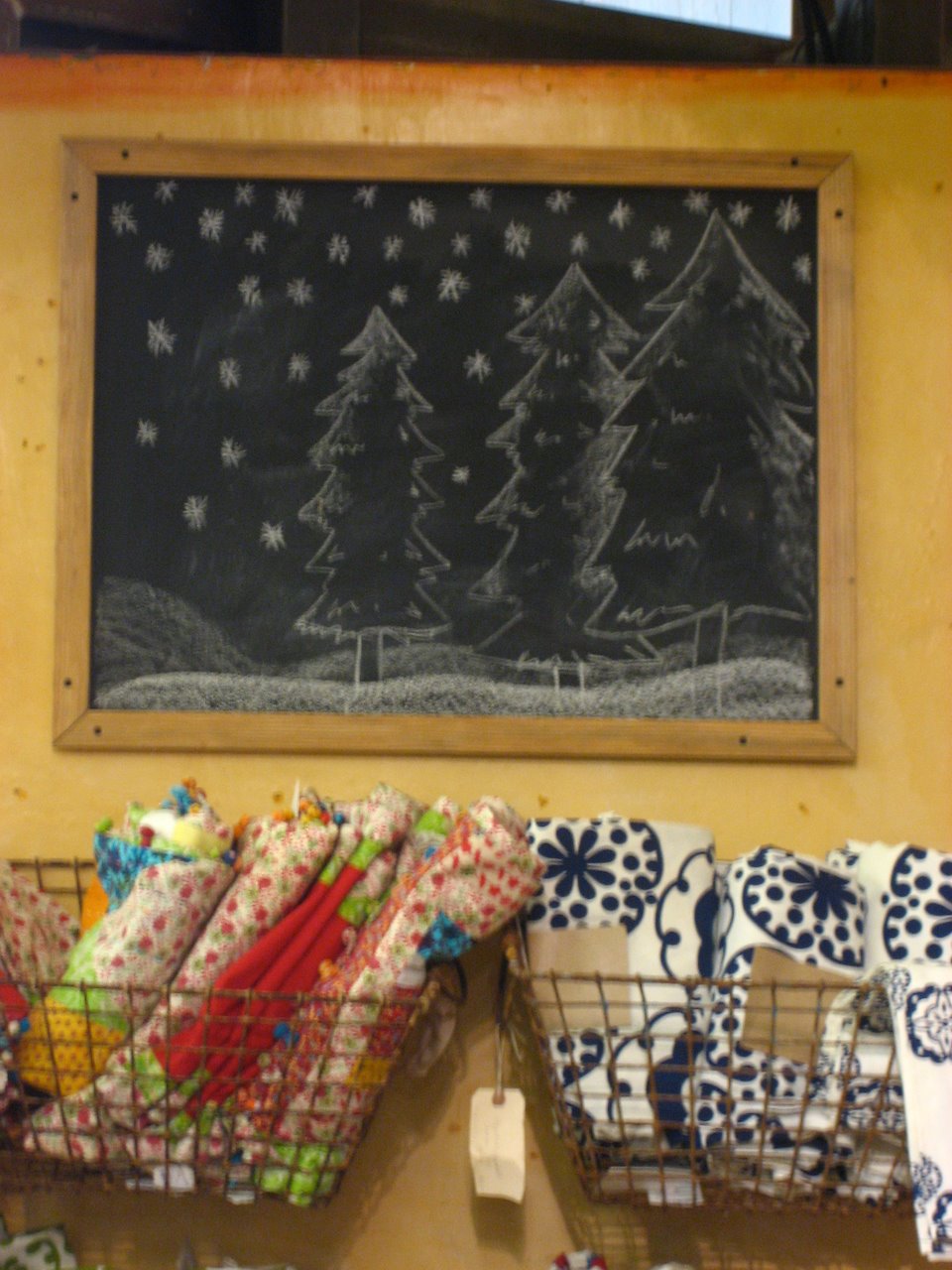 hand drawn chalk board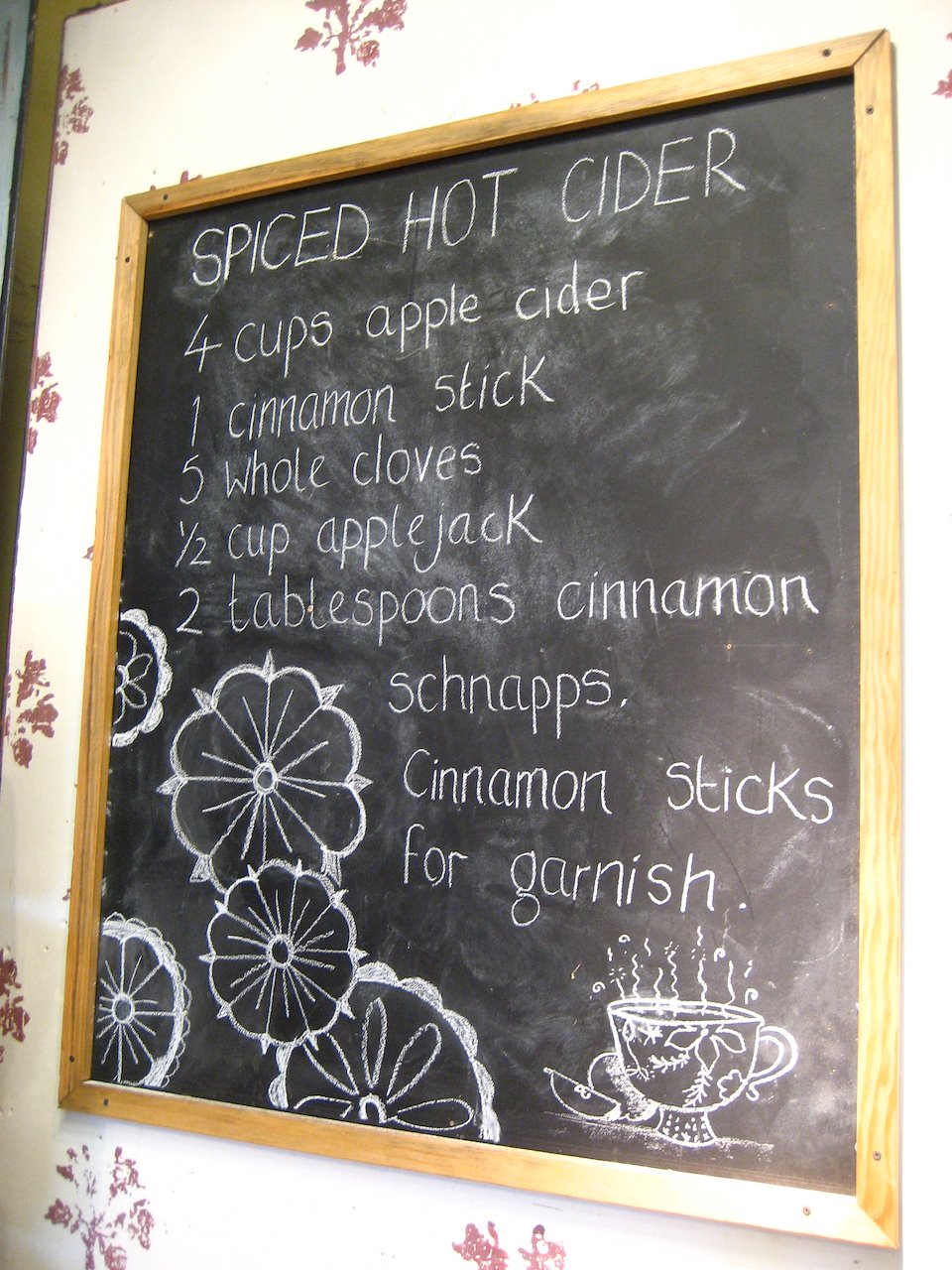 hand drawn chalkboard
hand drawn signage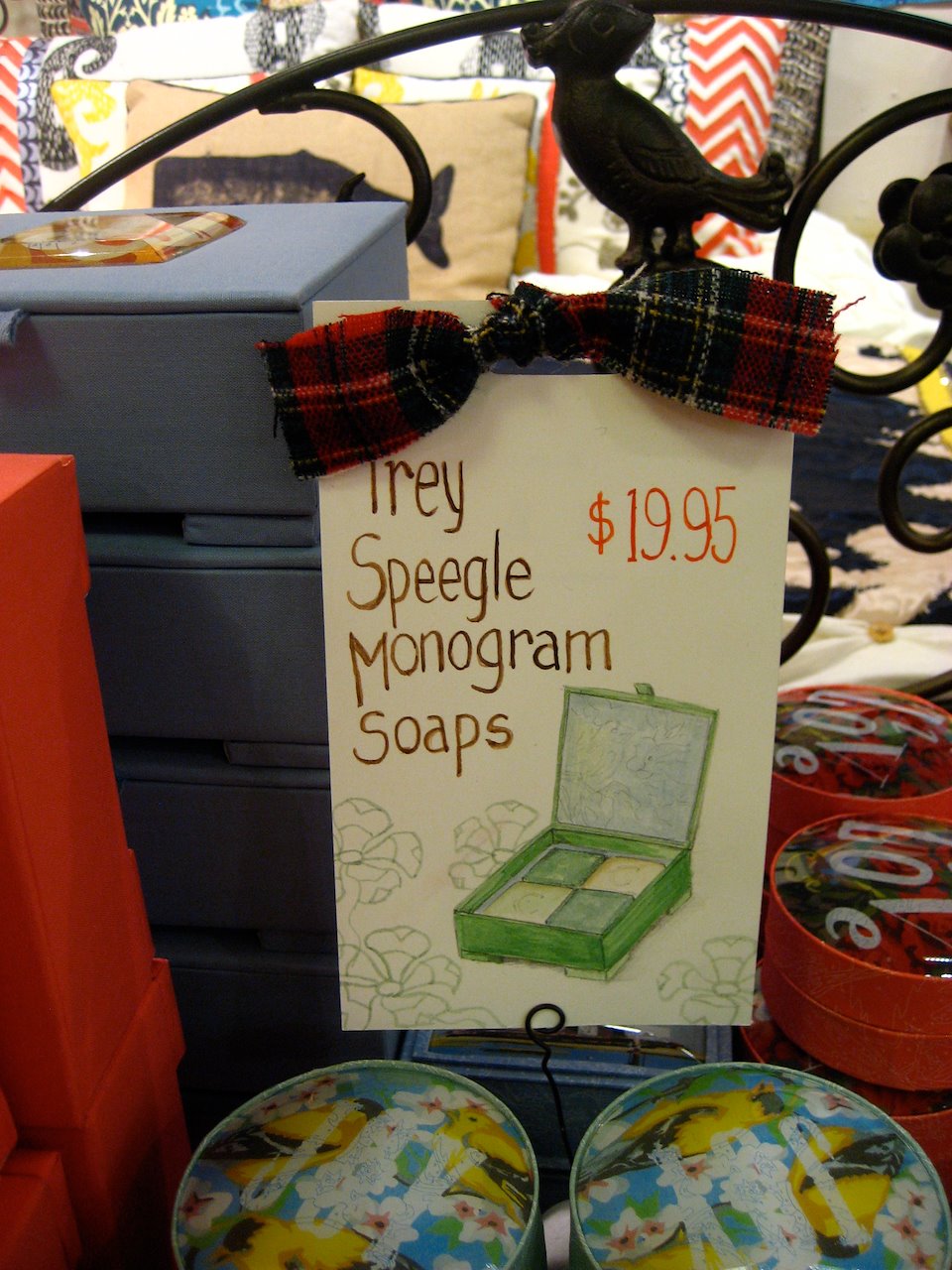 Hand drawn signage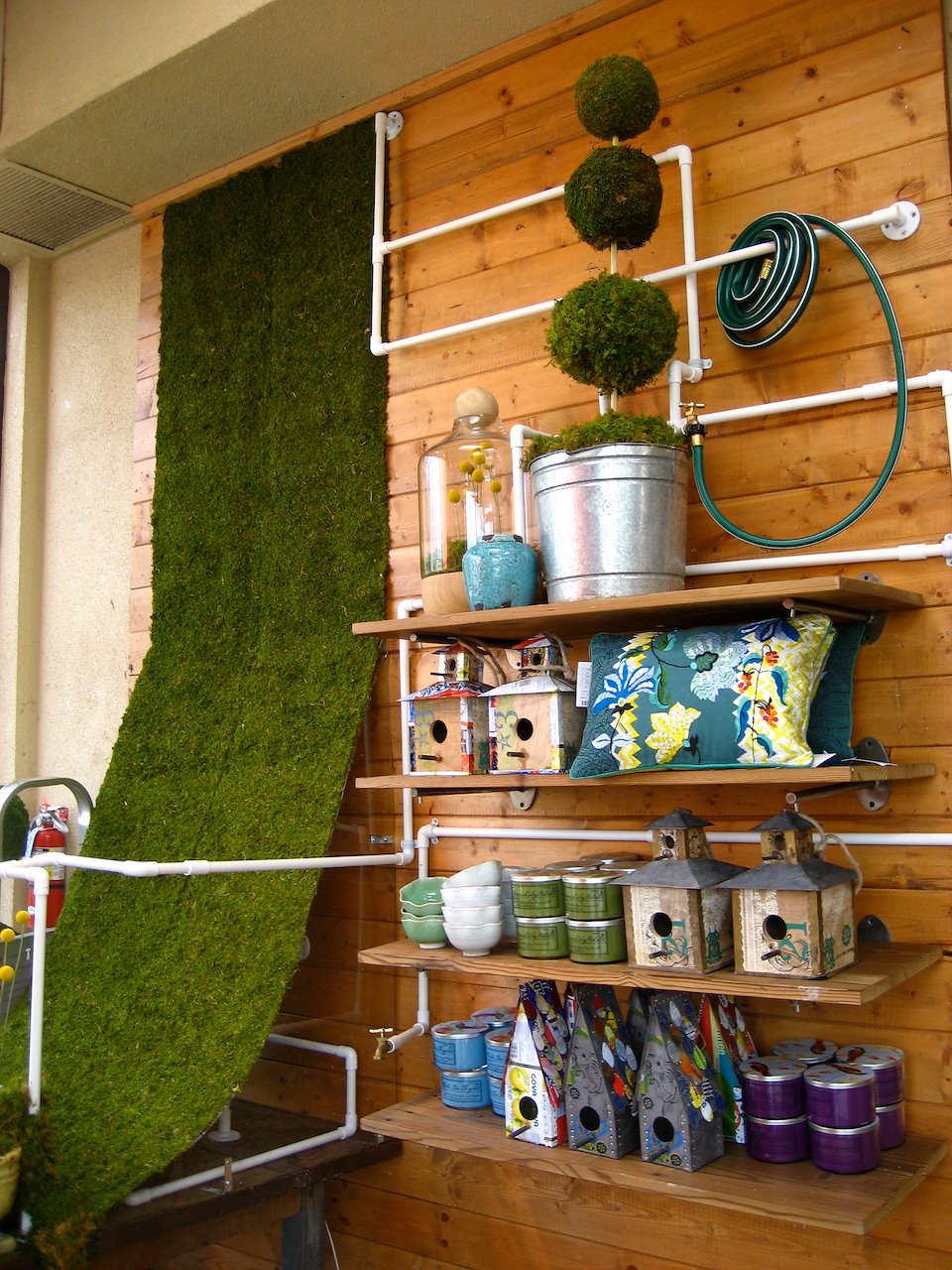 spring gardening made grass ramp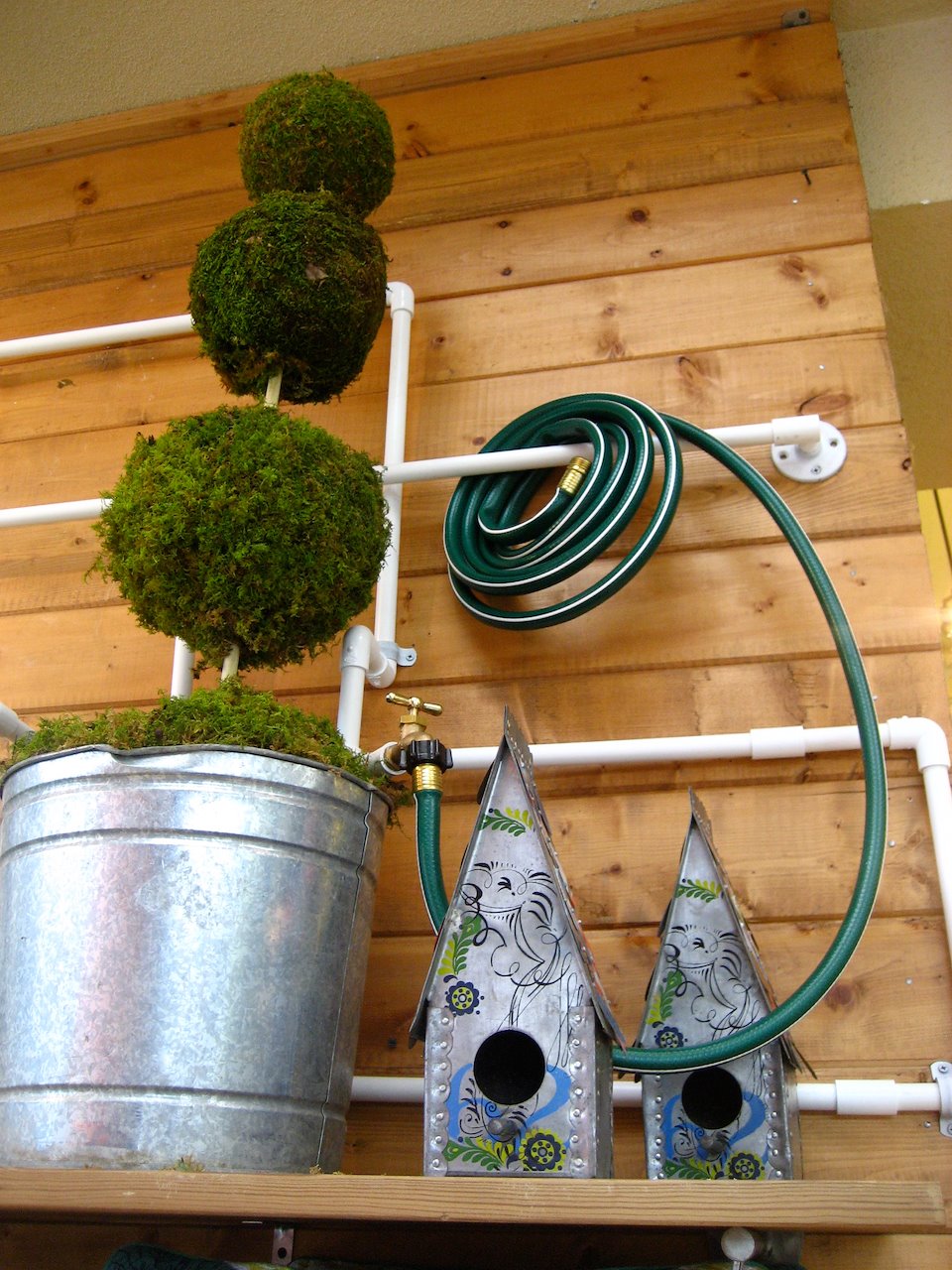 spring gardening hose and pipe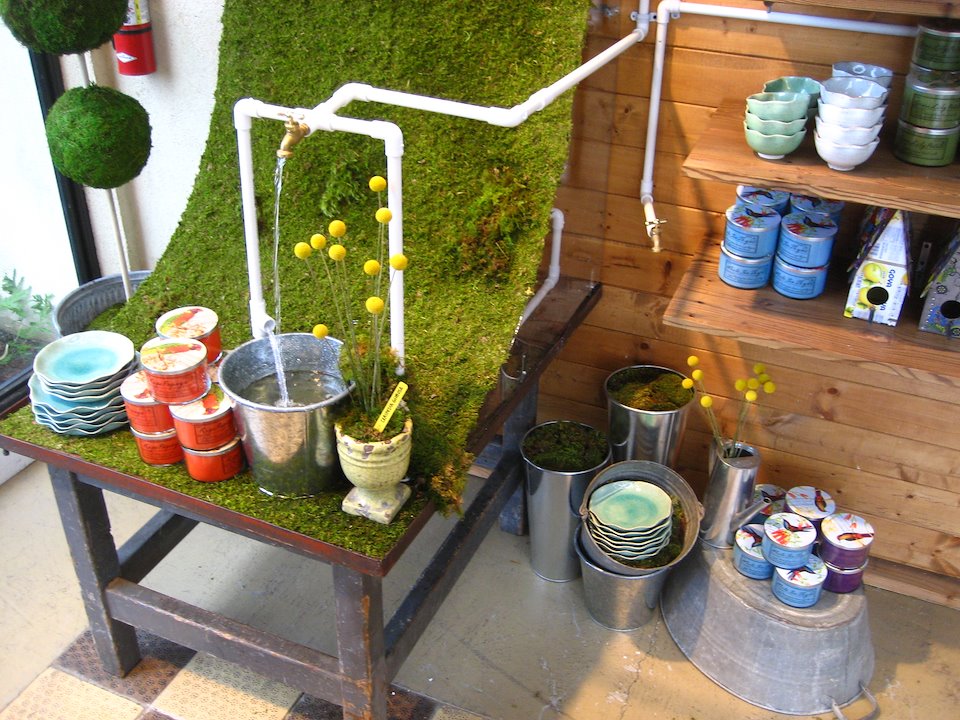 spring gardening hose and pipe even has water!!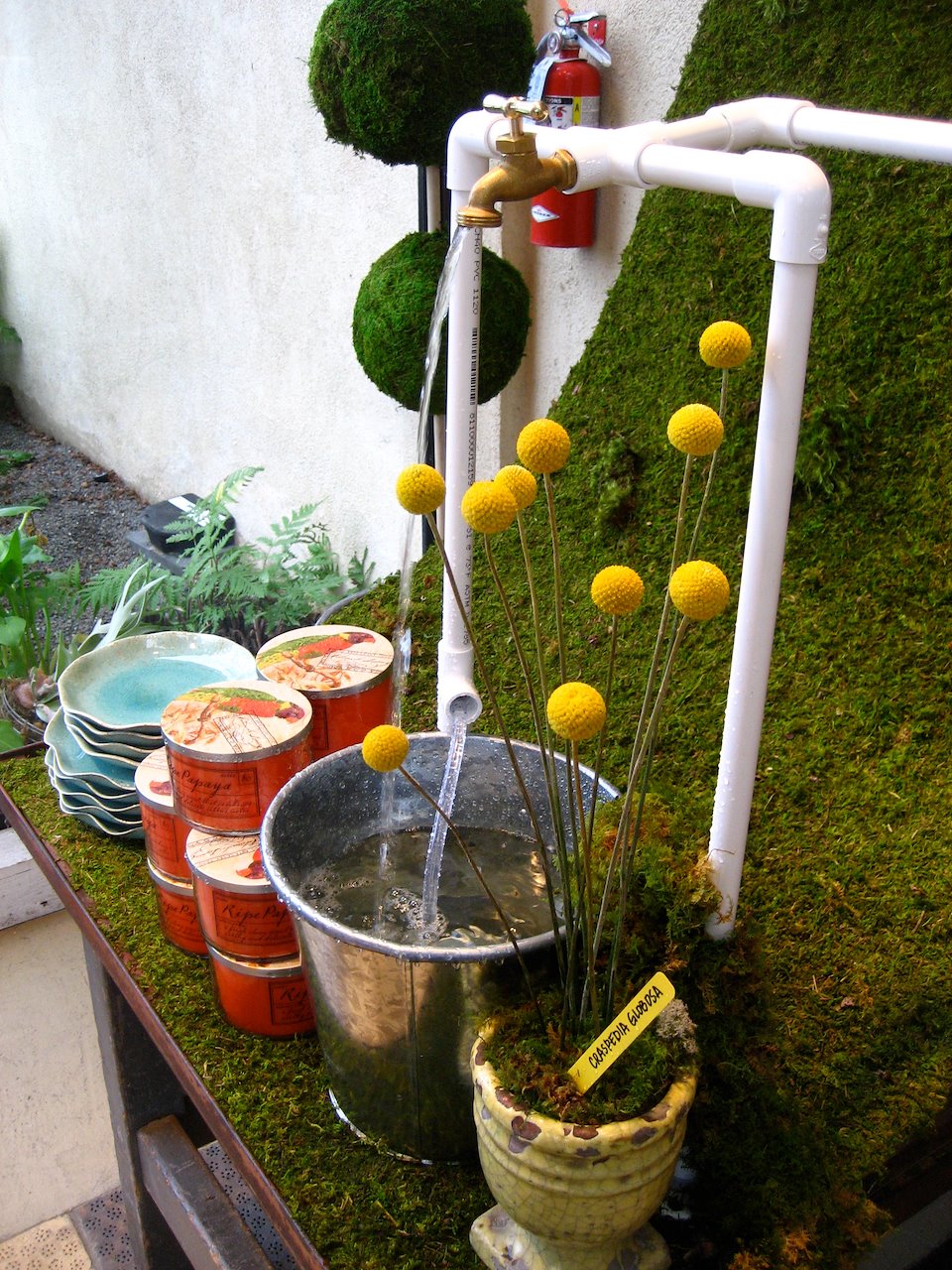 garden tap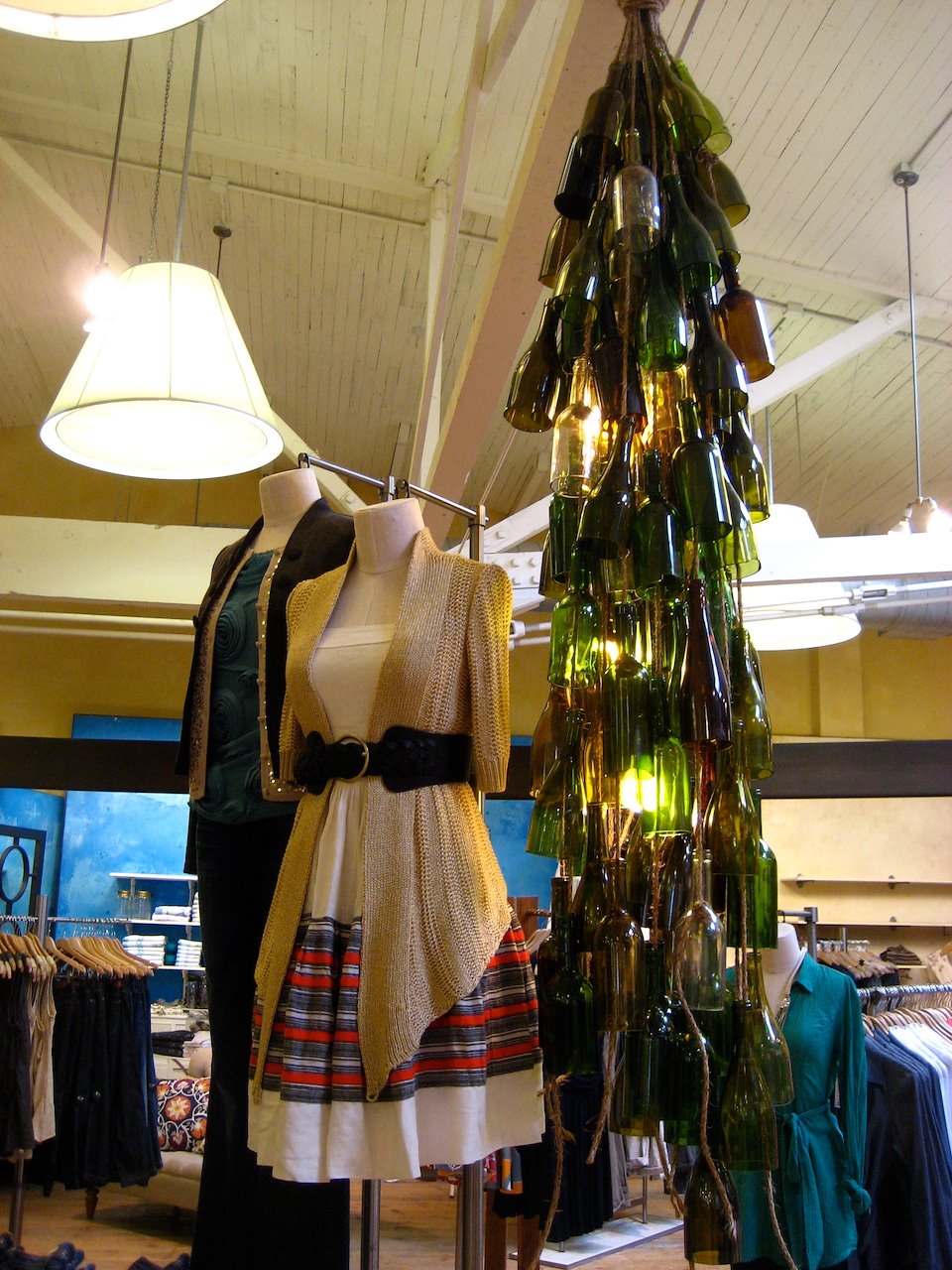 Hand cut over 100 glass wine bottles for hanging chandelier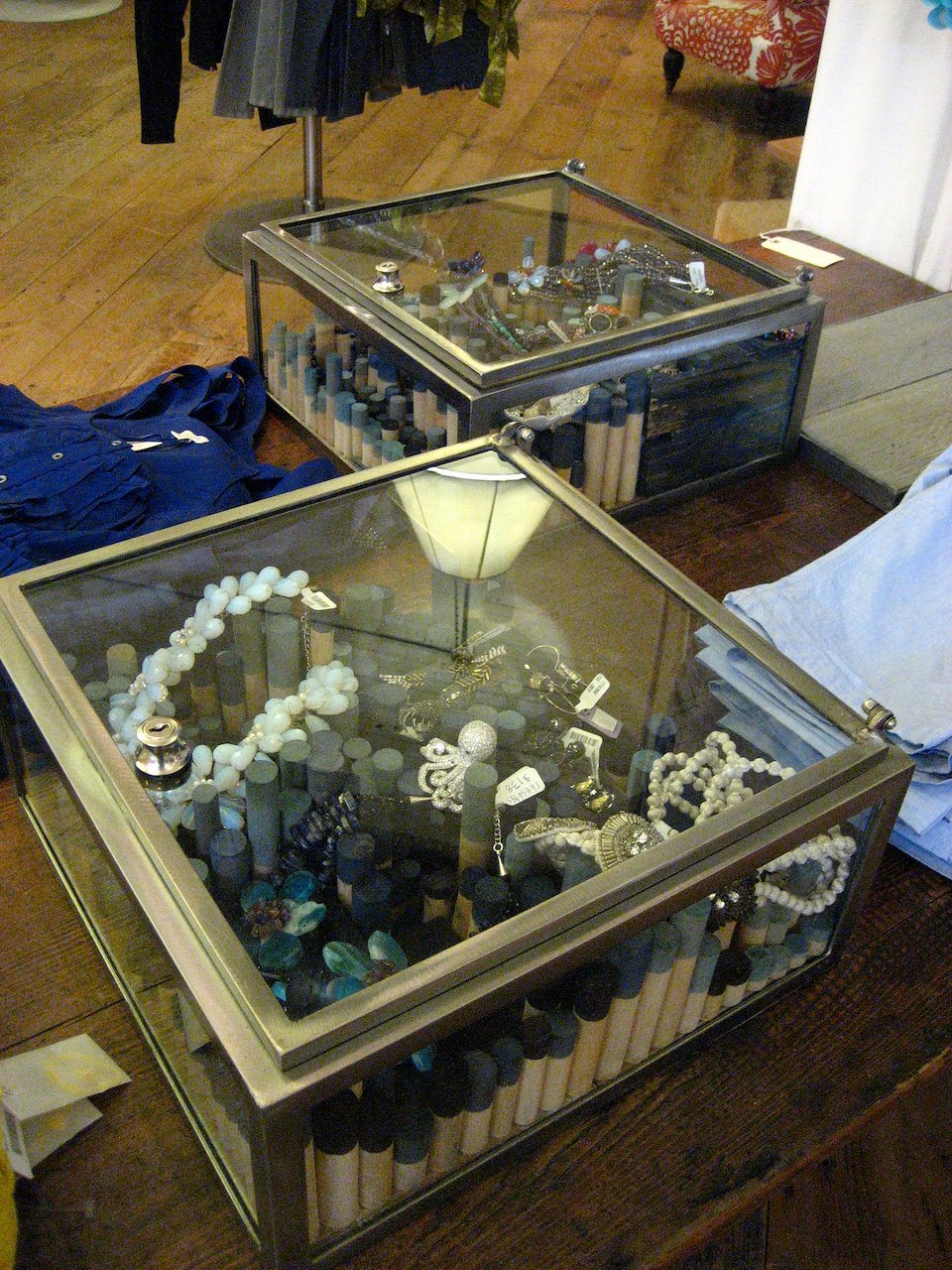 hand dipped dowels for jewelry case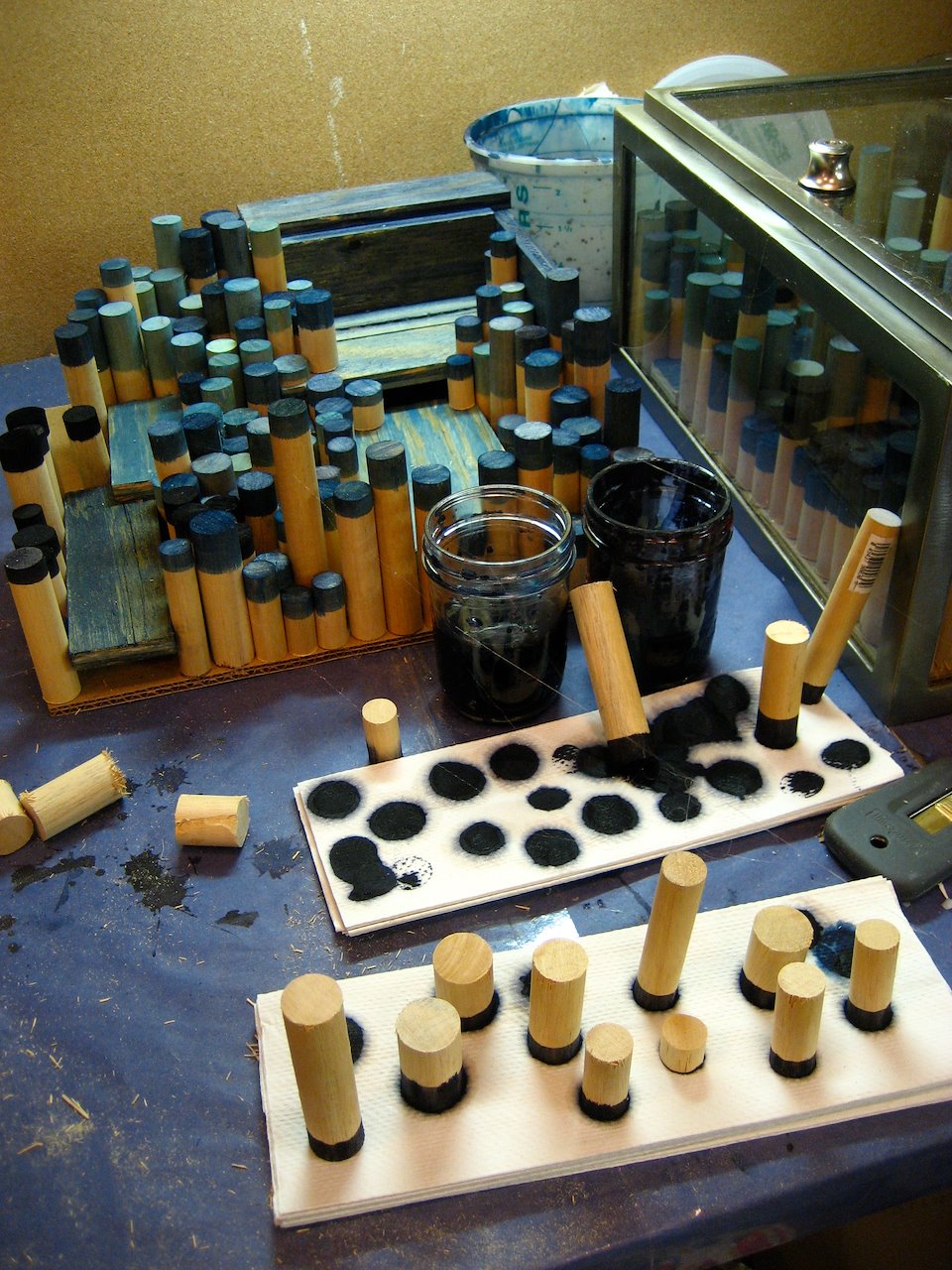 hand dipping dowels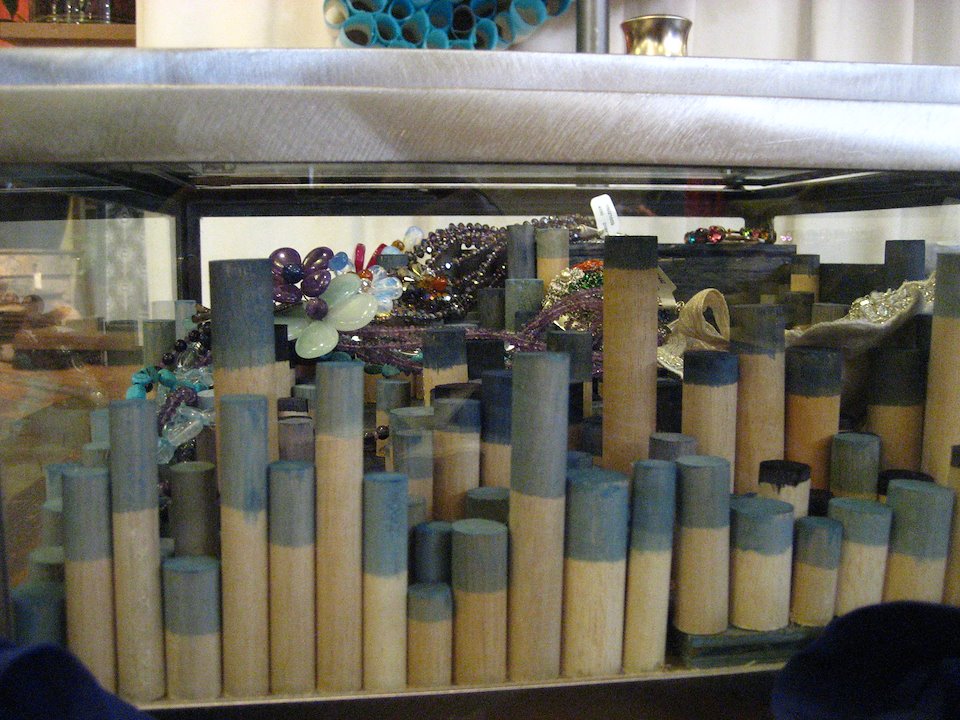 side view hand dipped dowel jewelry case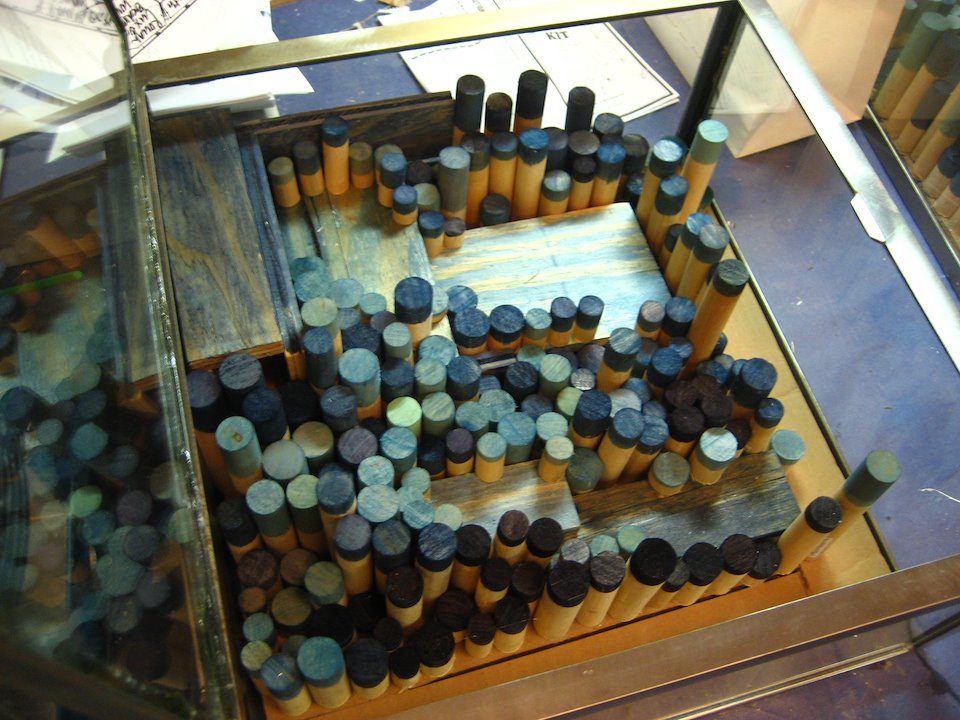 Jewellery case installing dowels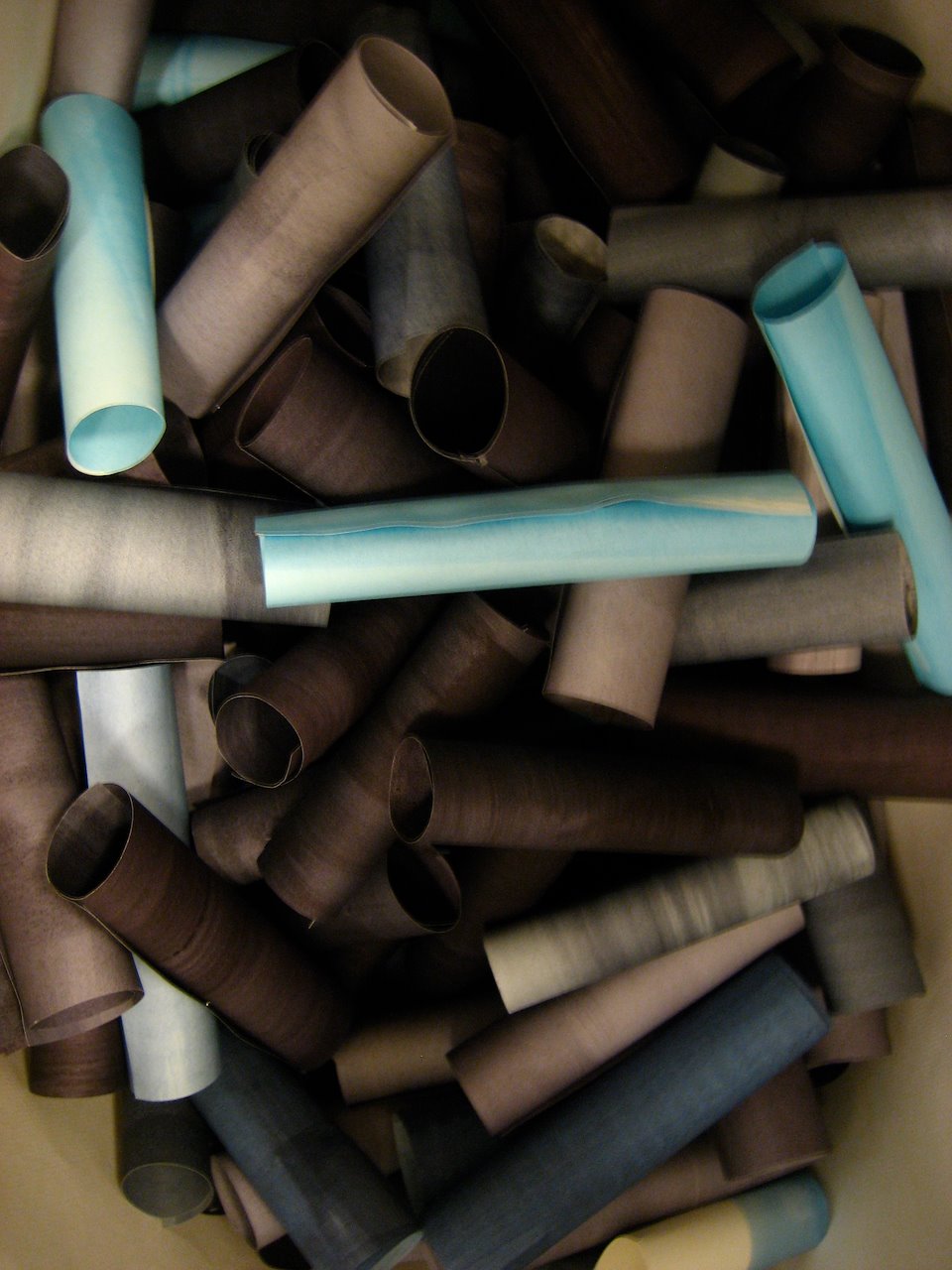 watercolor paper rolls for blue cloud installation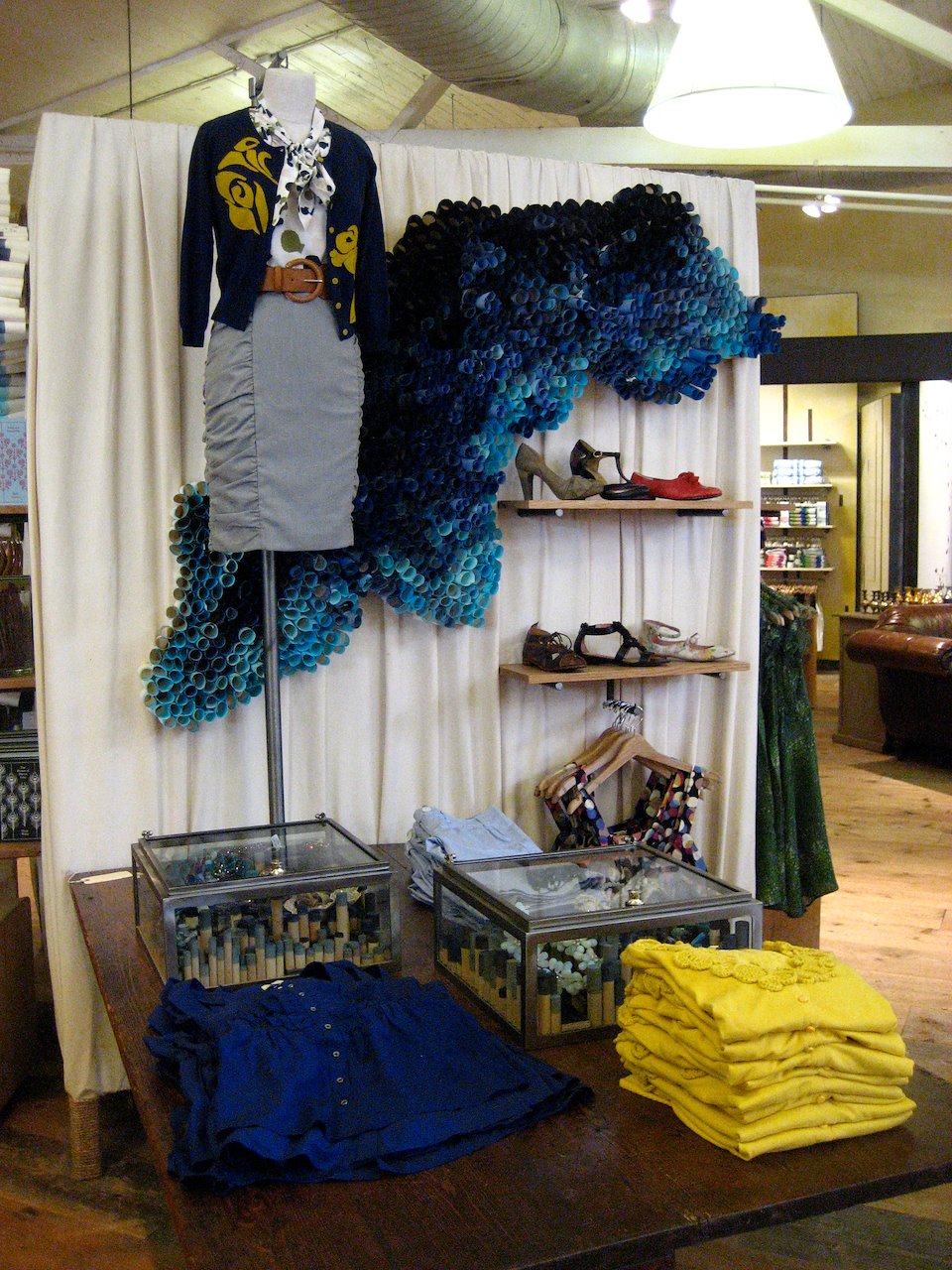 dark blue cloud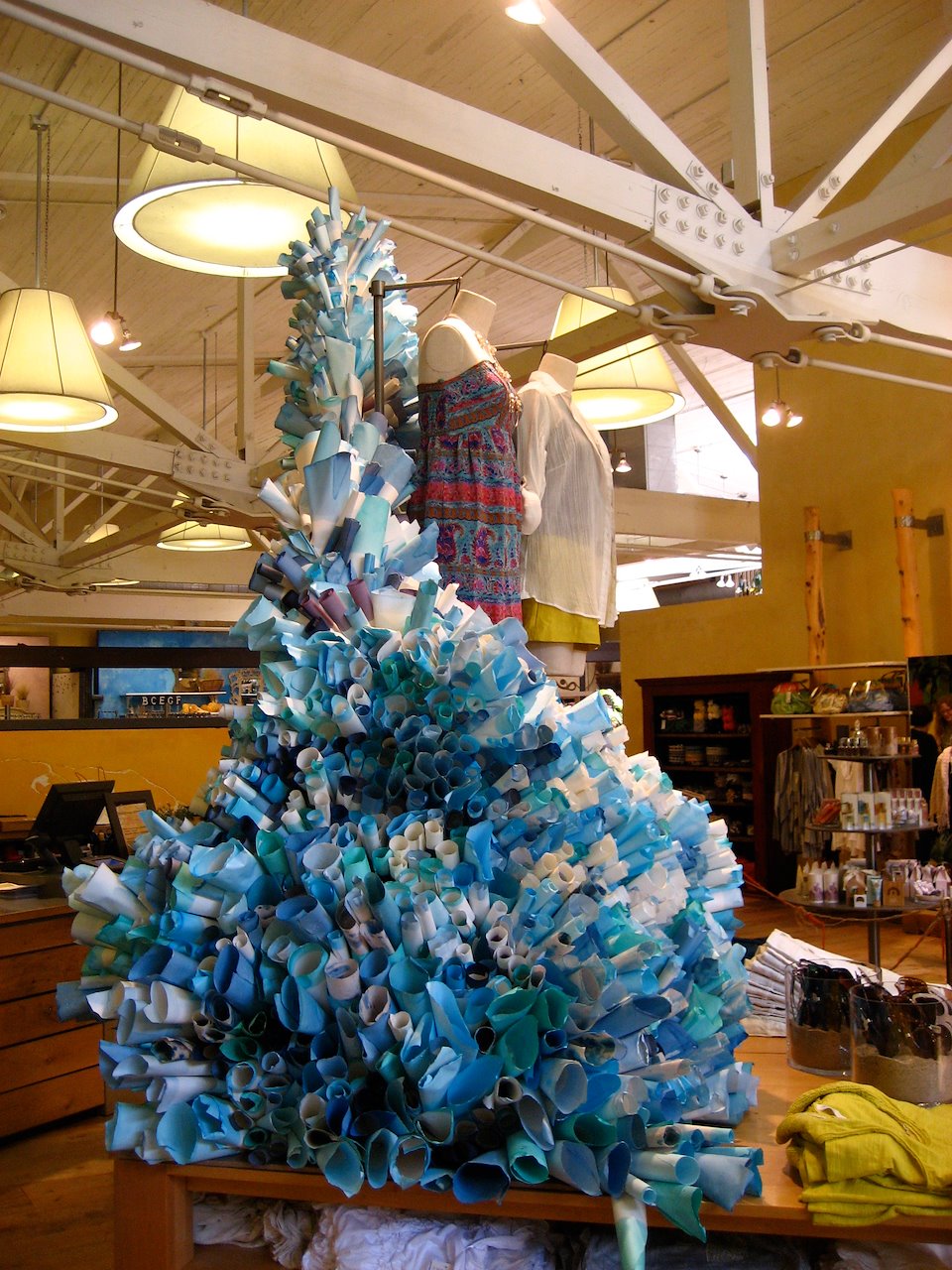 blue cloud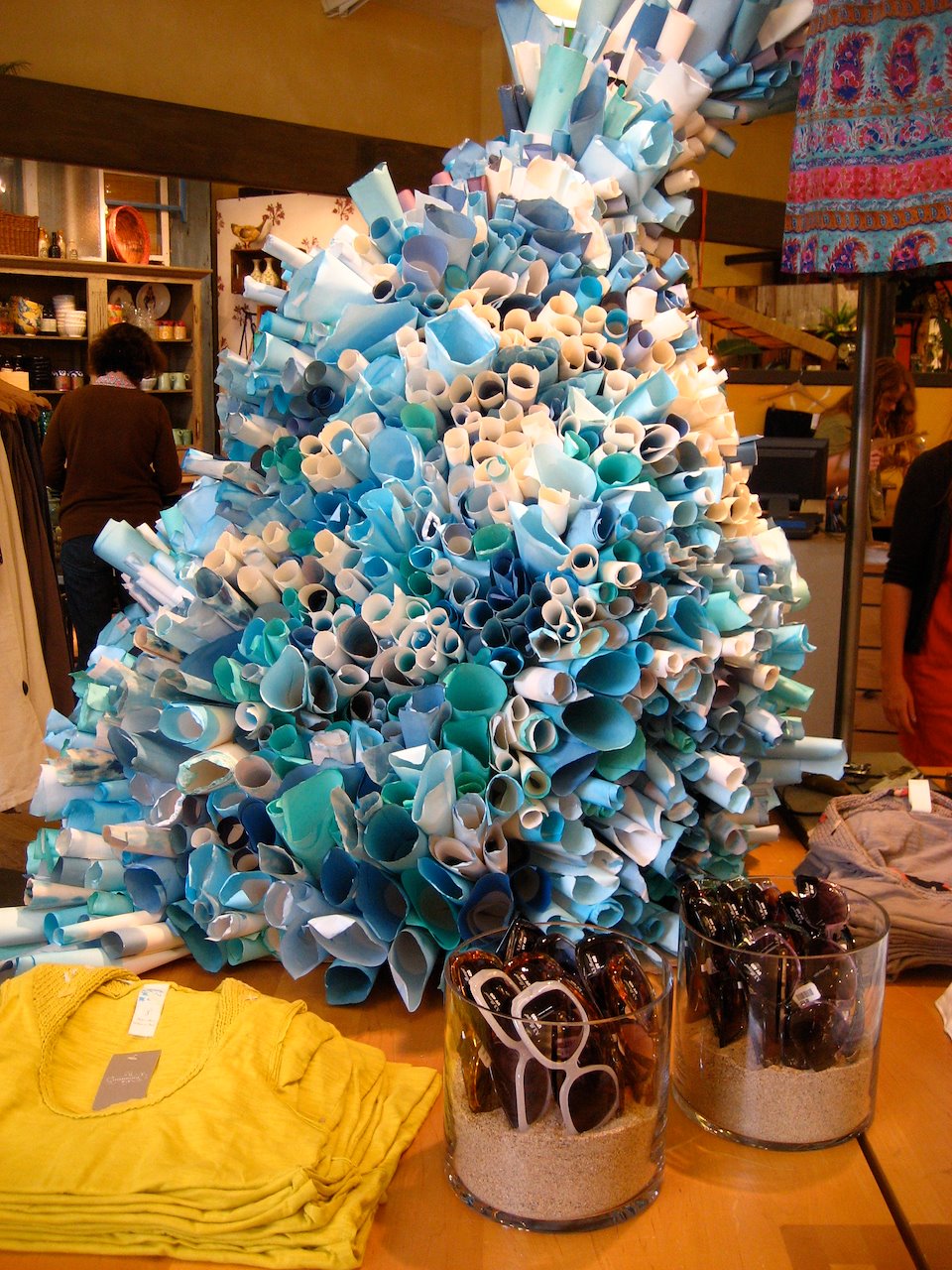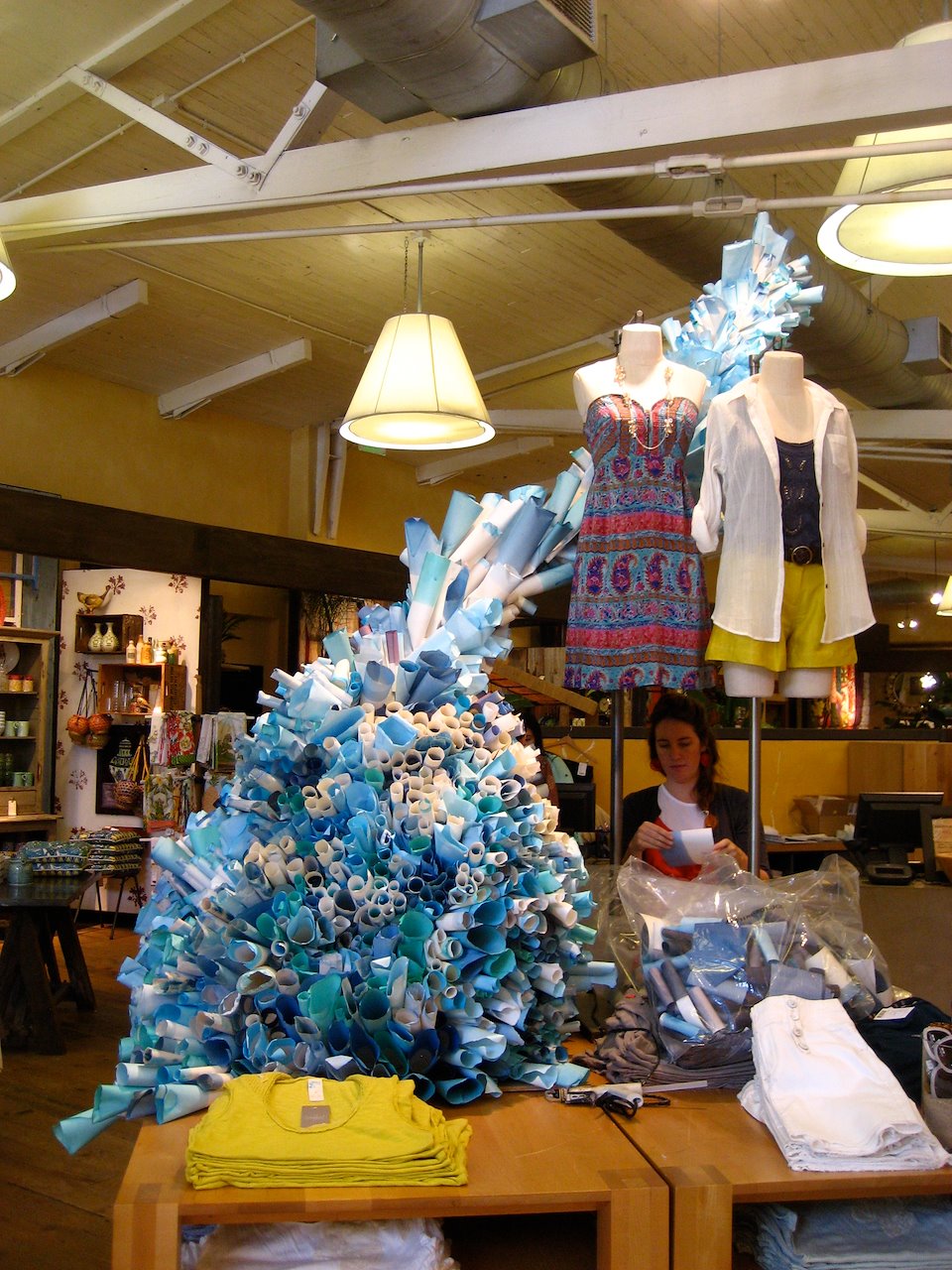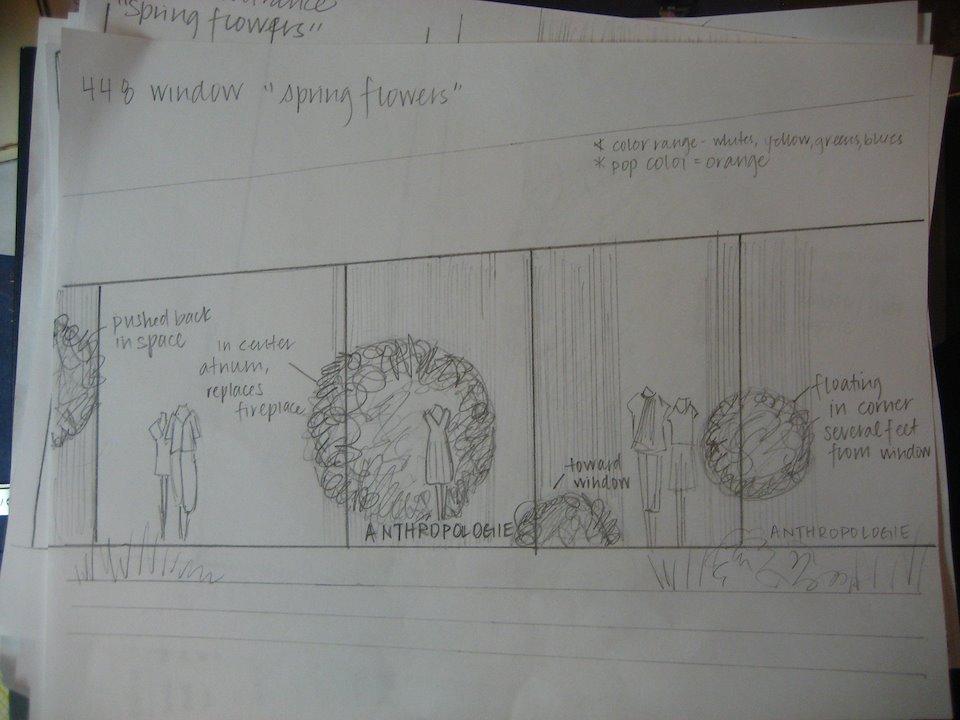 Display coordinators sketch of plastic bottle flower installation plan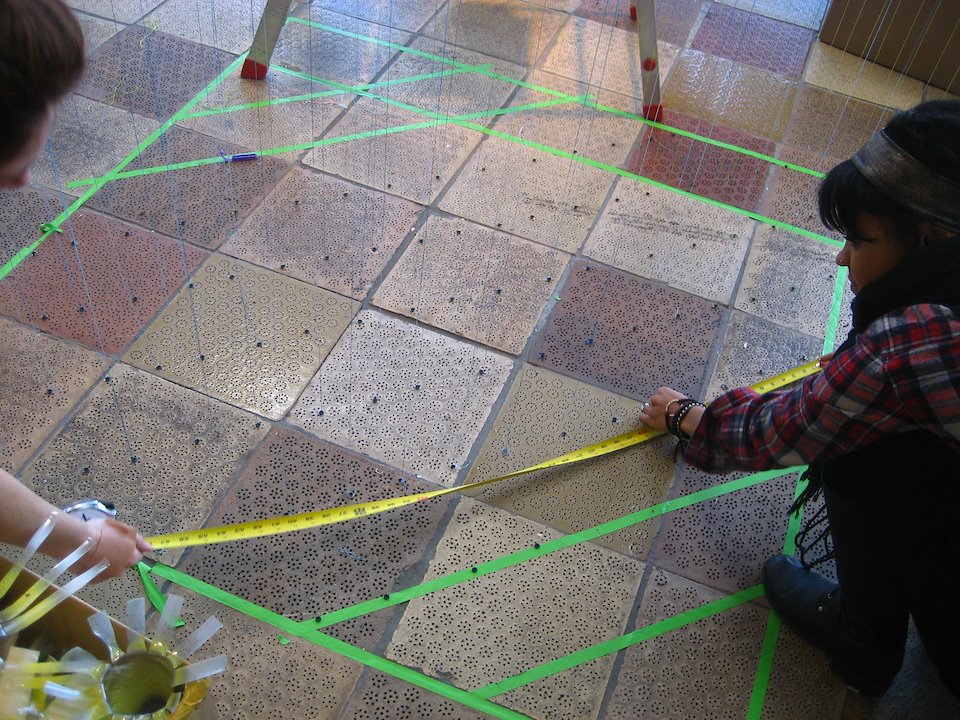 taping off the floor for wires to hang bottles from
spray paint flowers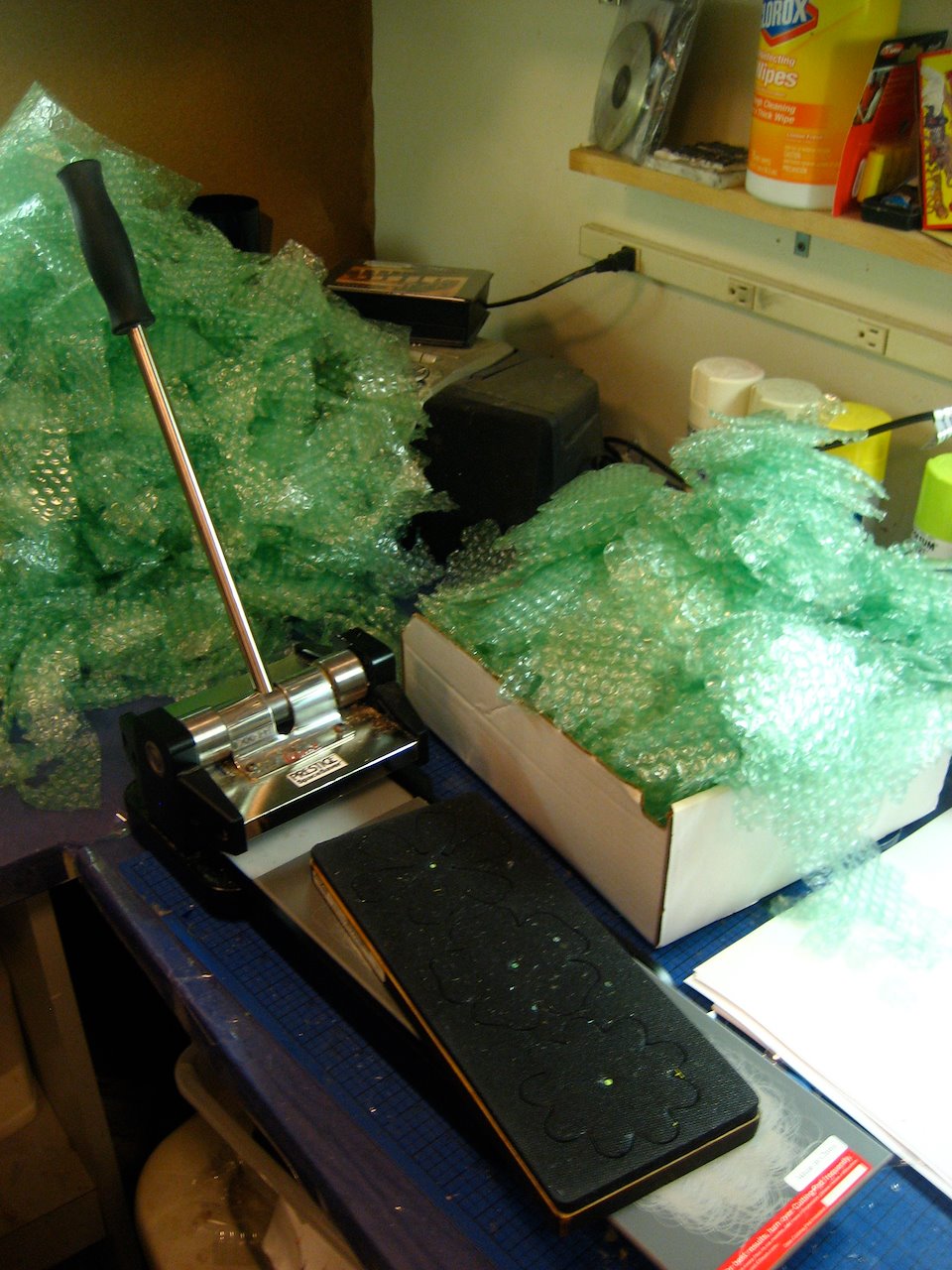 Die cutting flowers out of bubble wrap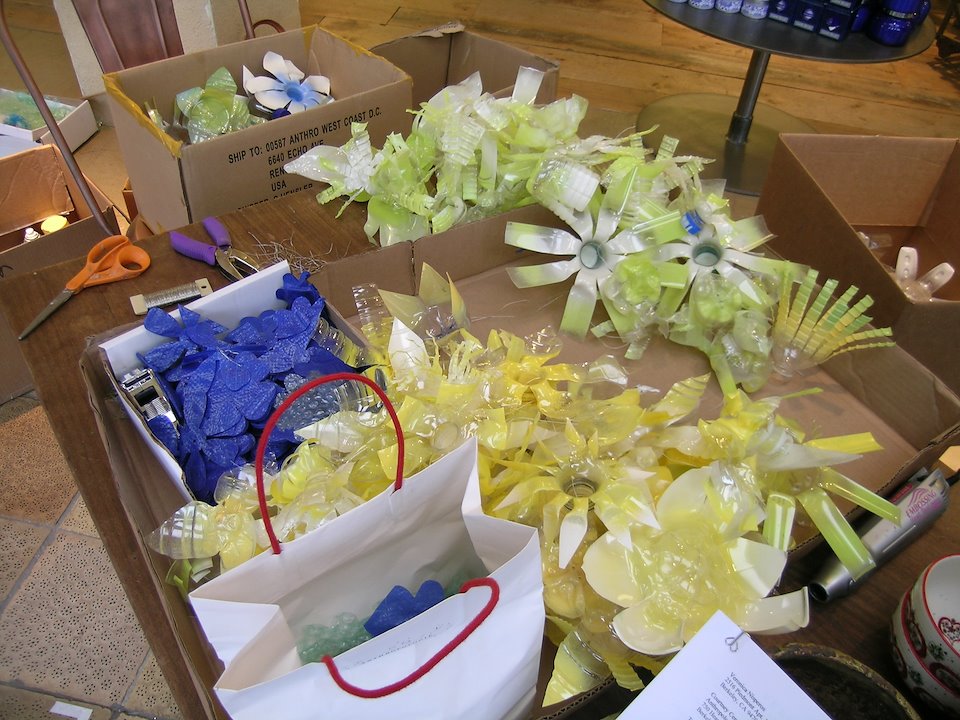 sorting by color spray paint flowers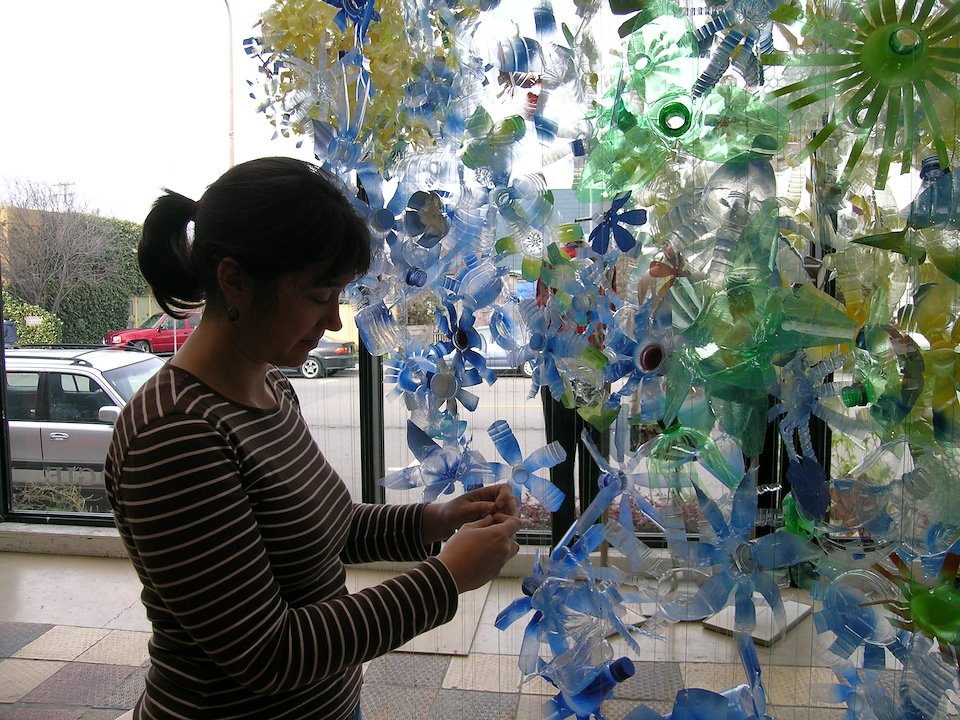 me hanging flowers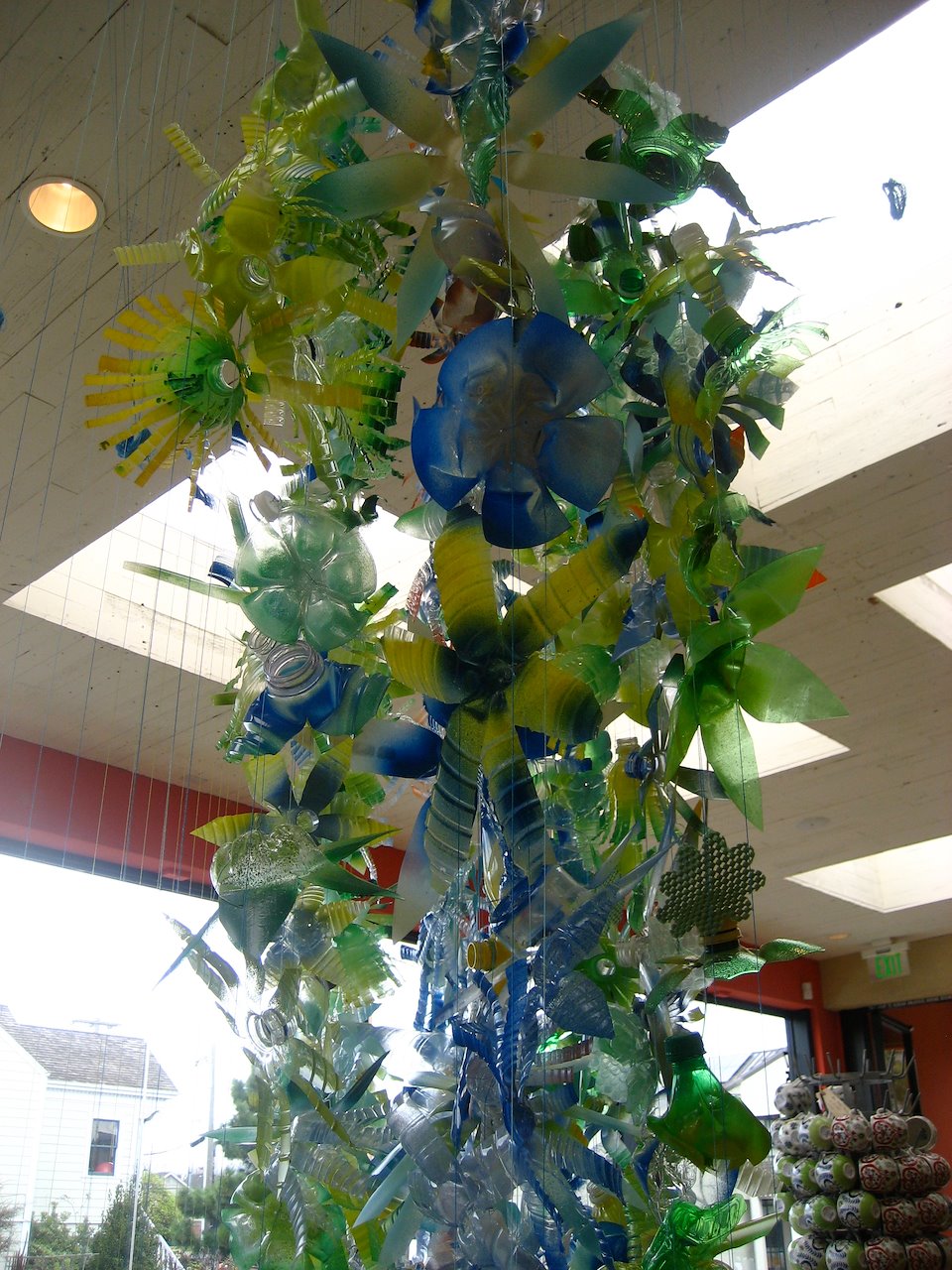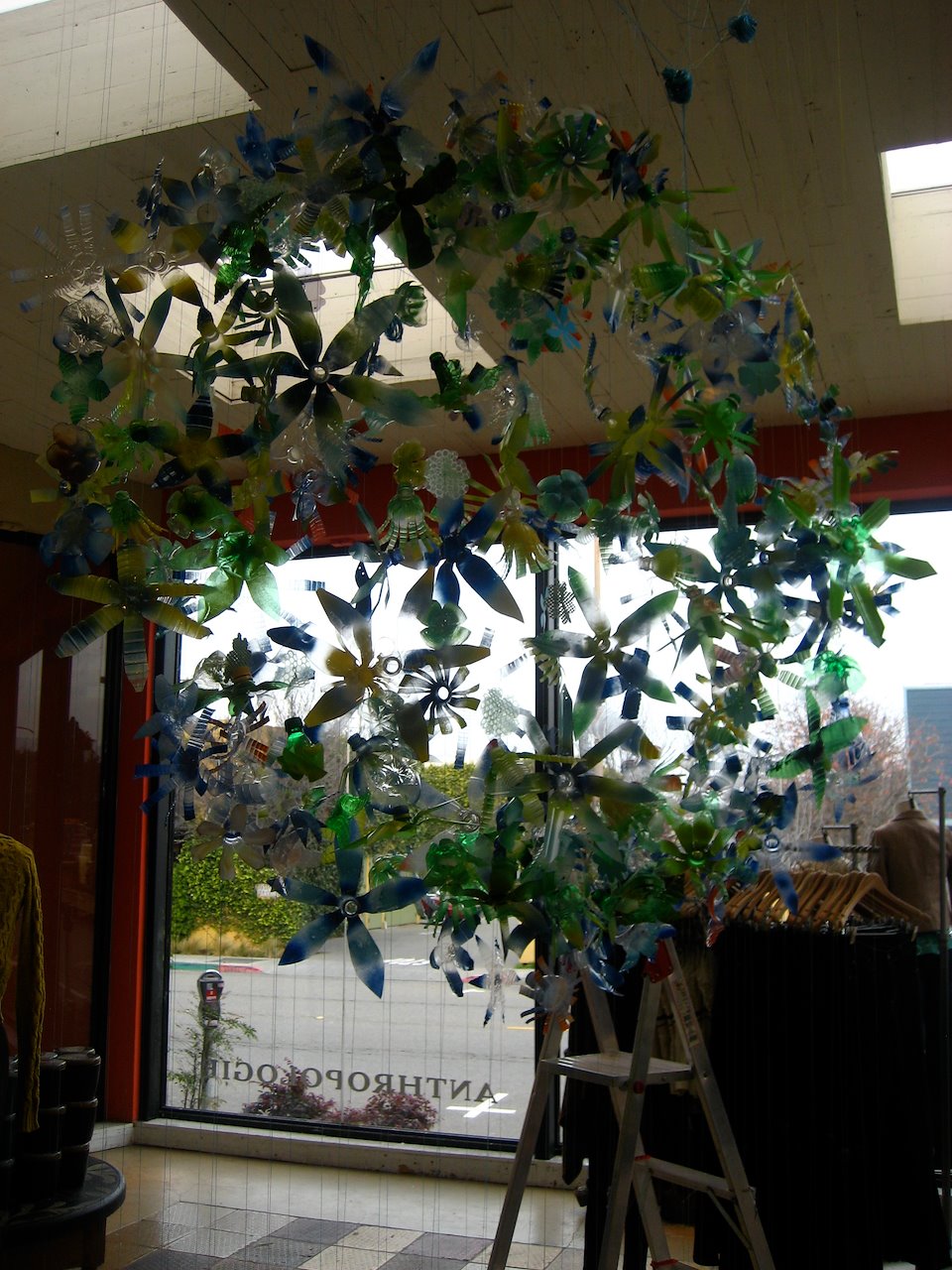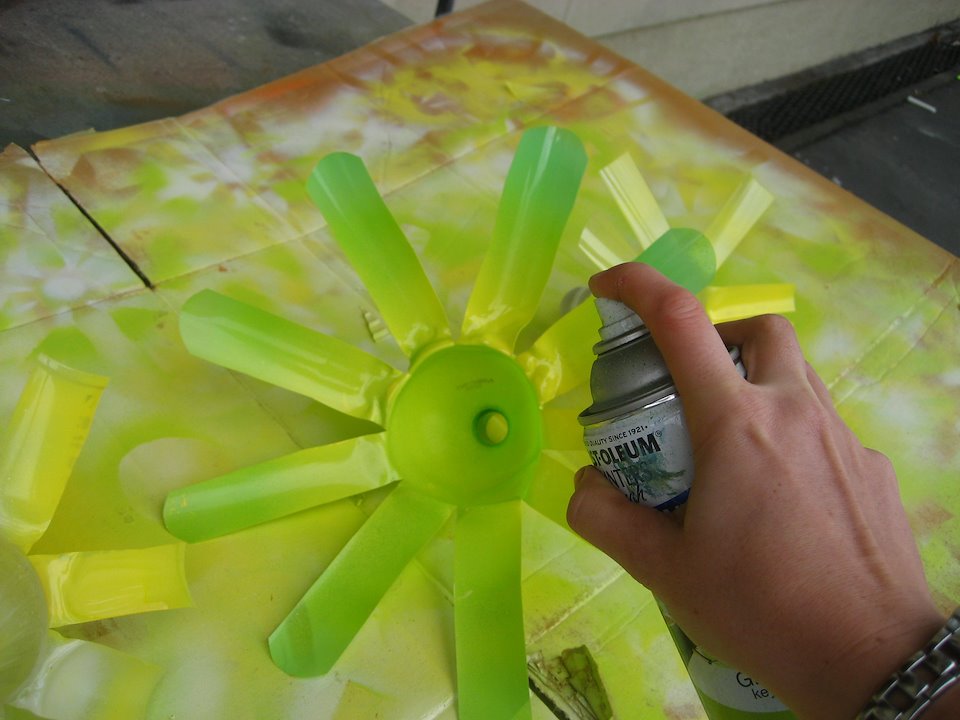 Hand spraying the plastic bottles to make flowers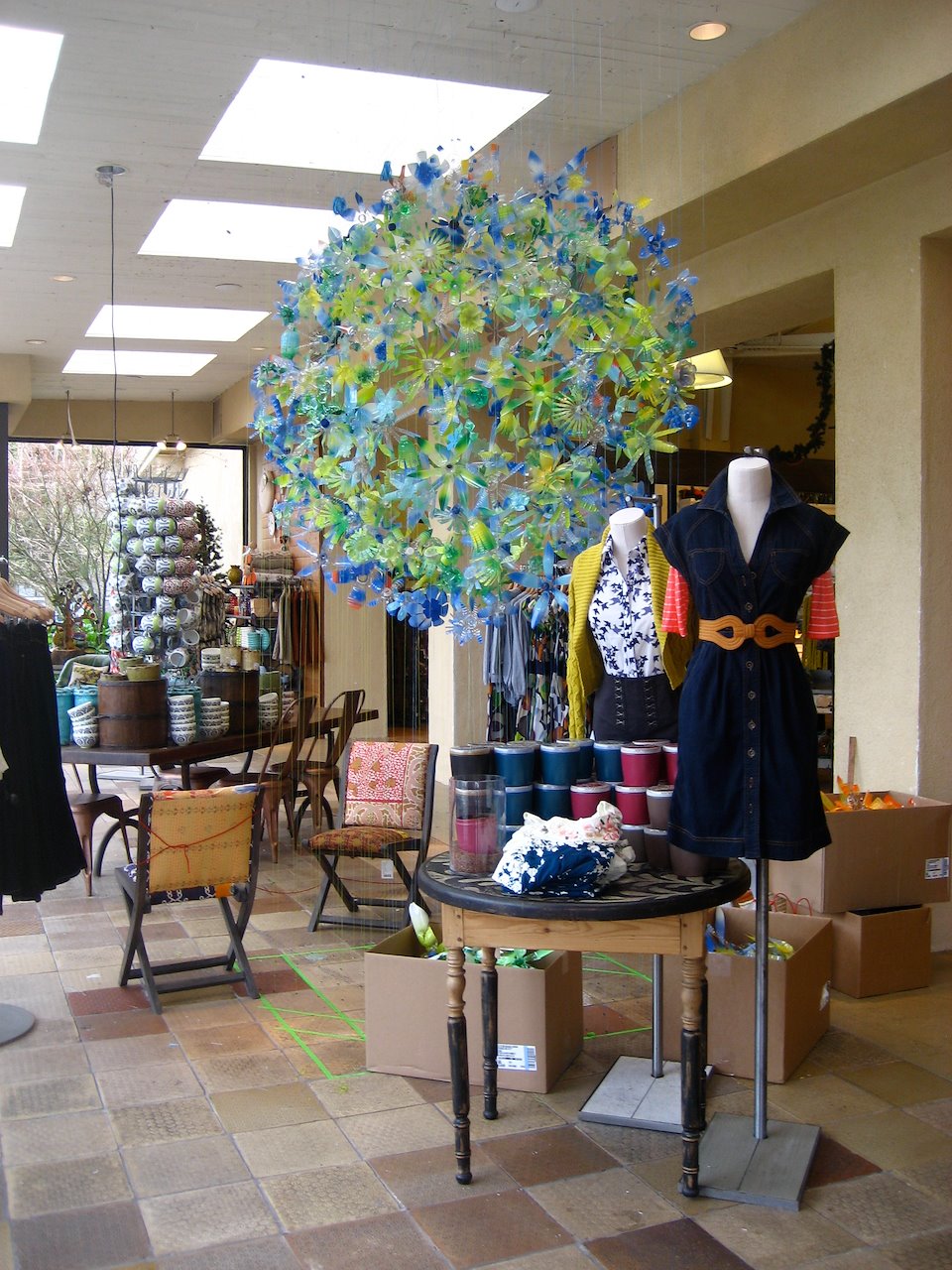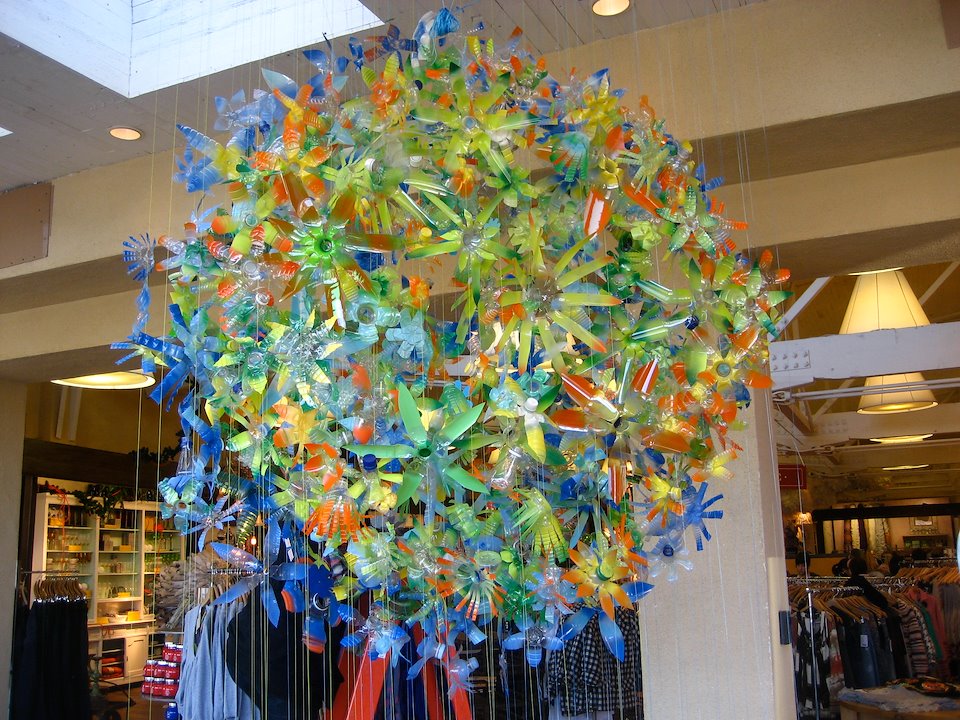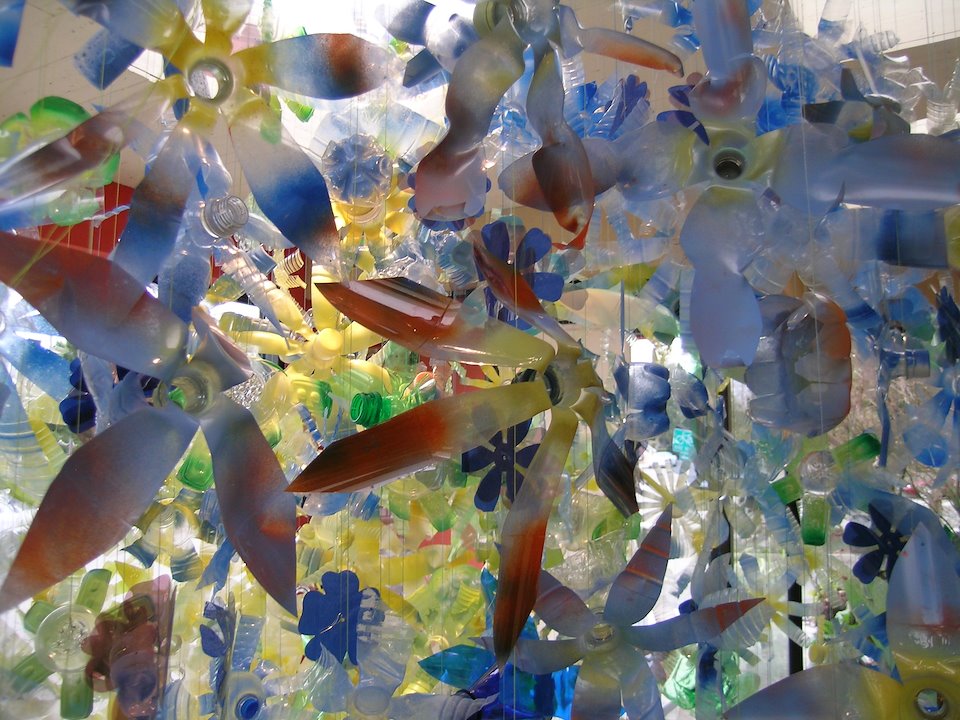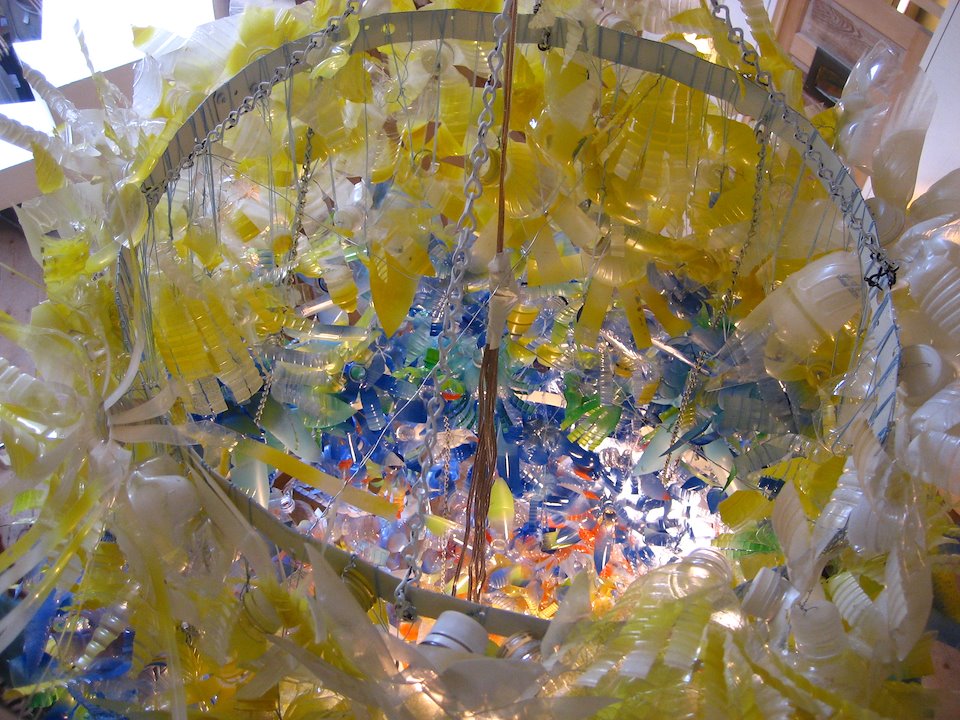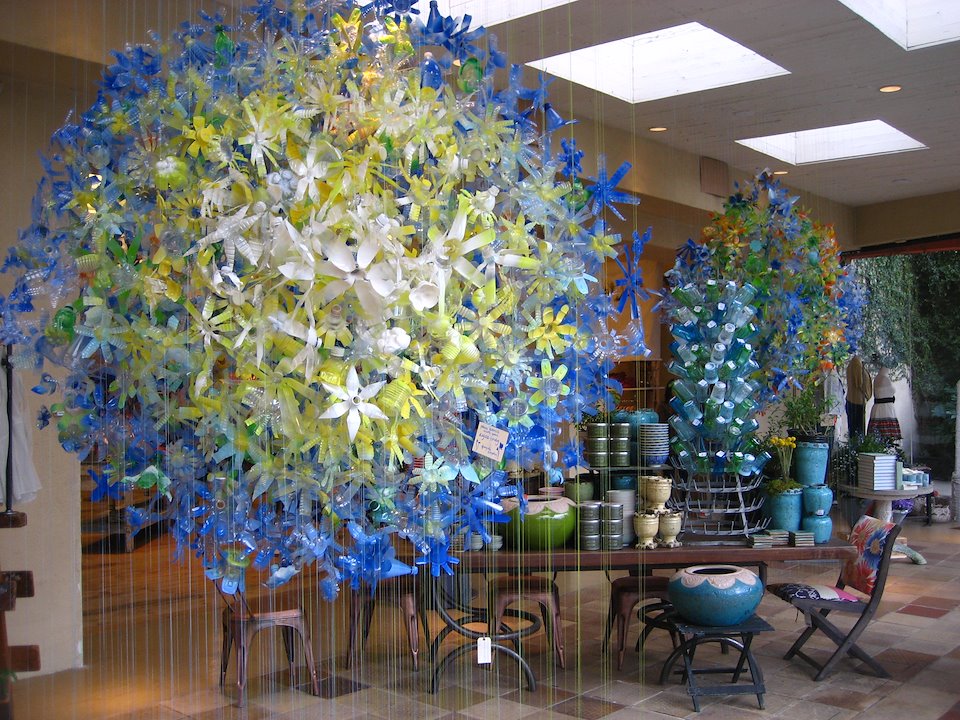 Finished spring flower bloom Installation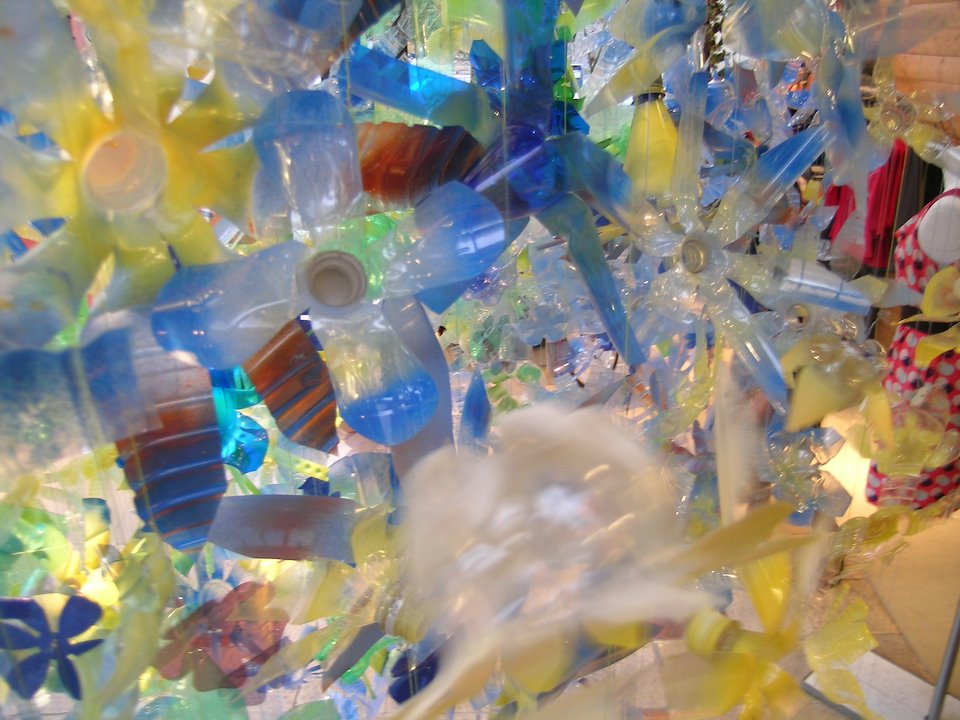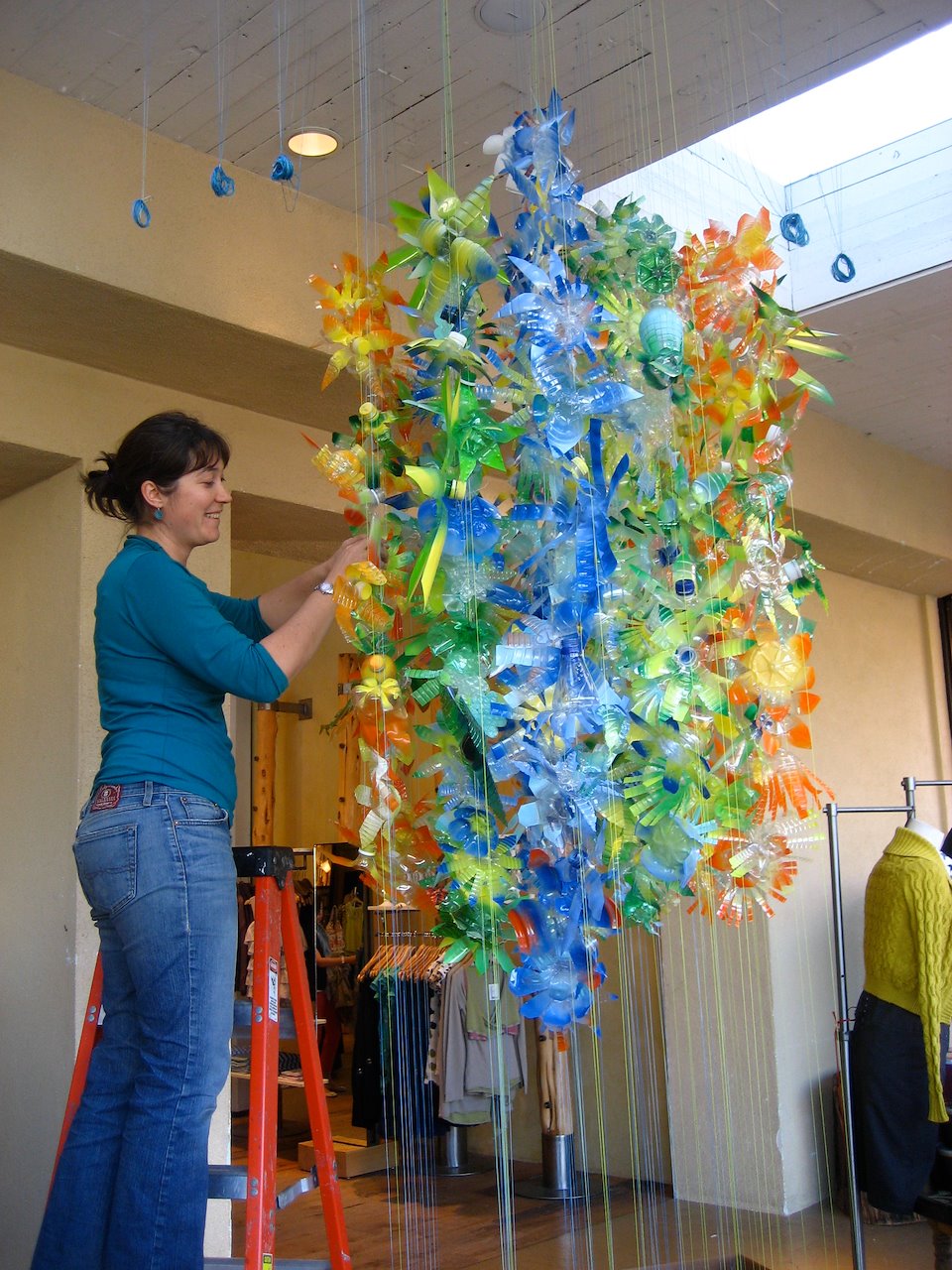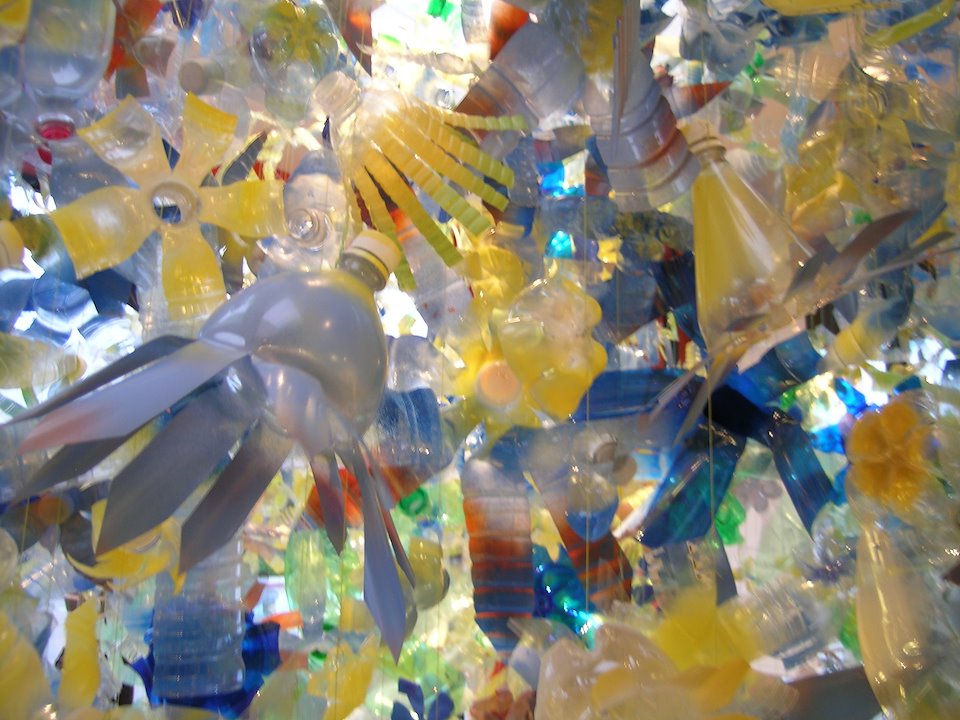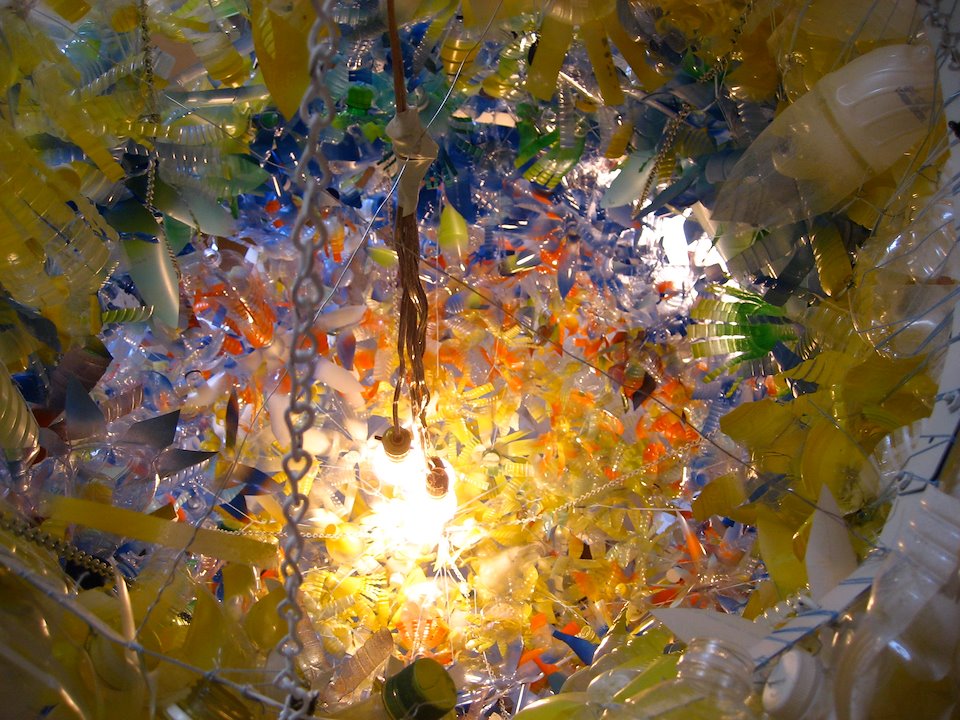 Added a light to hang as chandellier in changing room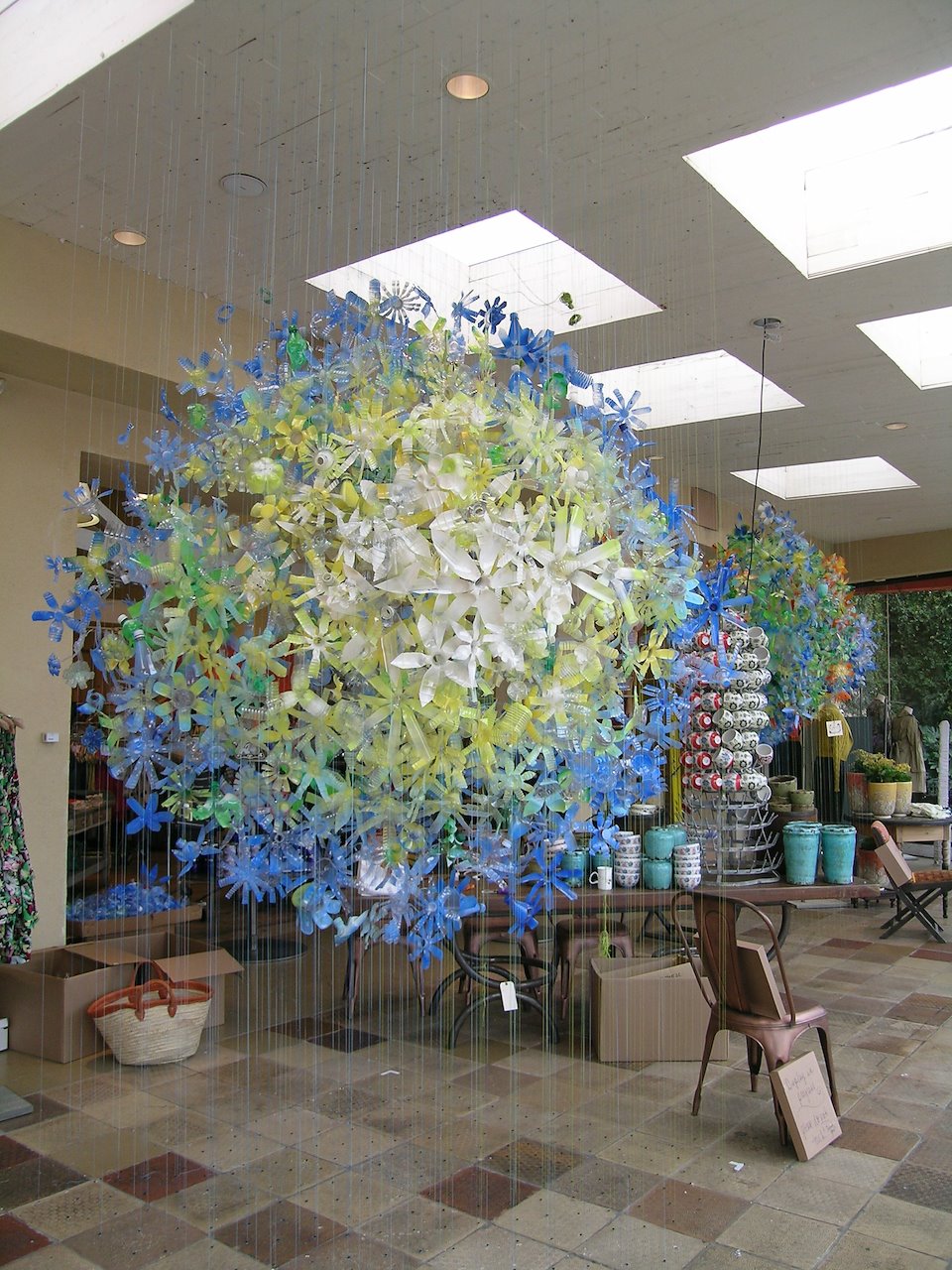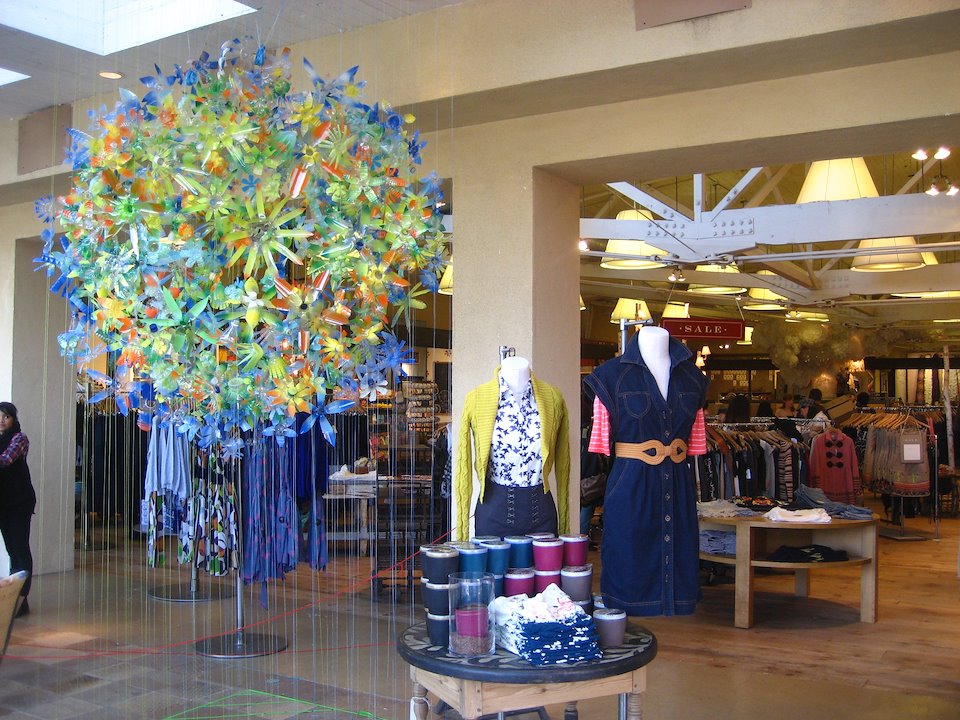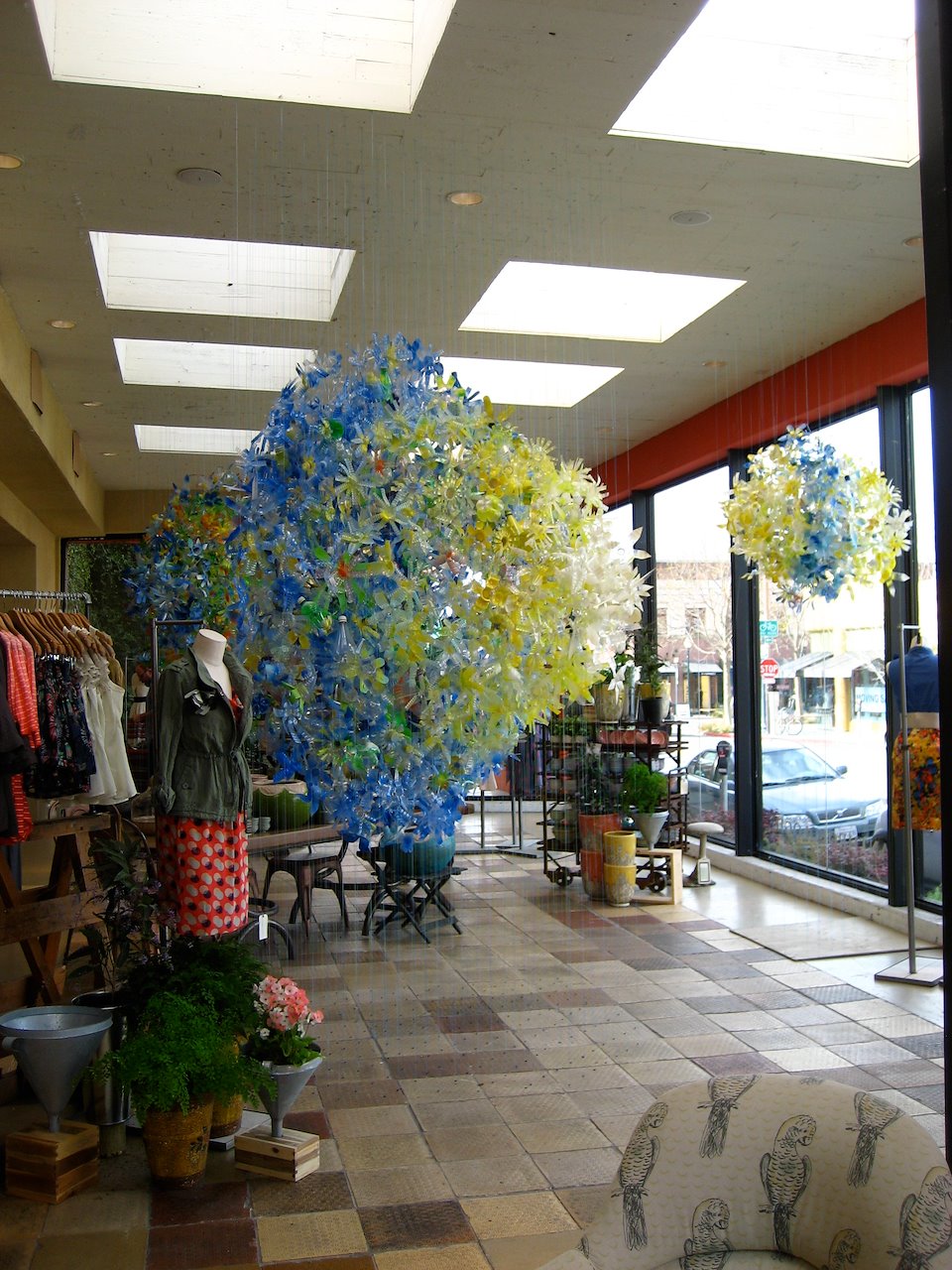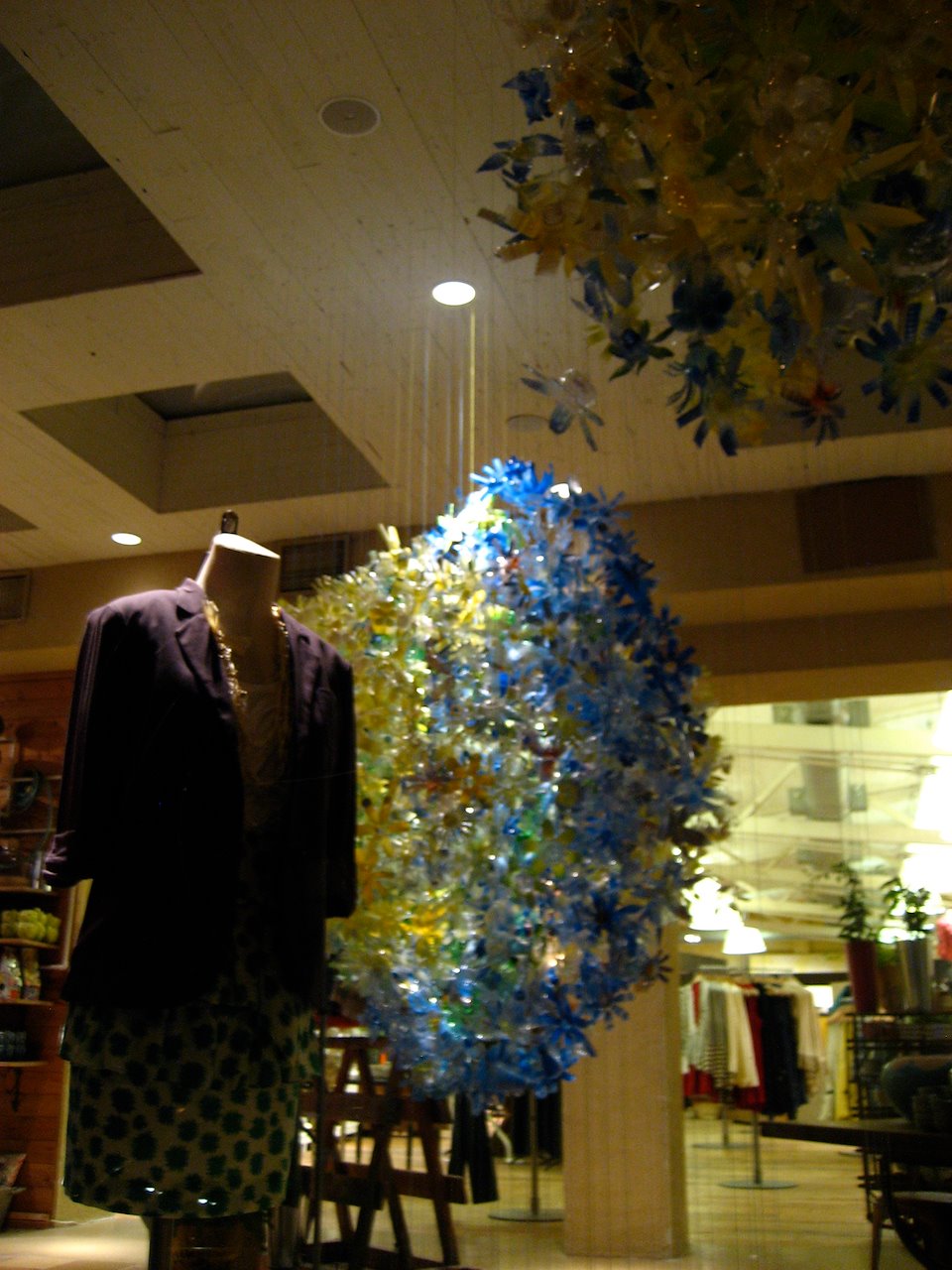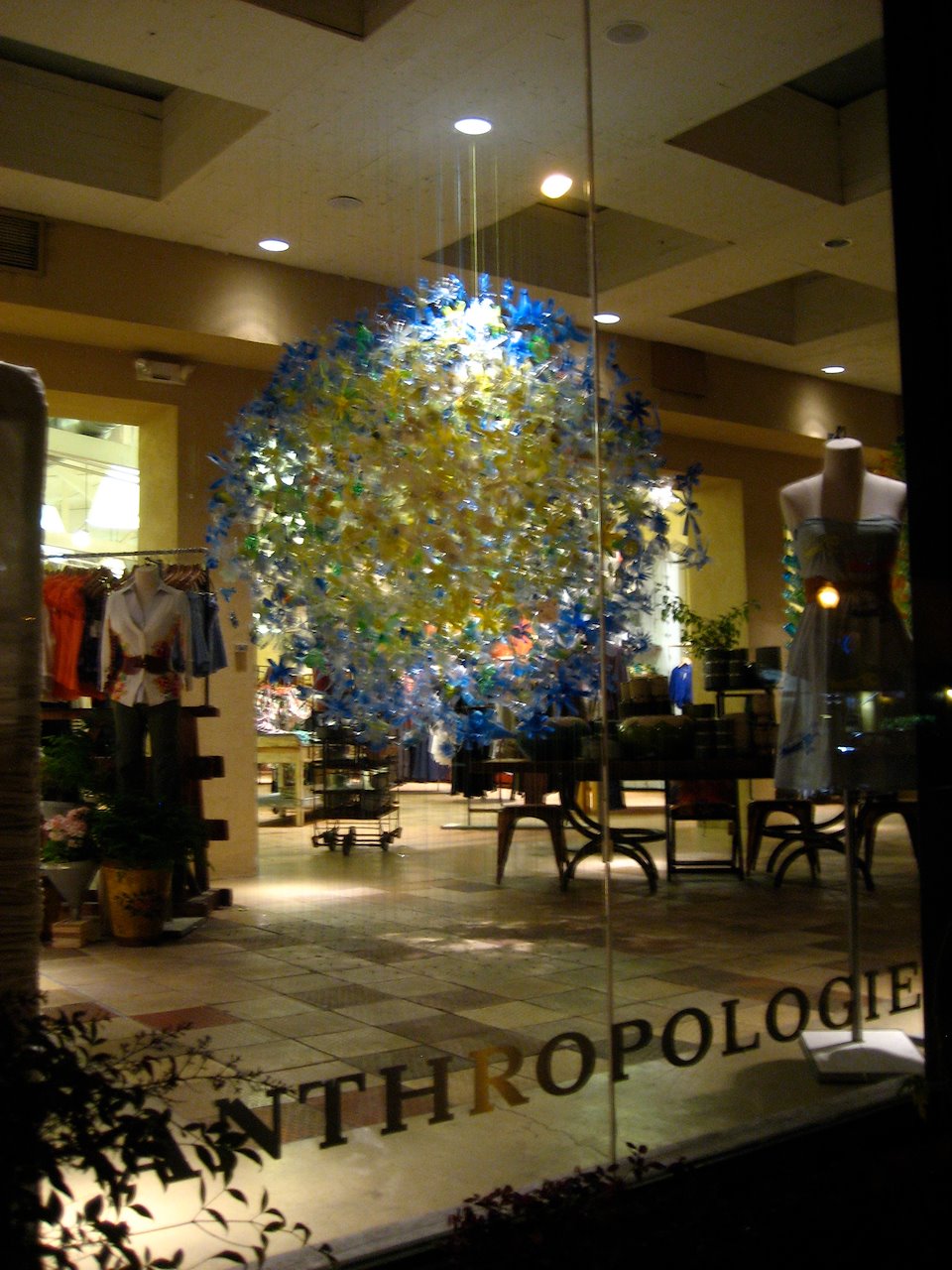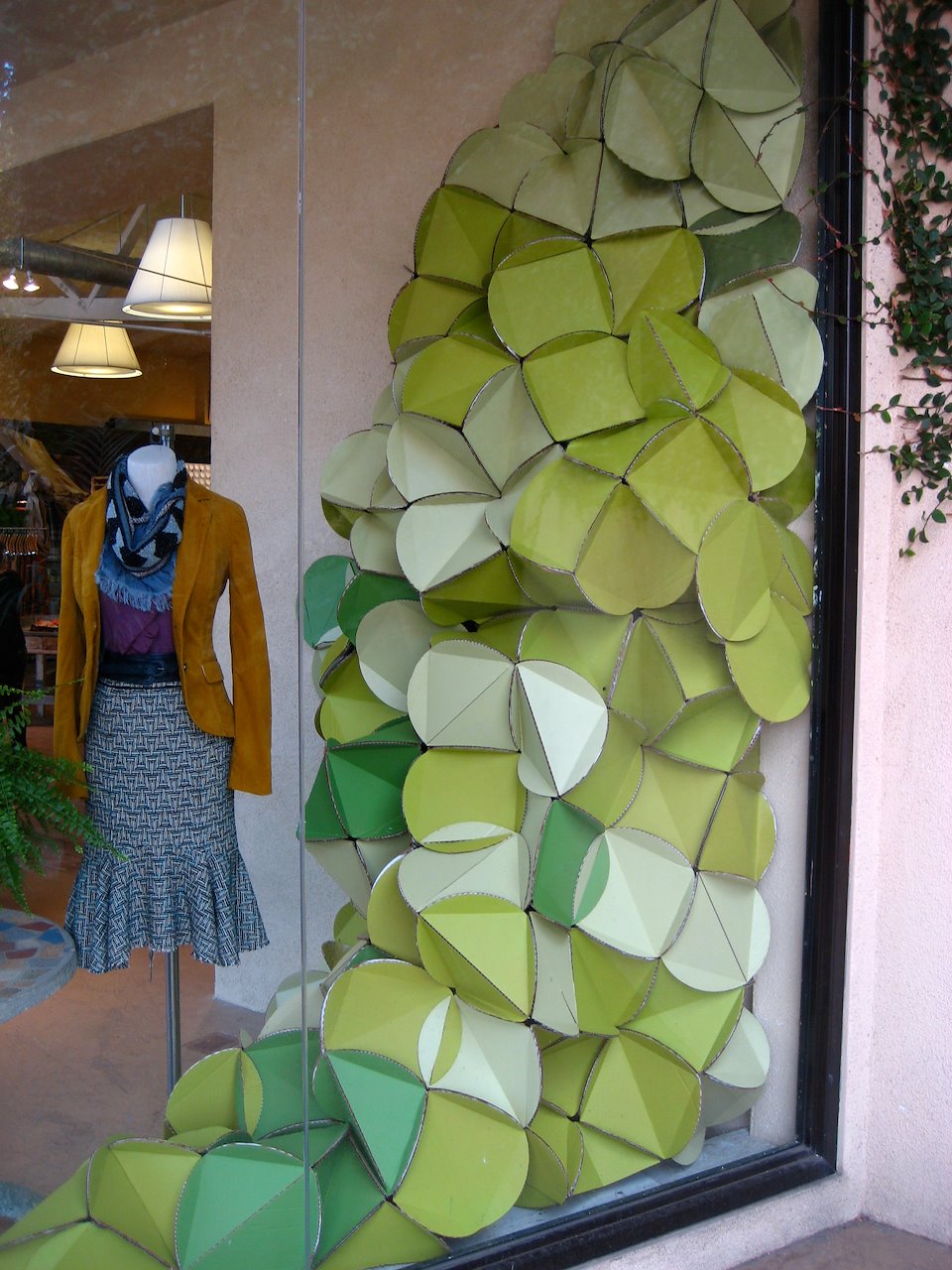 cardboard caterpillar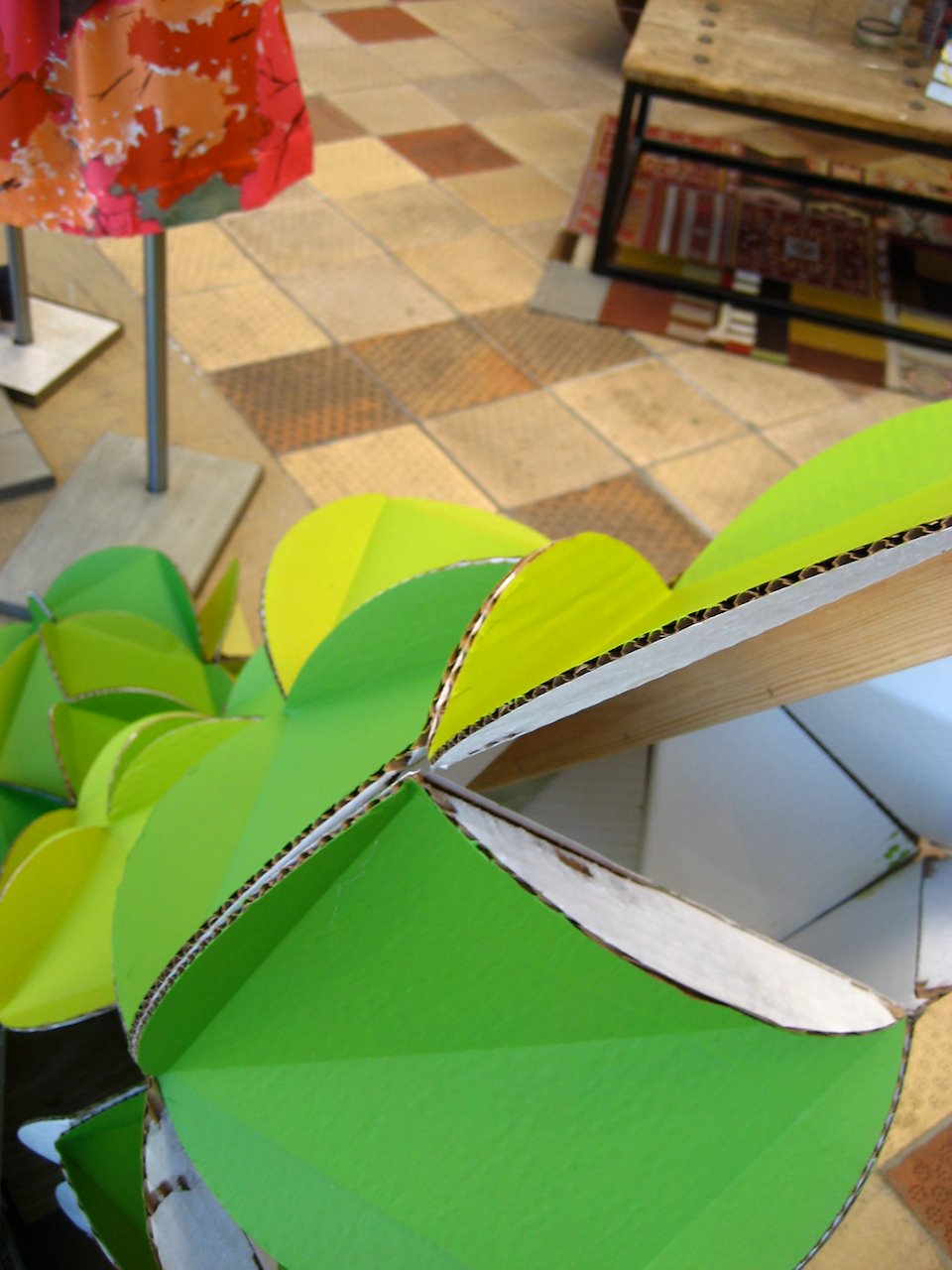 circle of cardboard bent three times to make joint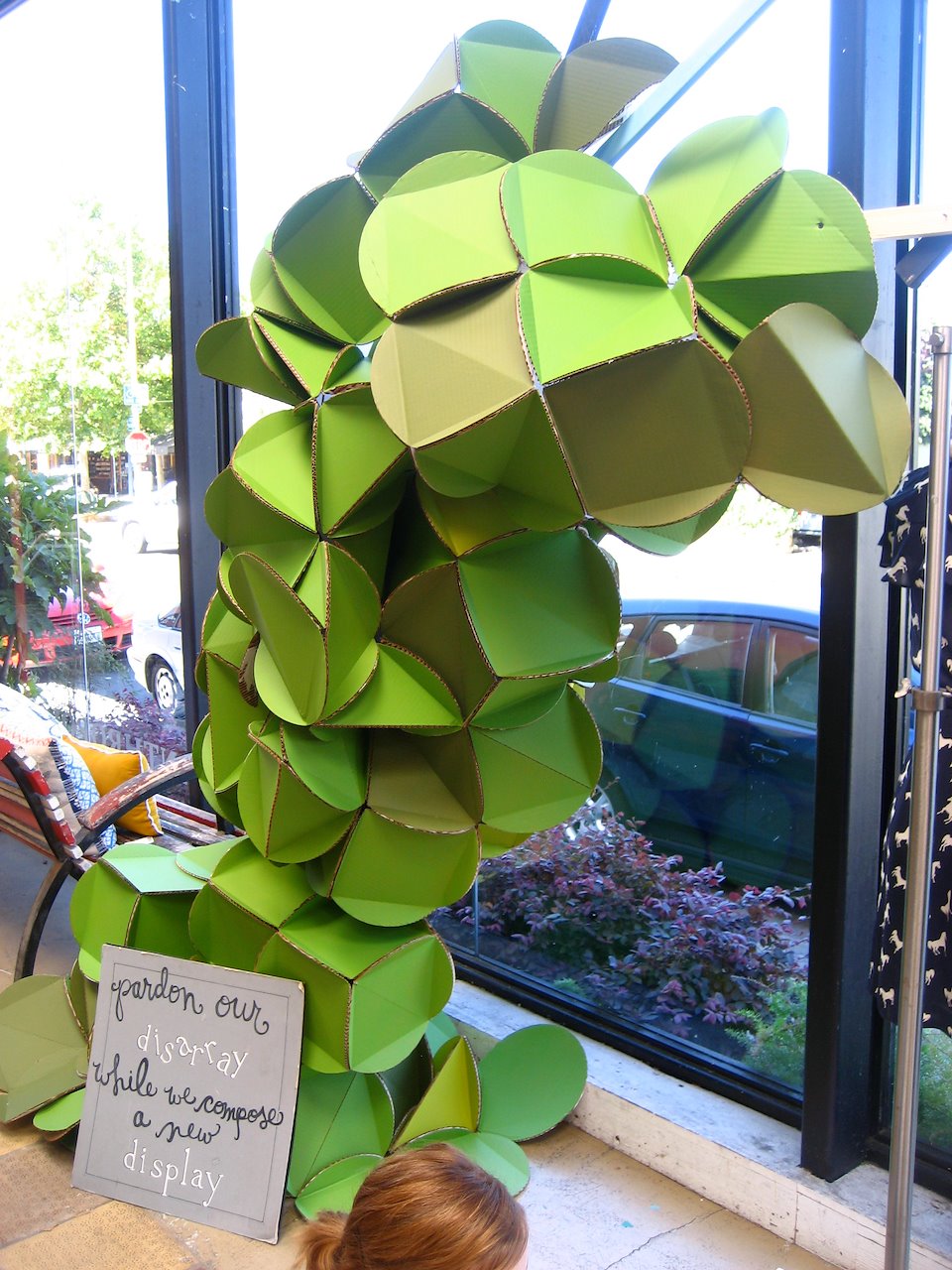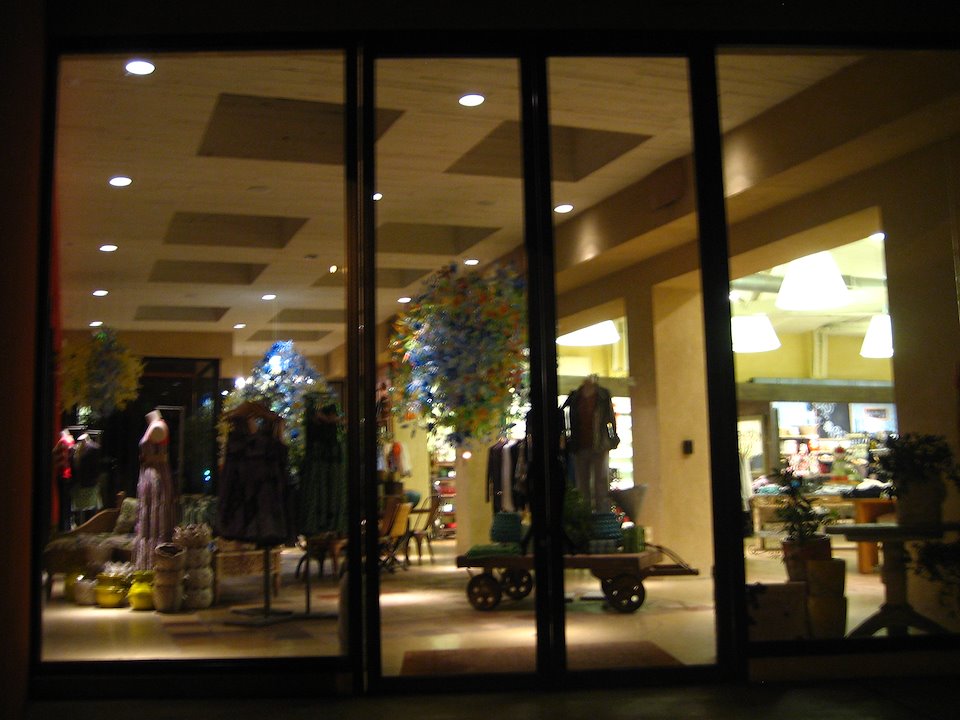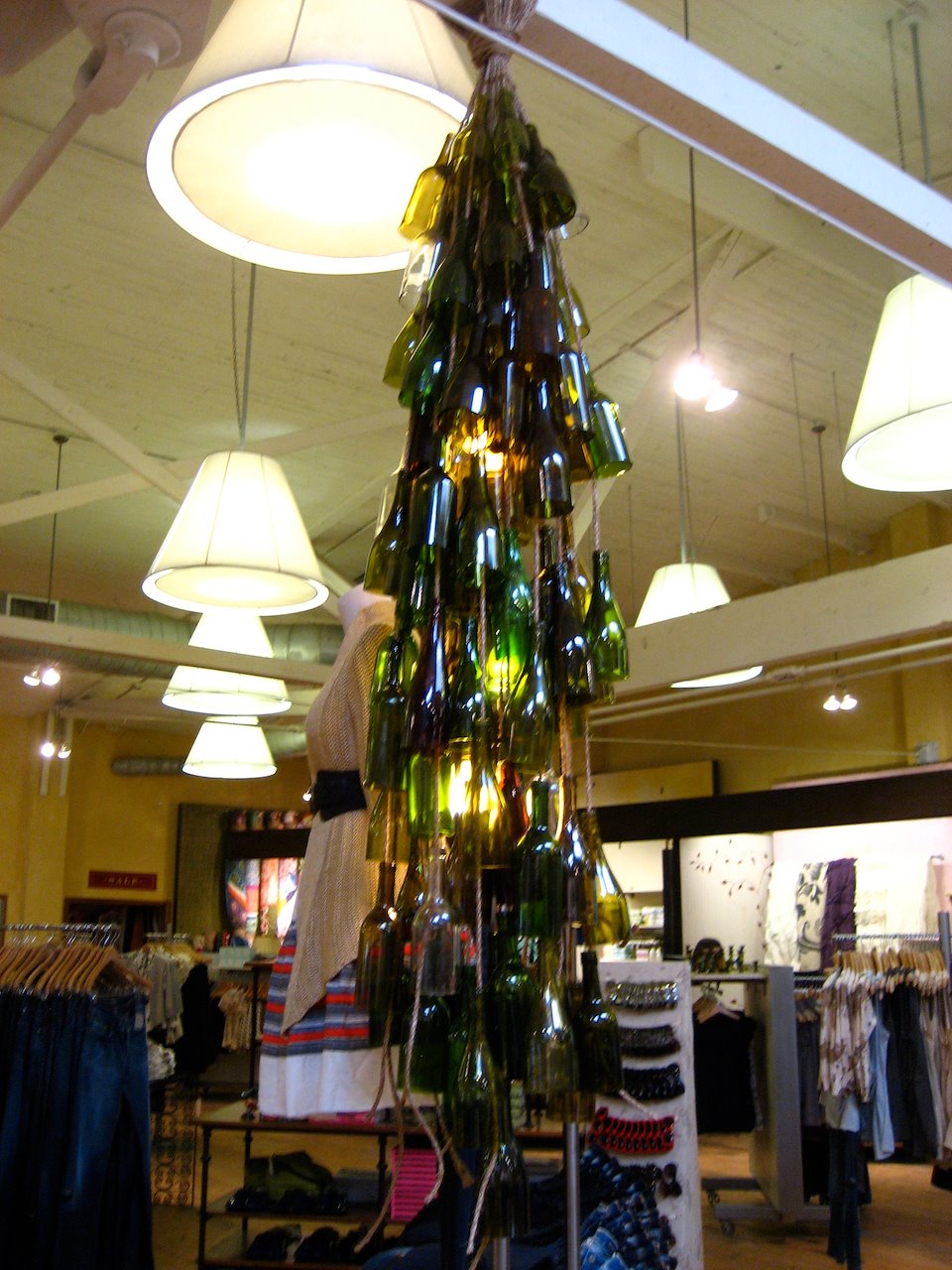 cut glass chandelier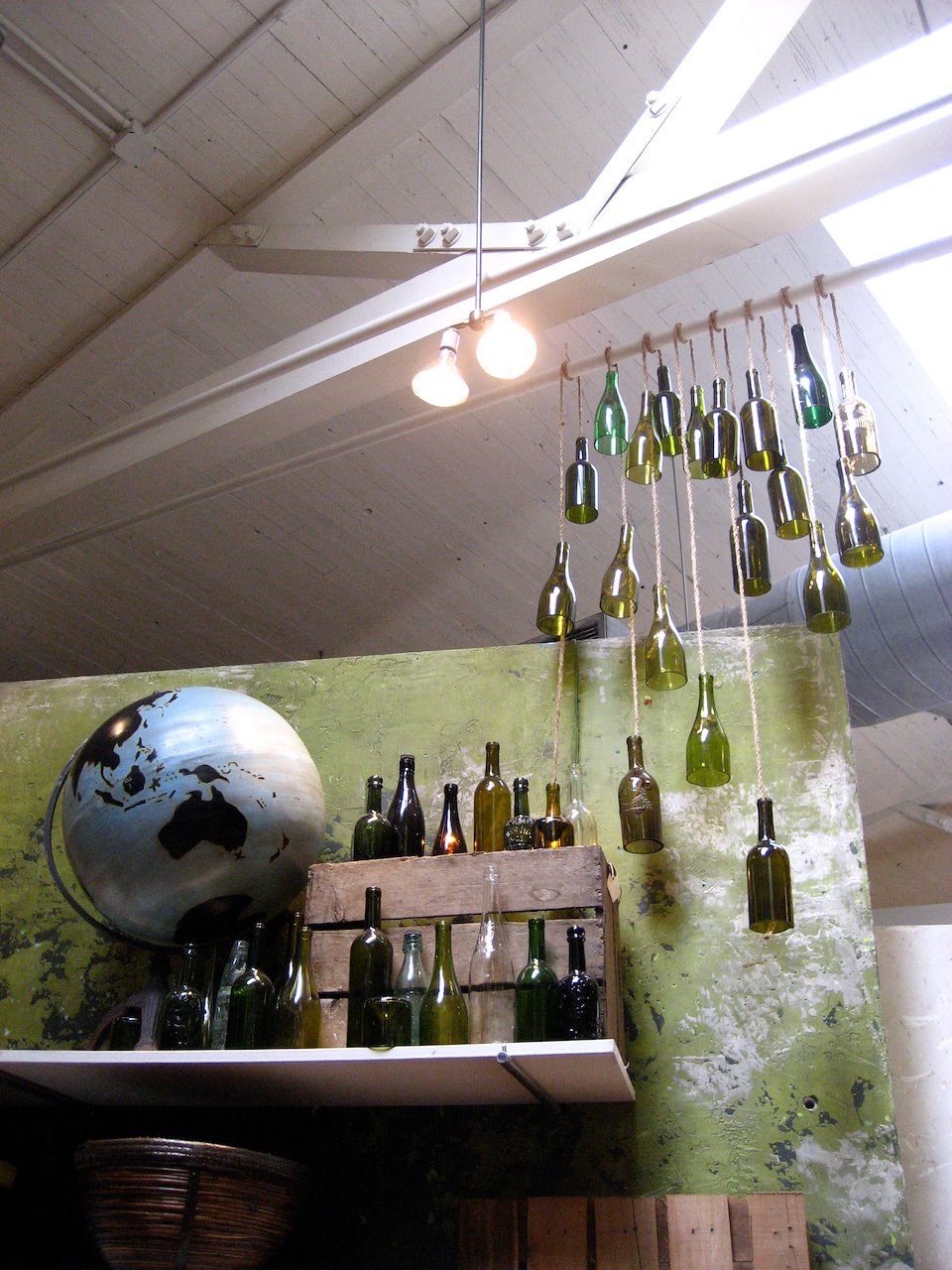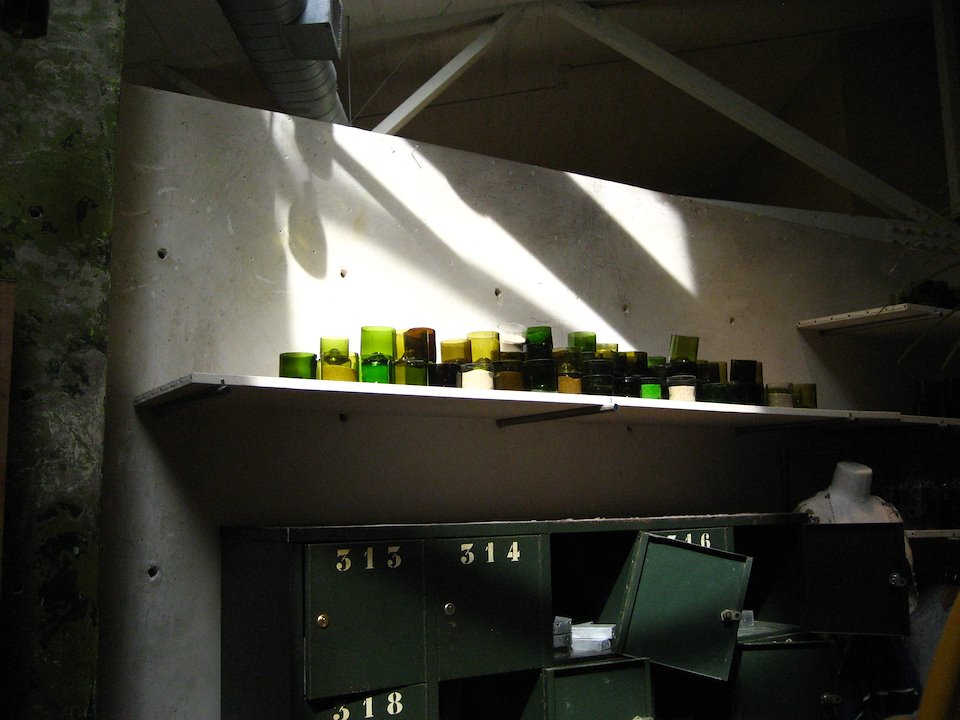 bottom of glass candle display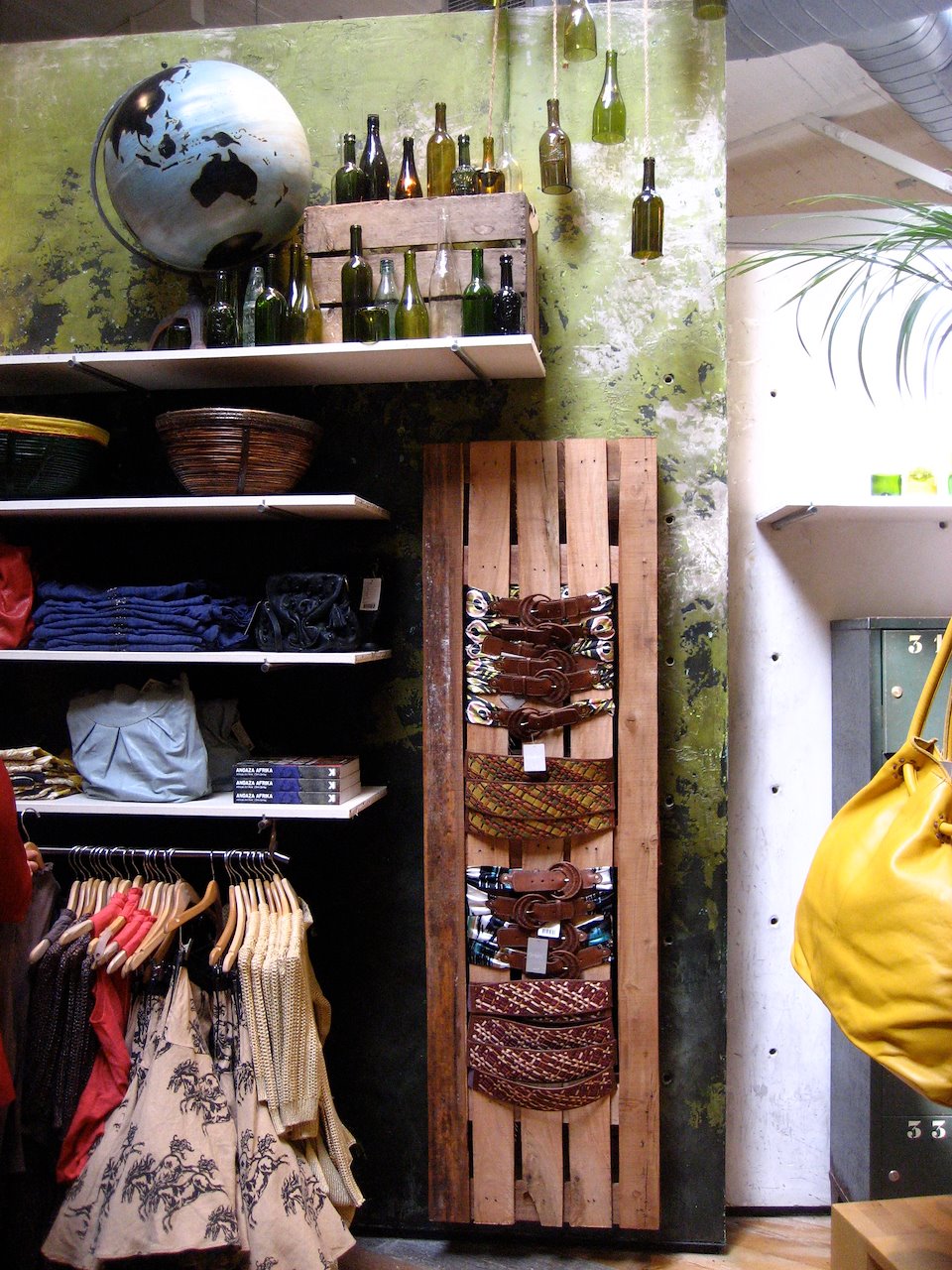 pallet belt display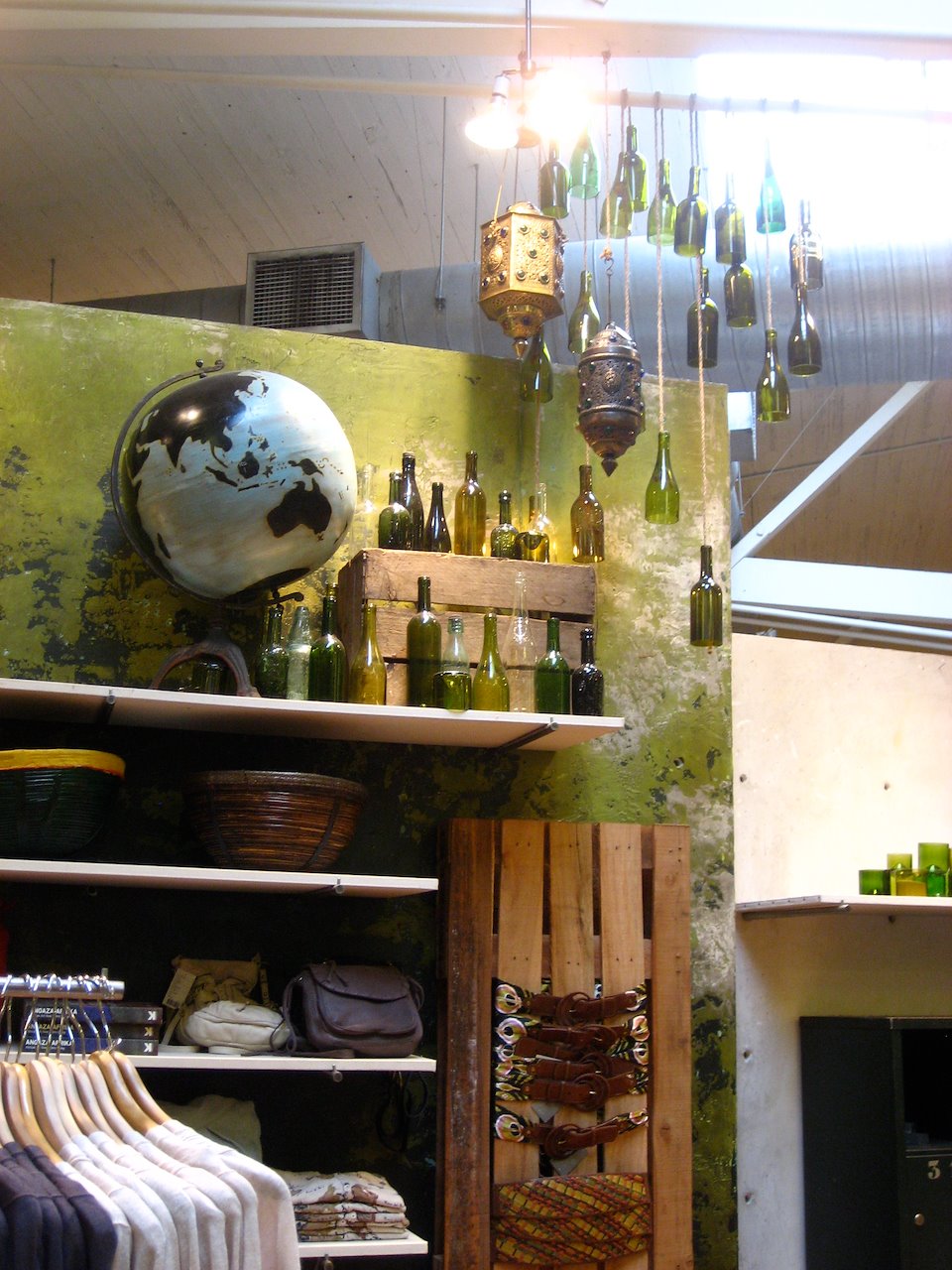 Castaway bottle globe Tavel display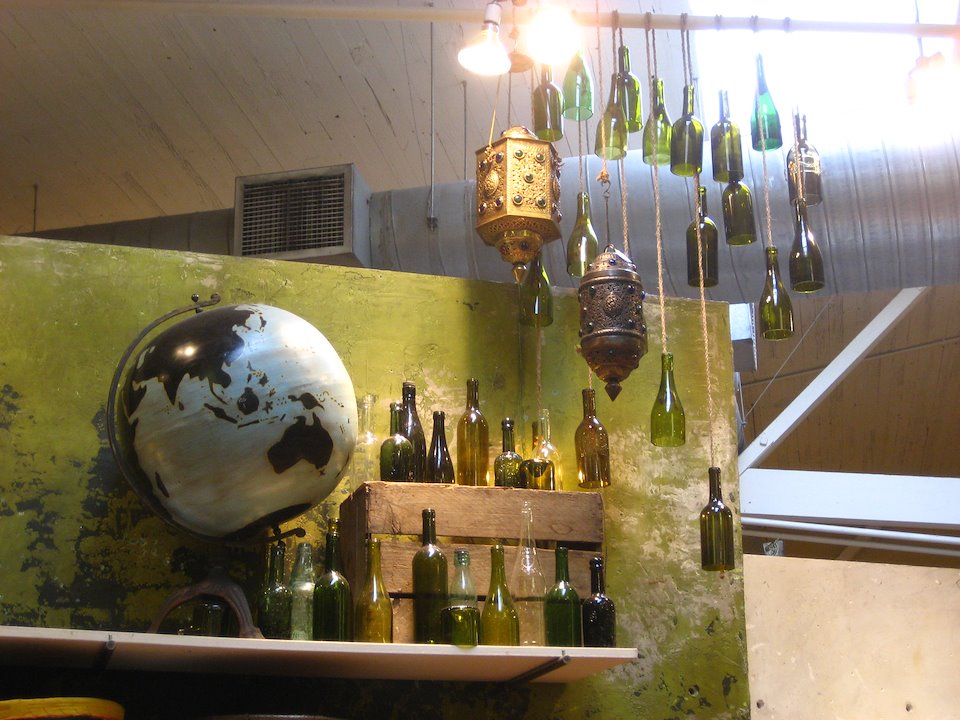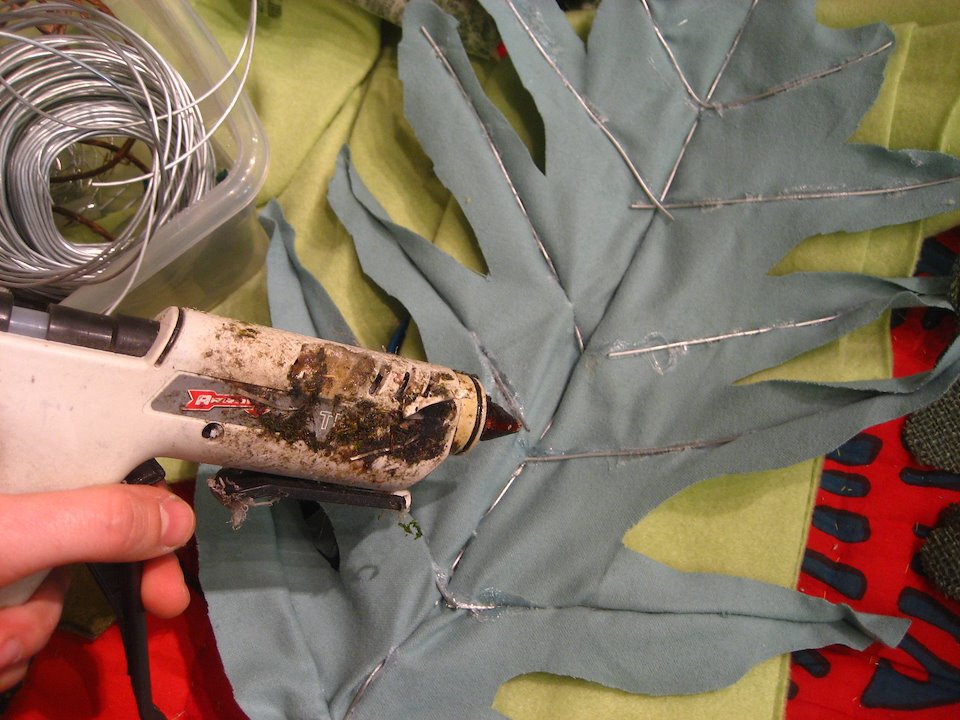 hand gluing felt leaves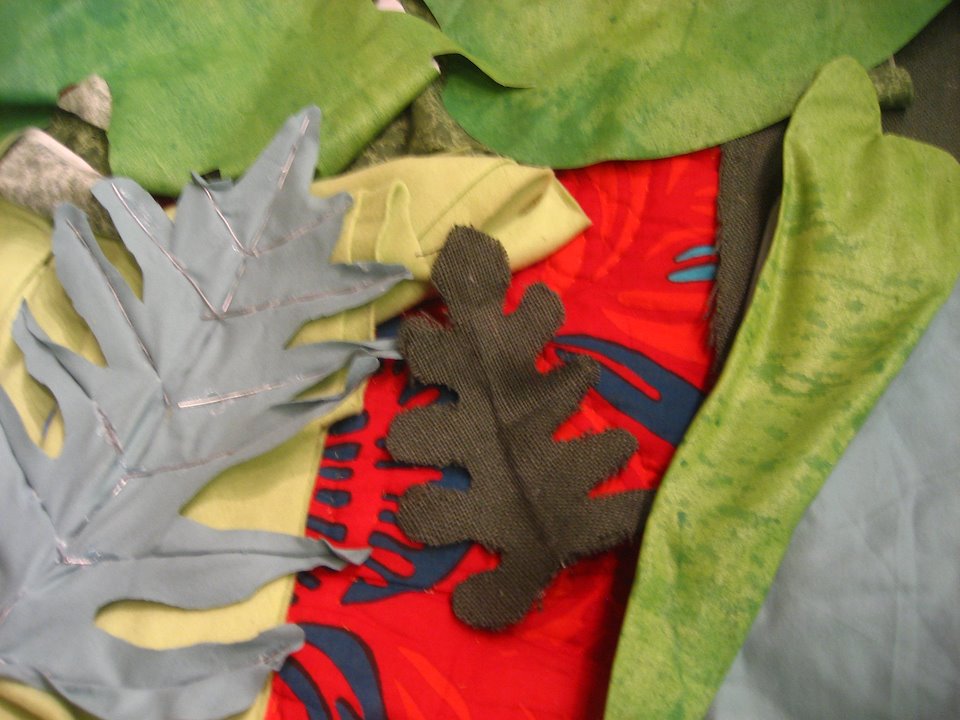 felt leaves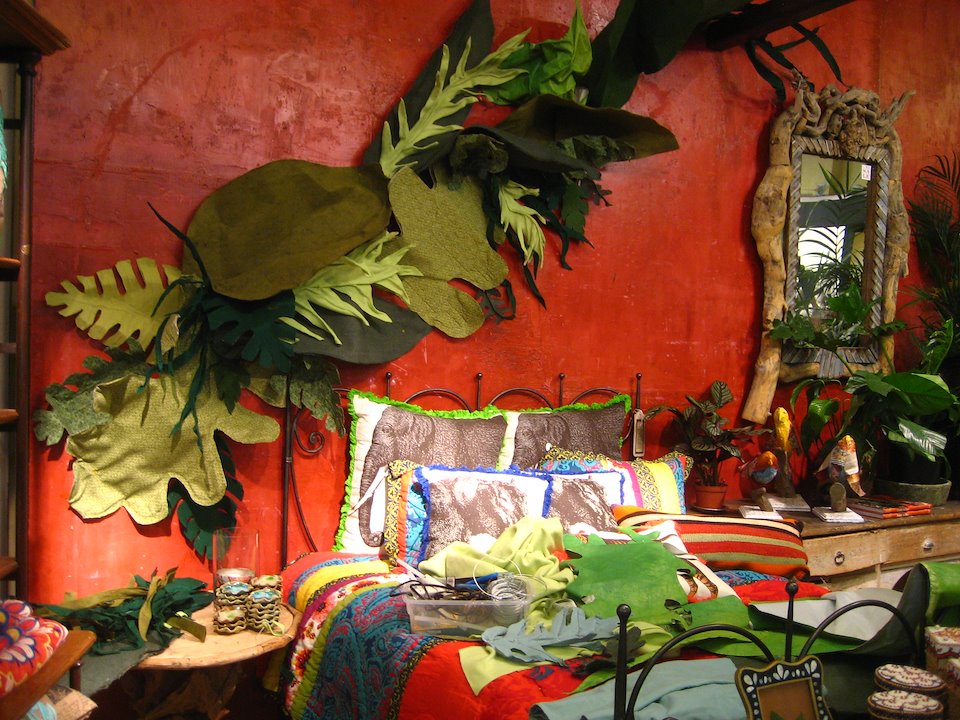 Tropical leaves bed display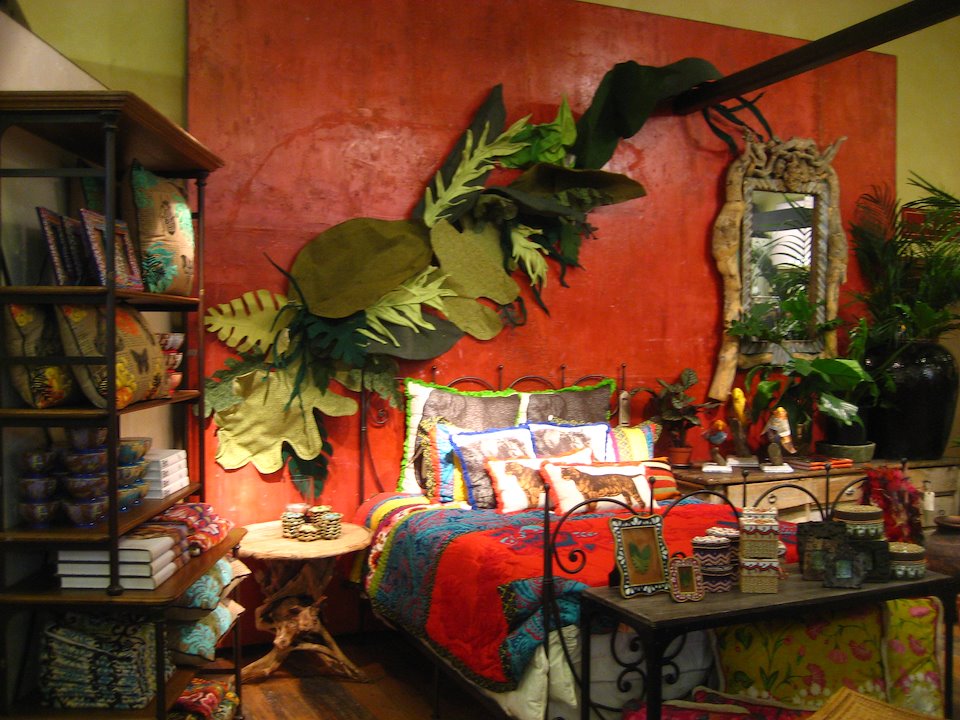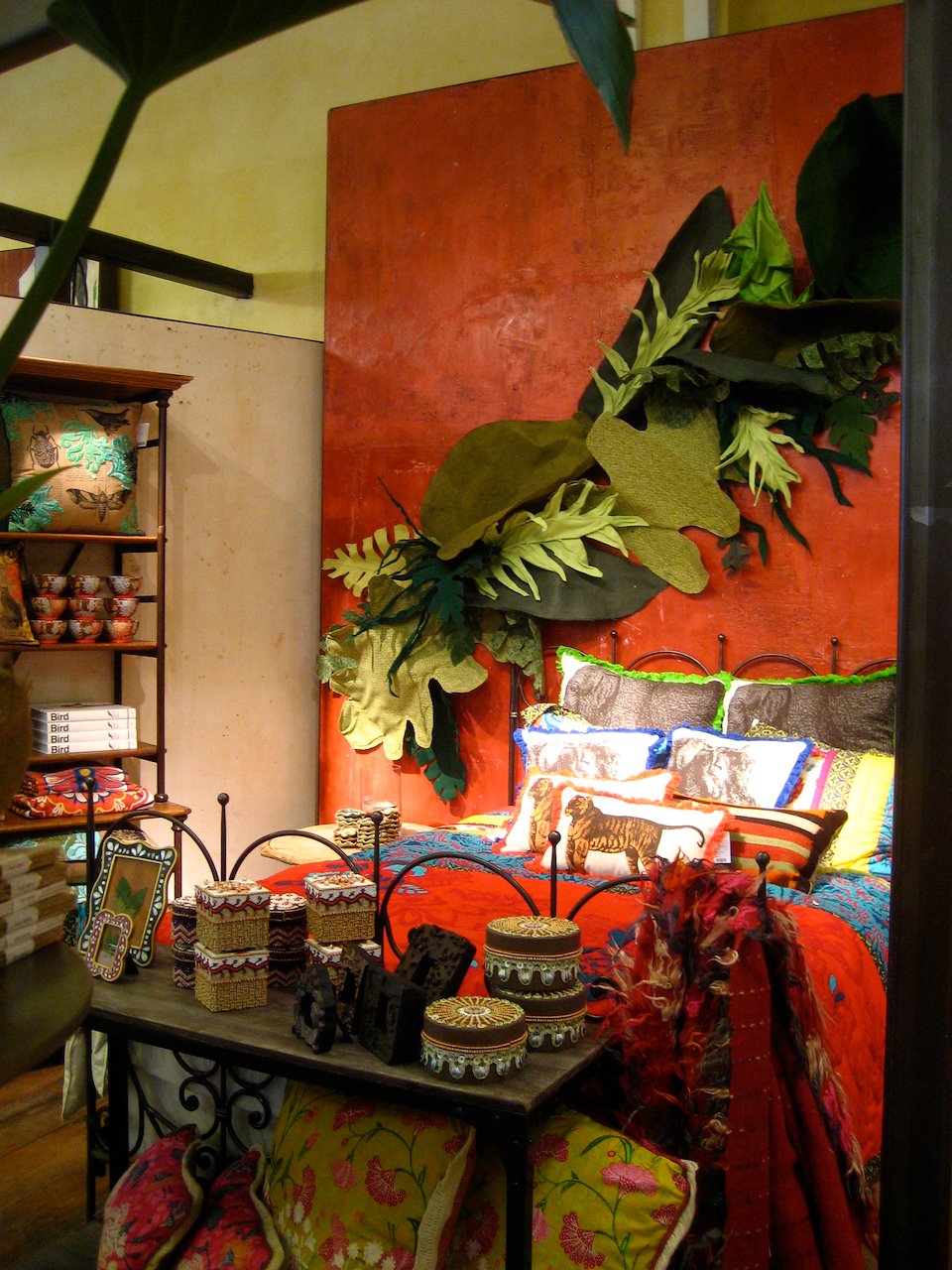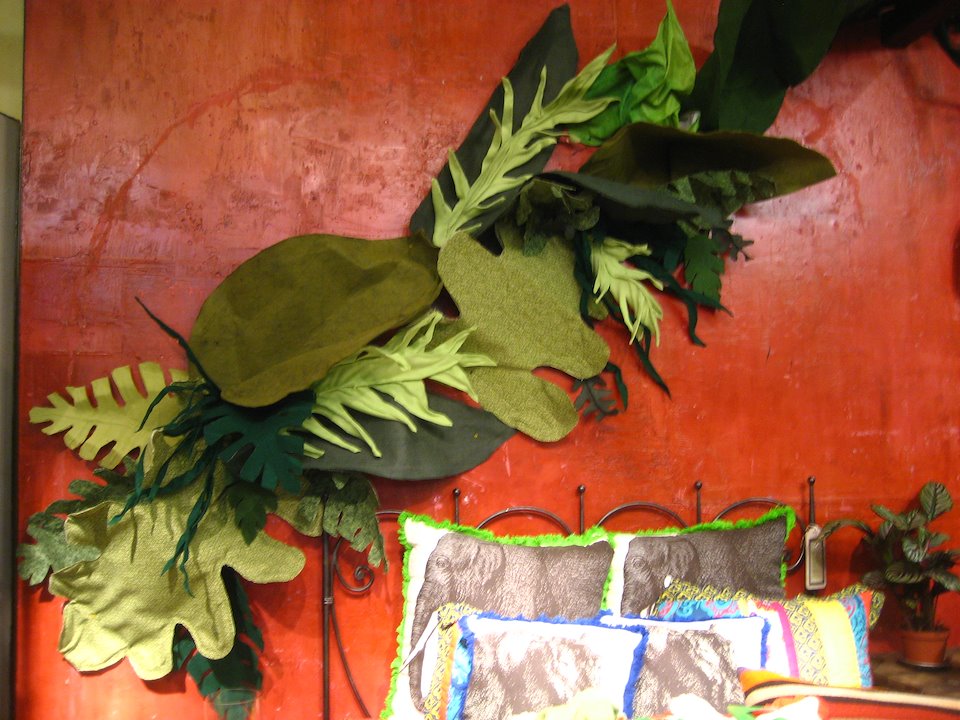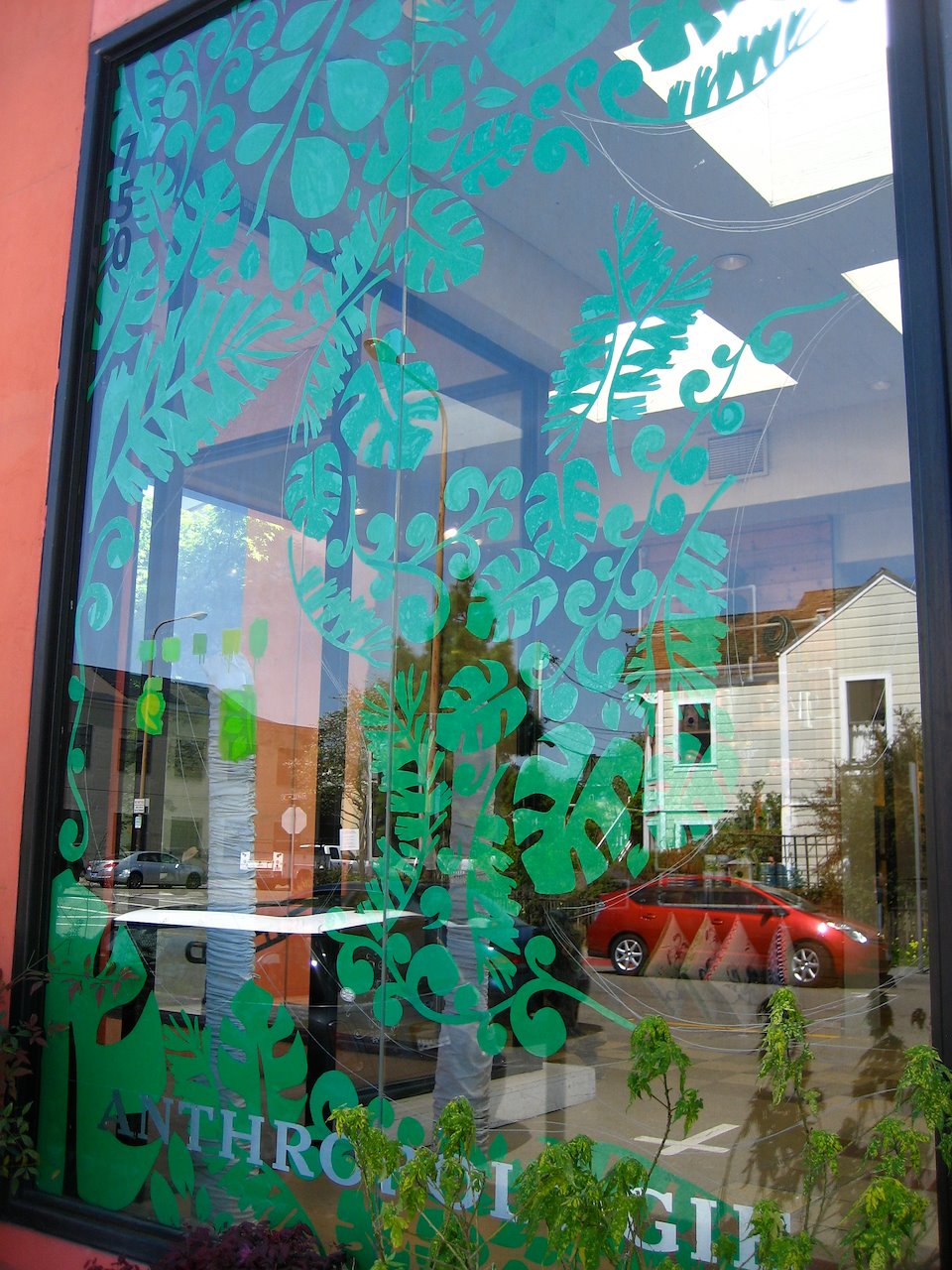 Vinyl cut leaves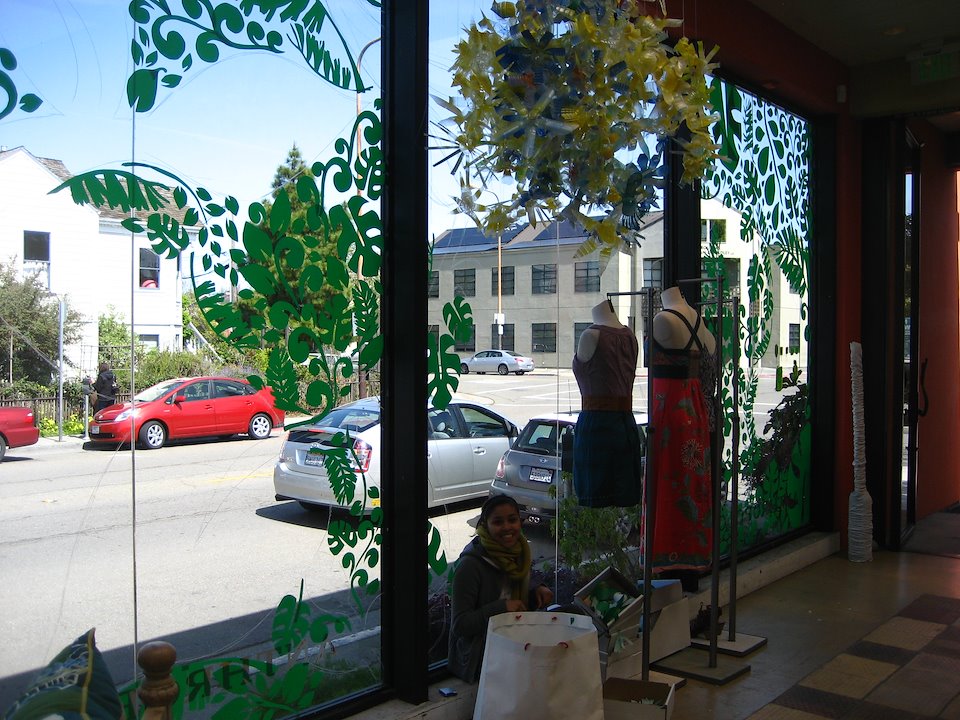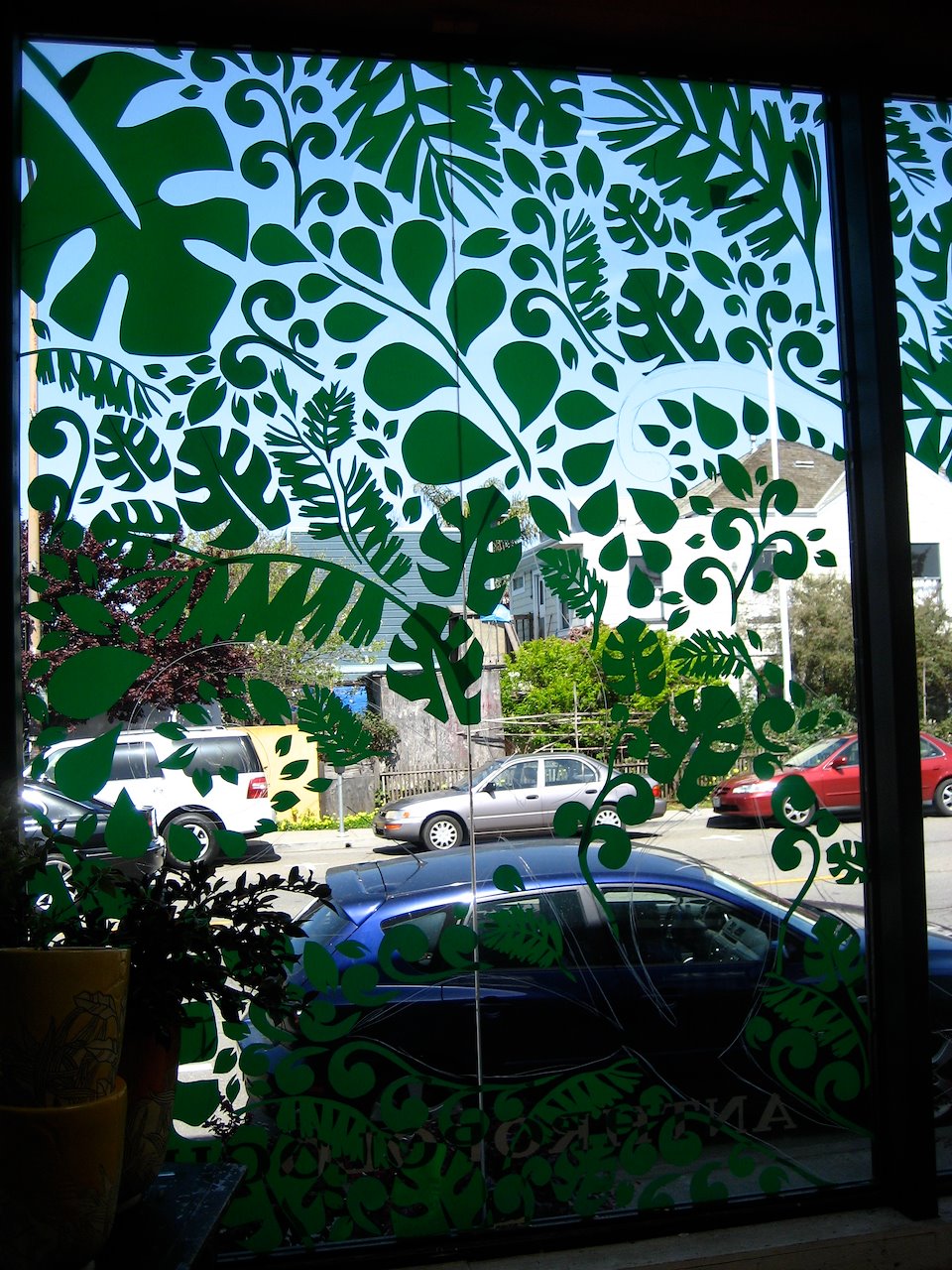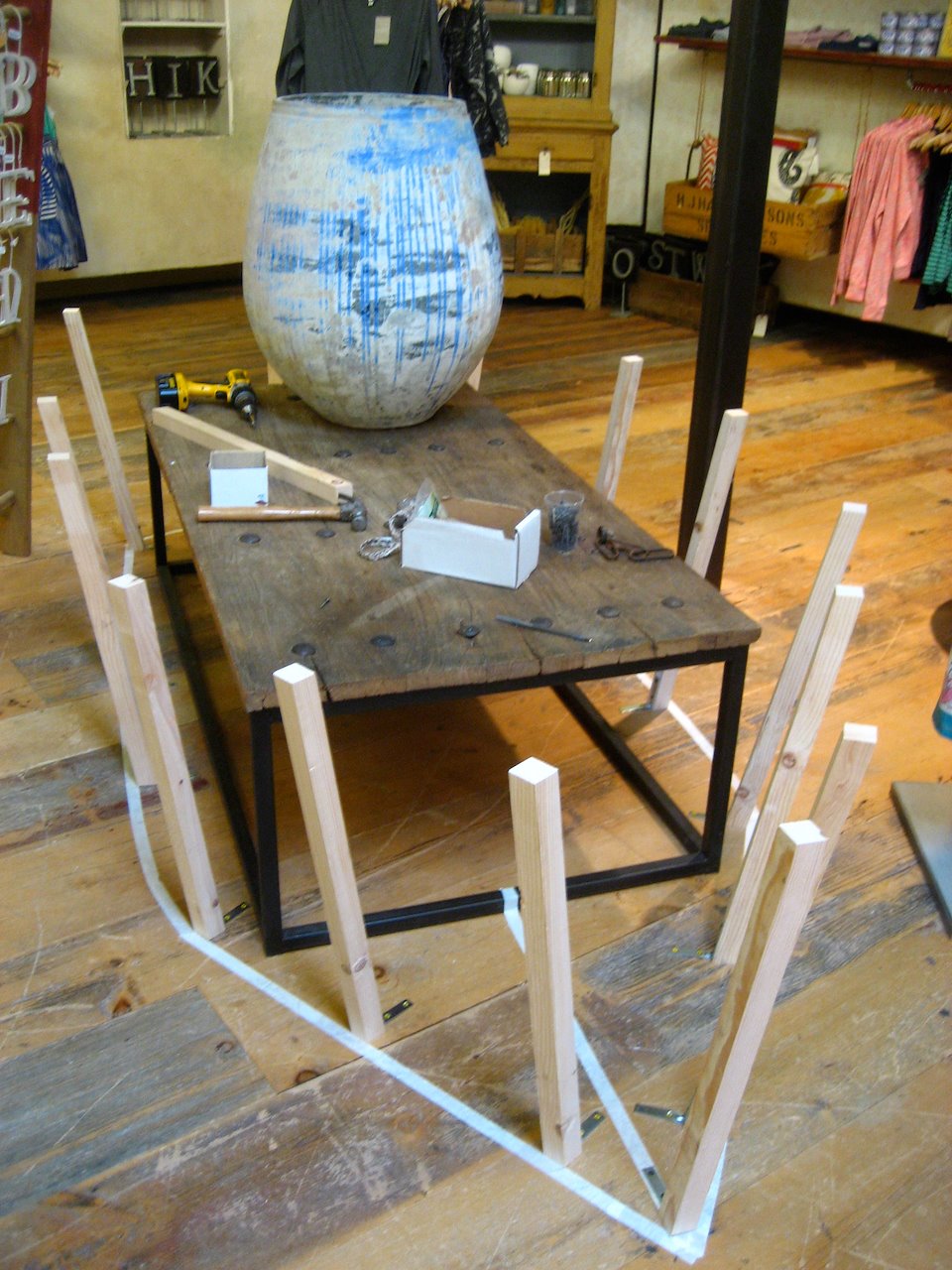 building a boat from scratch!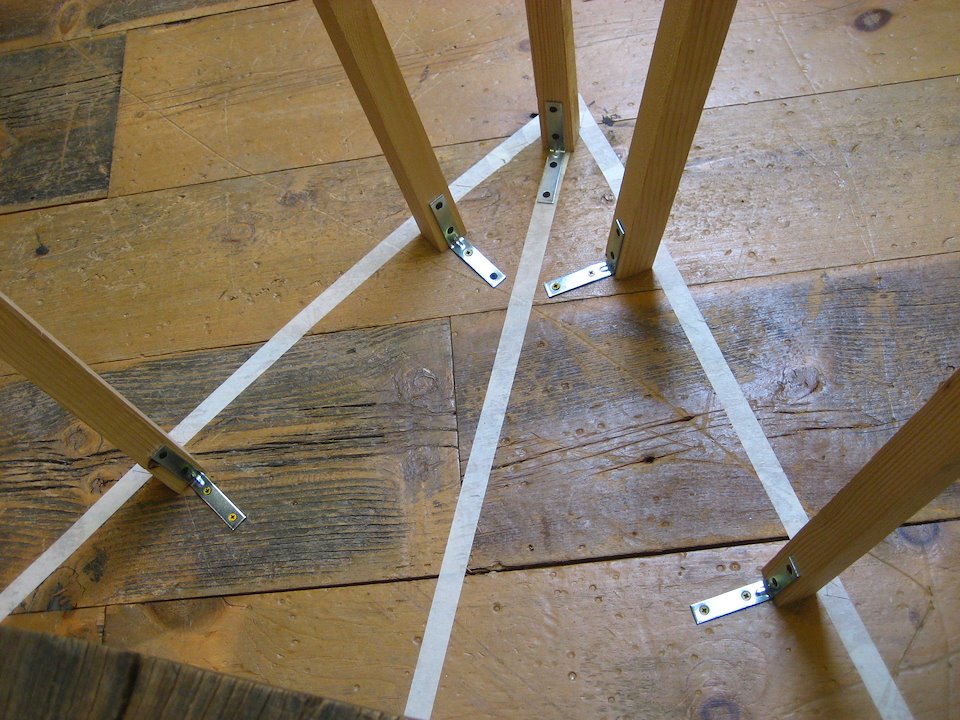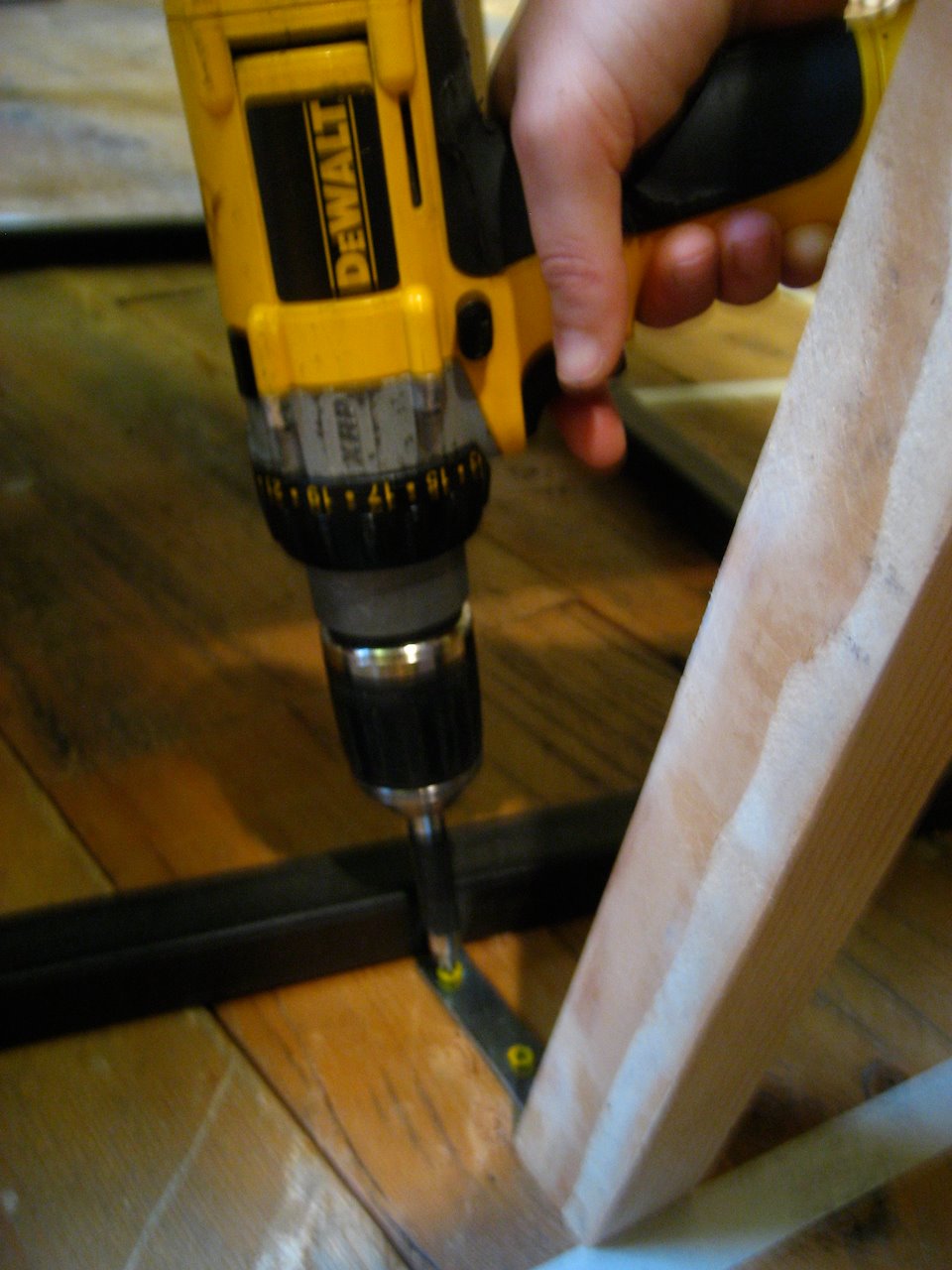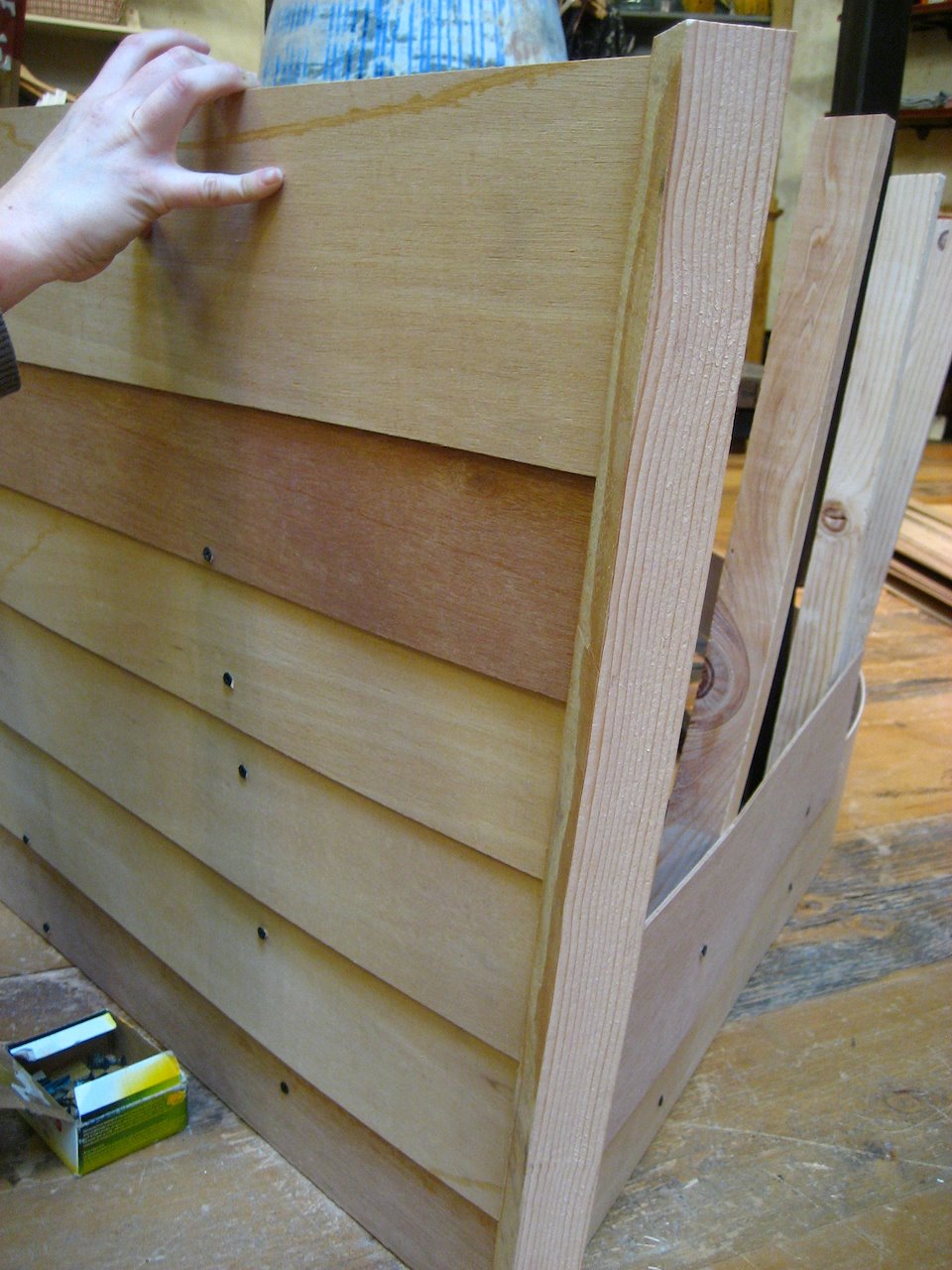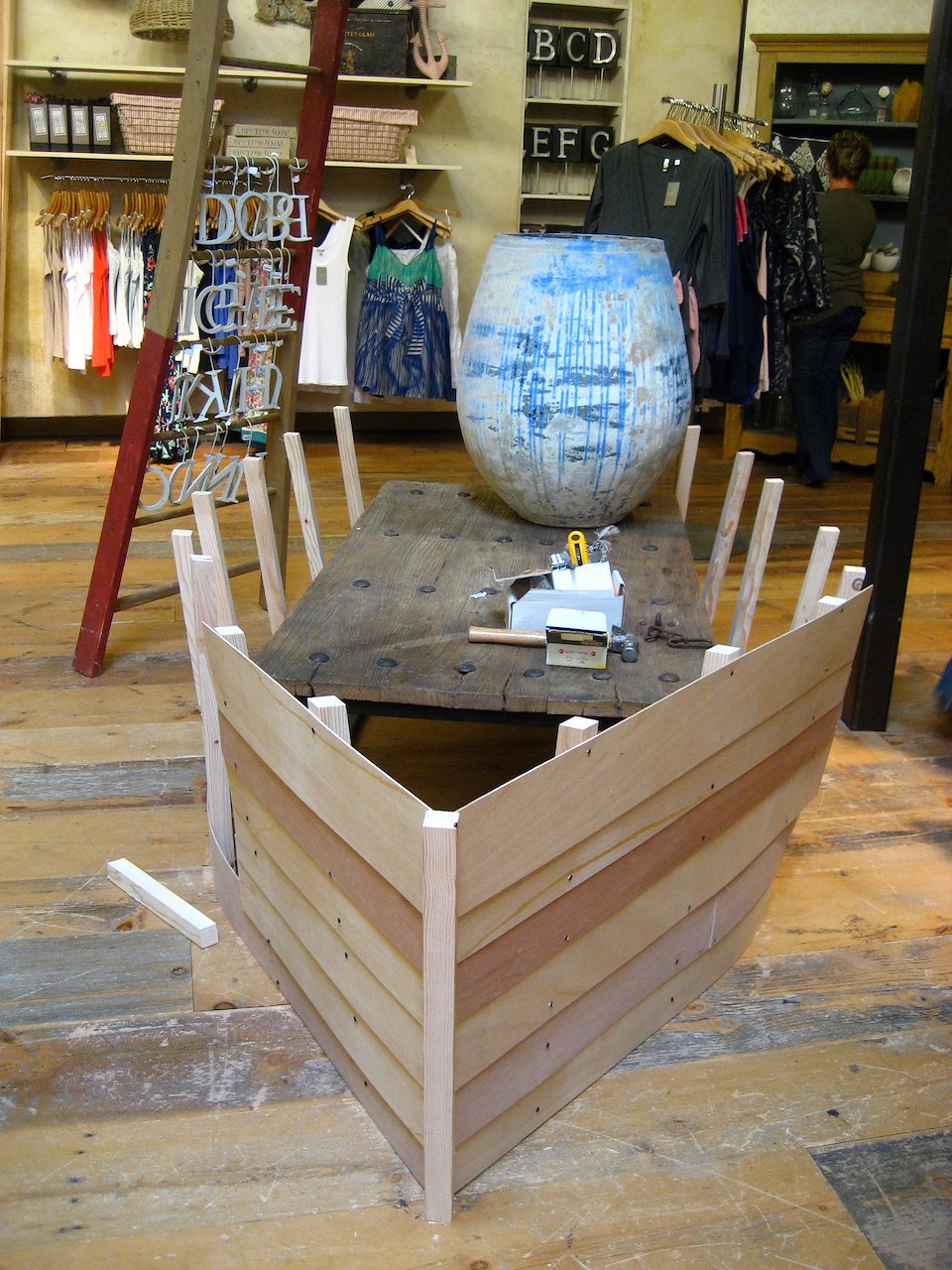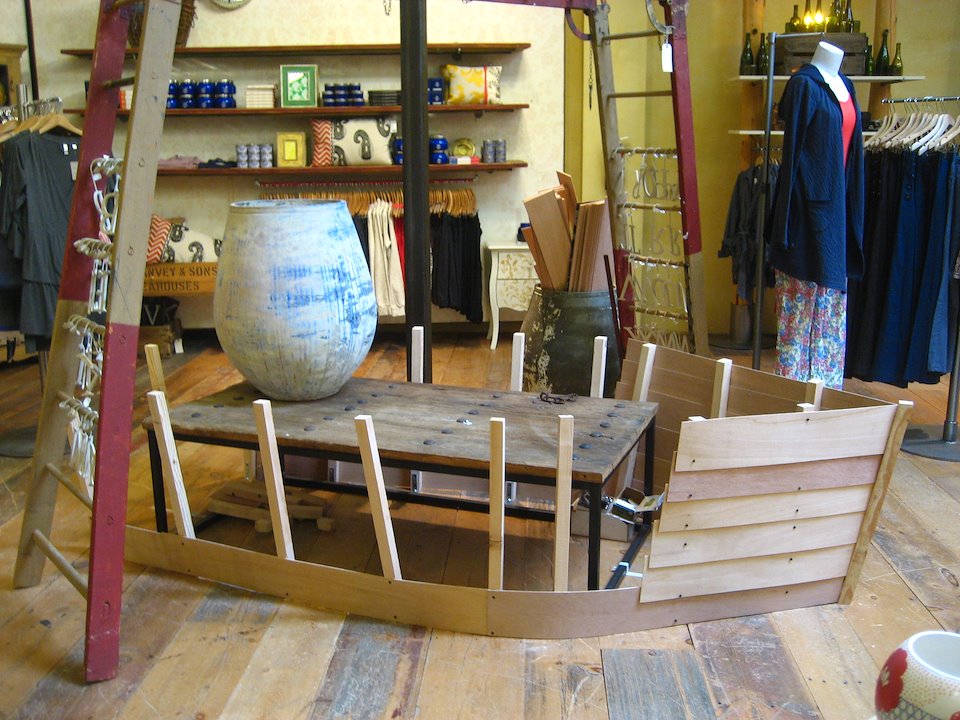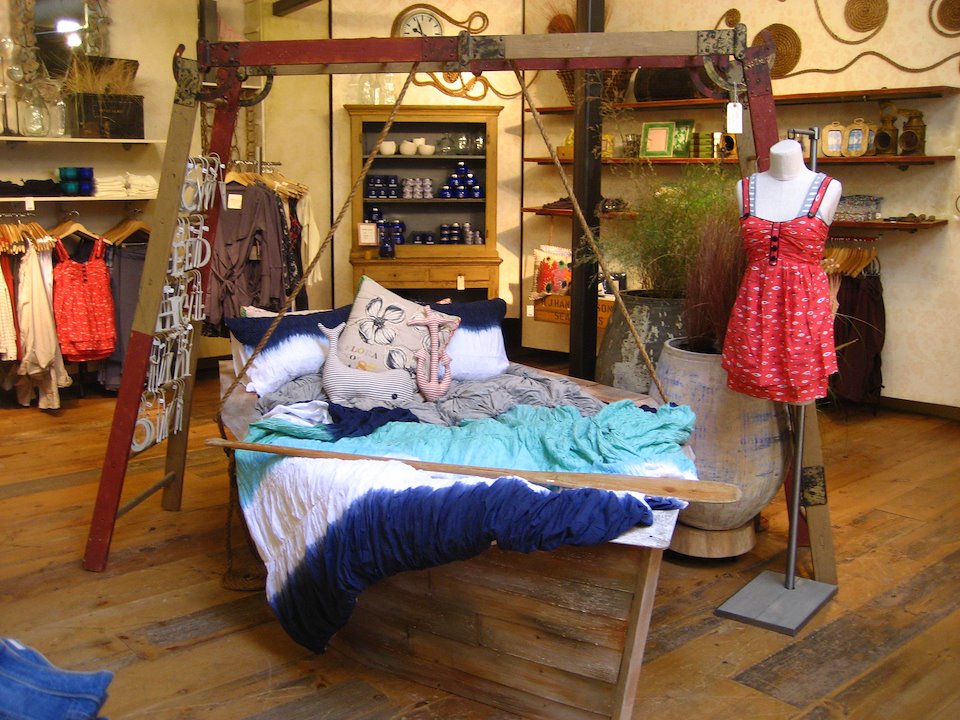 Boat bedding display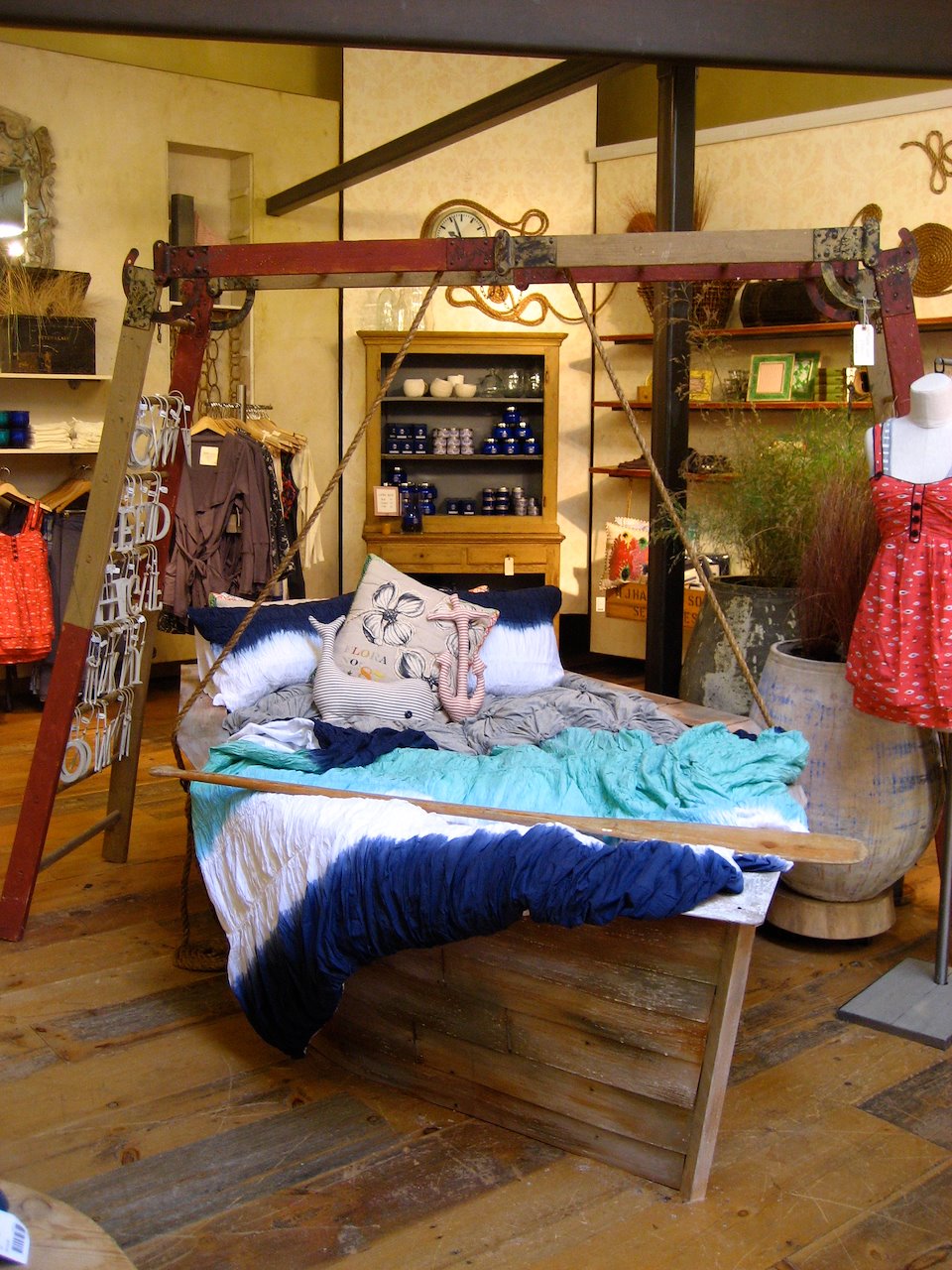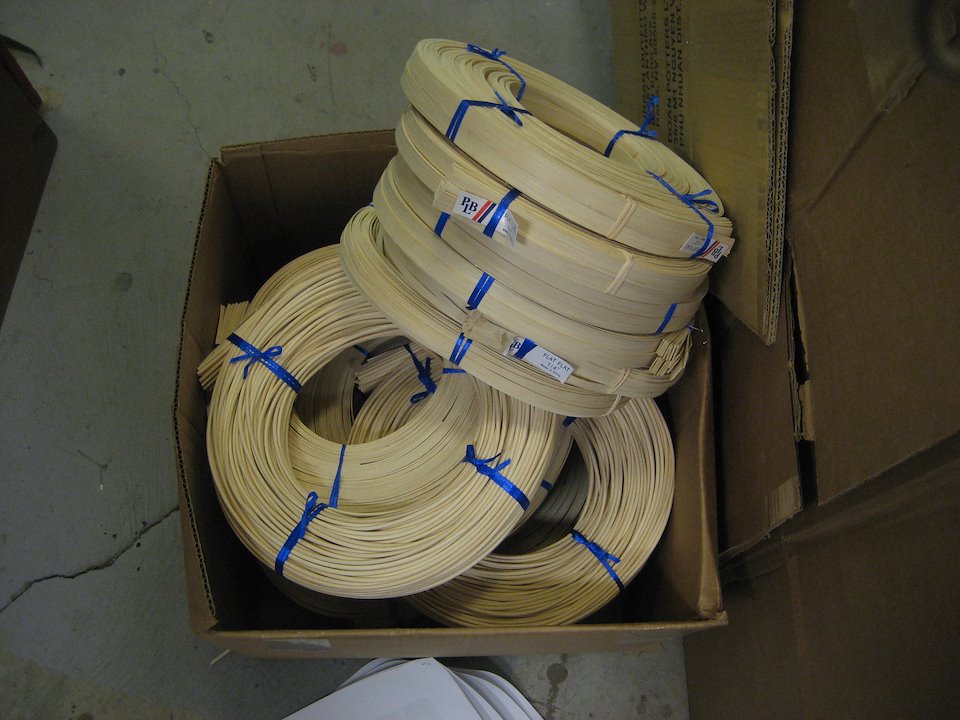 Cane weaving basket material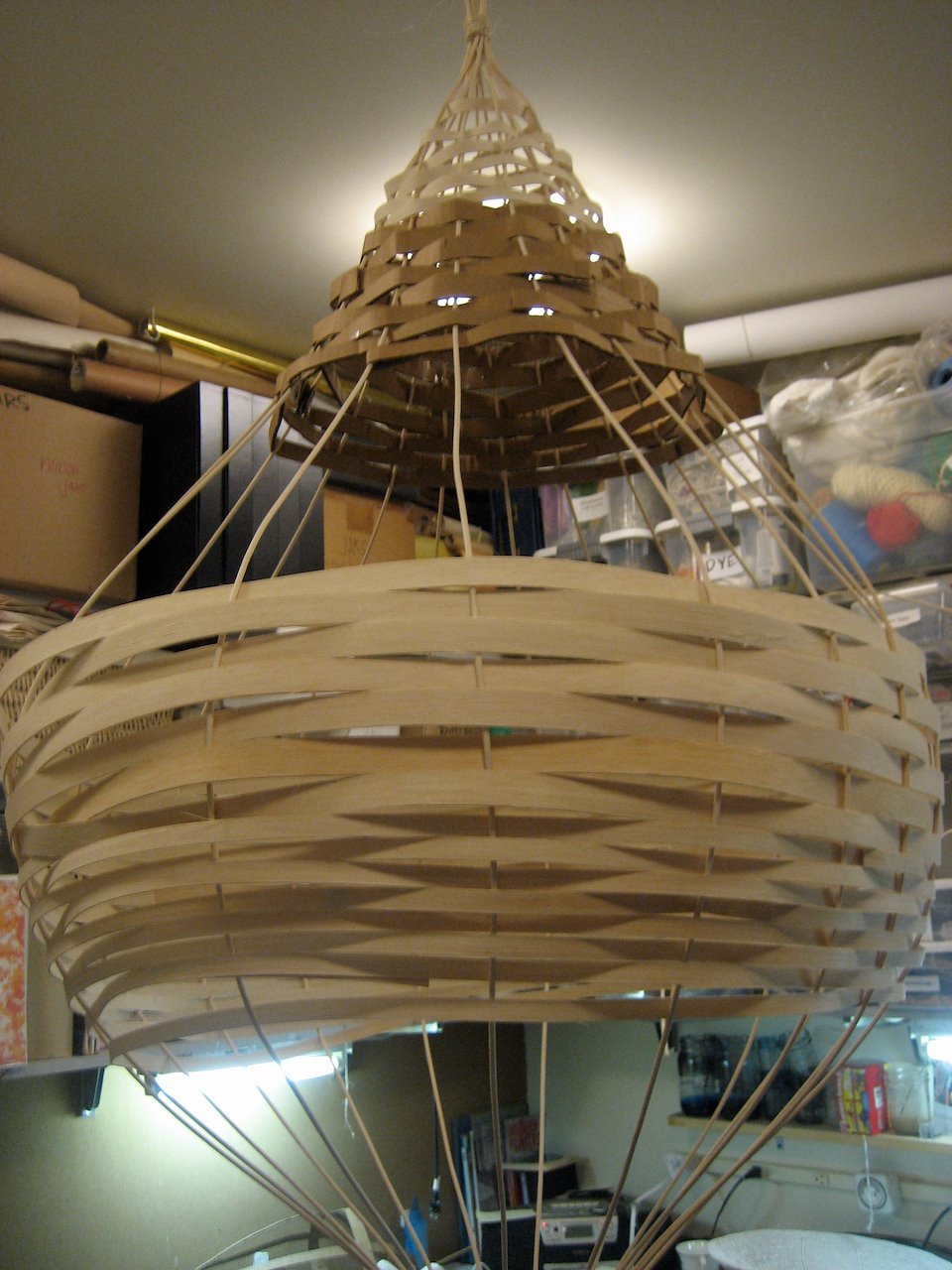 hand weaving baskets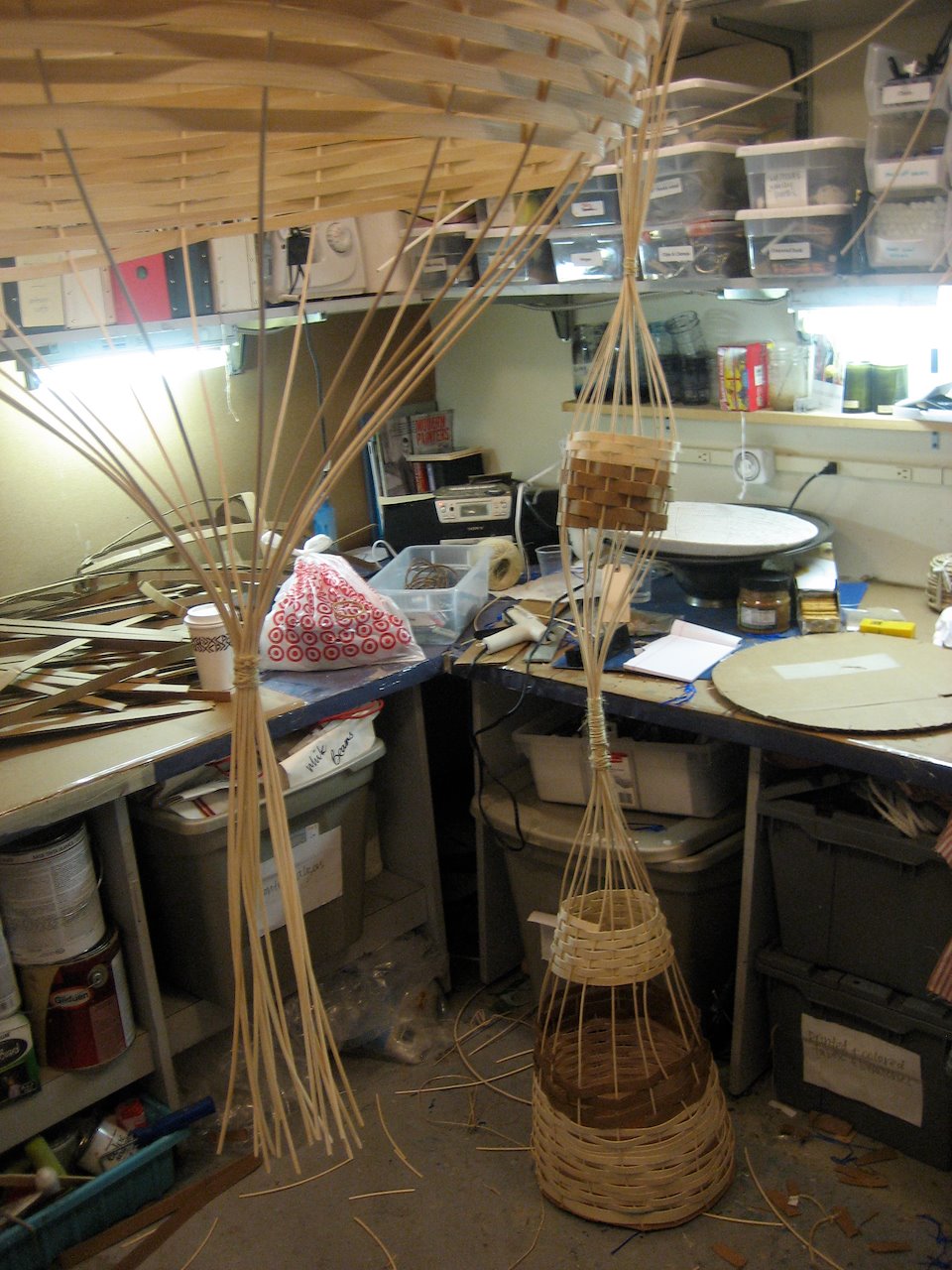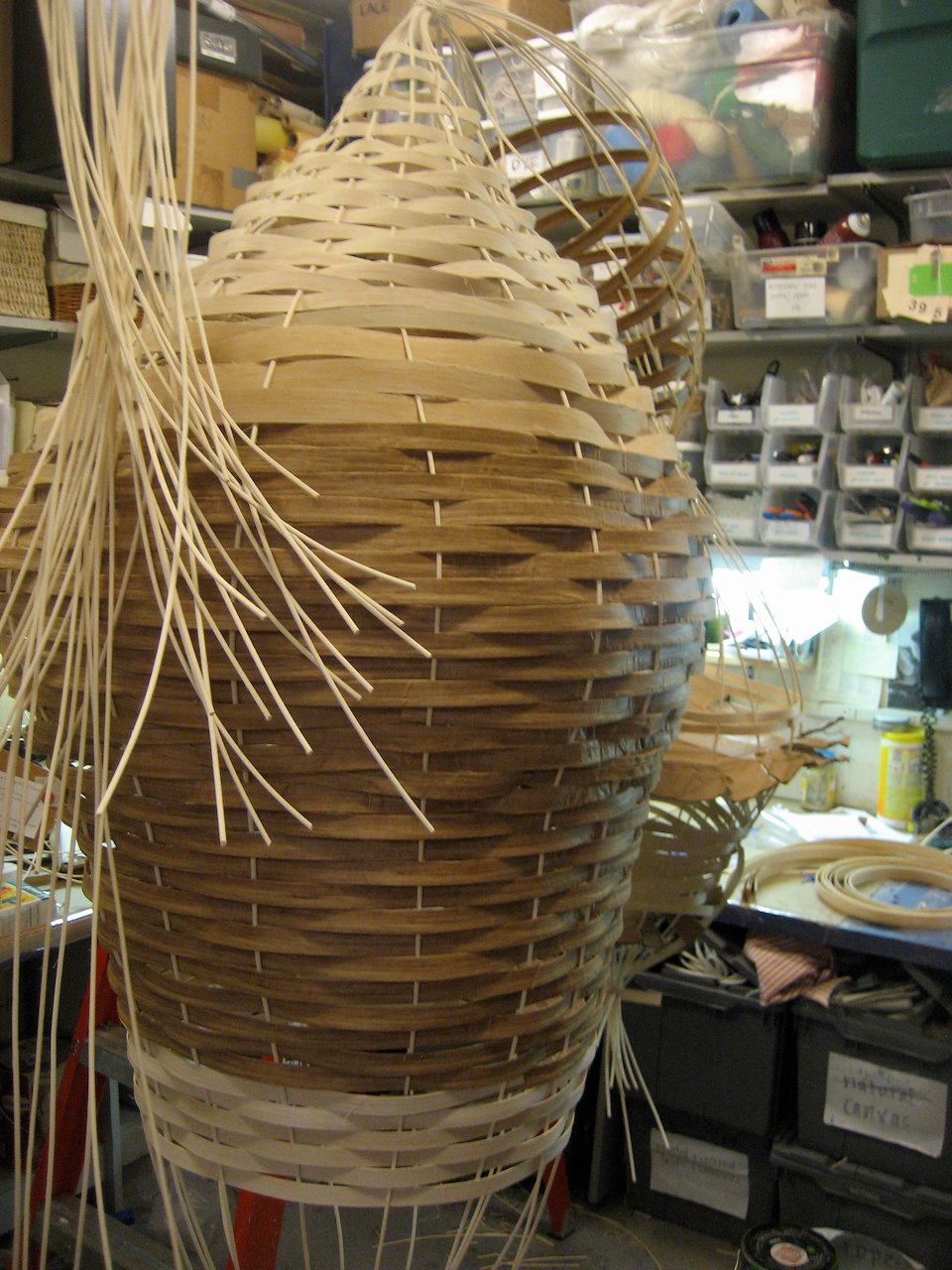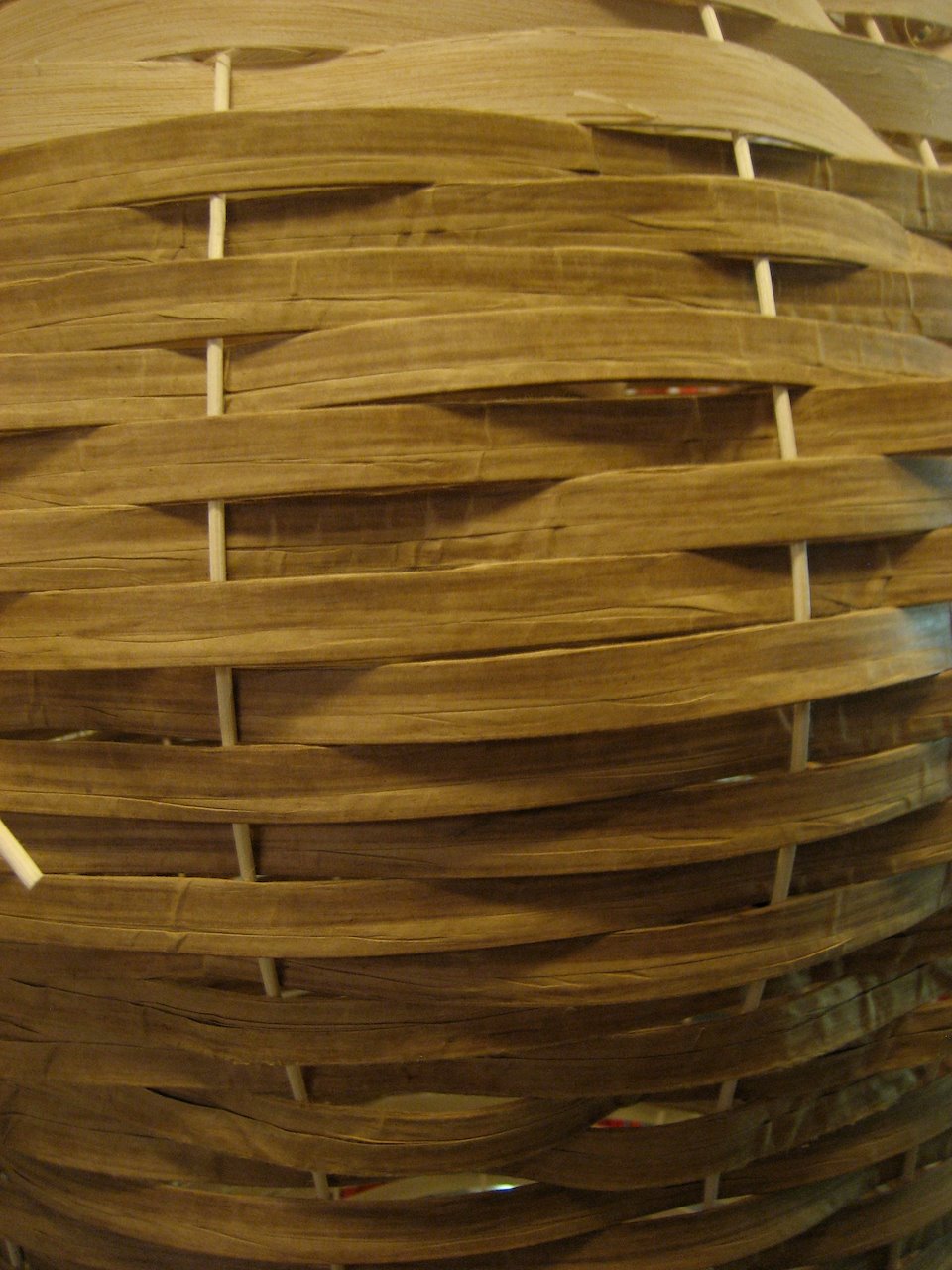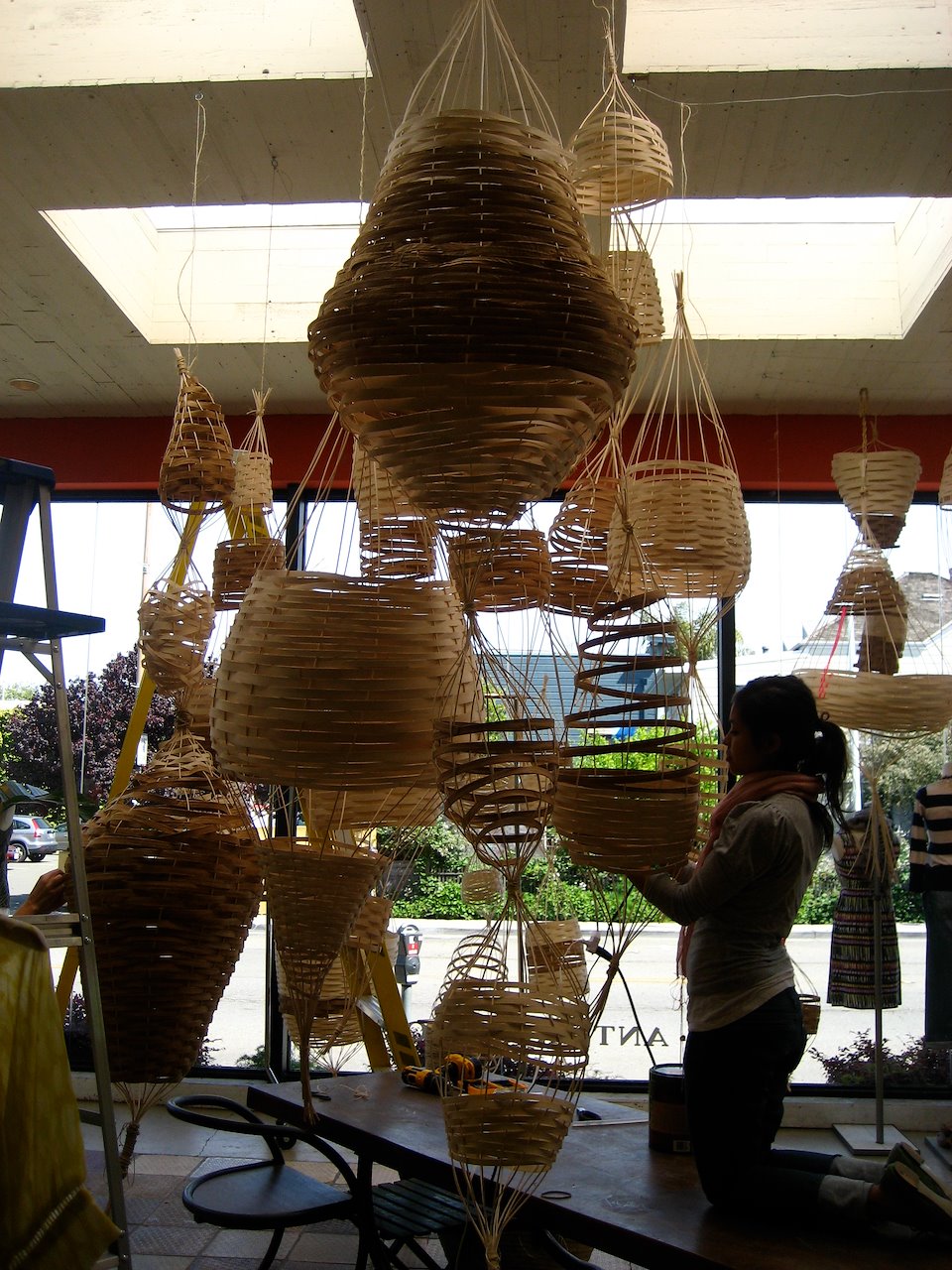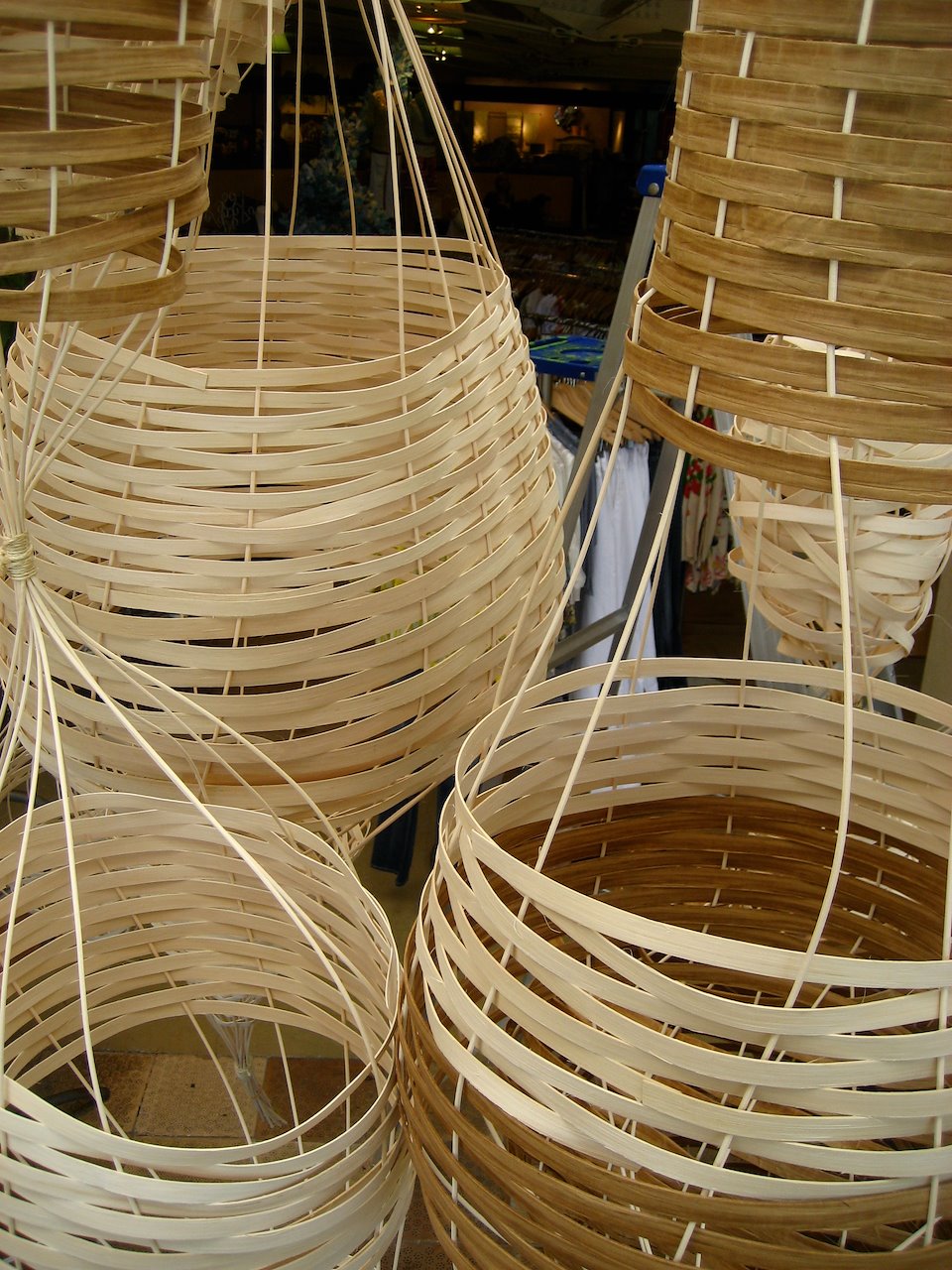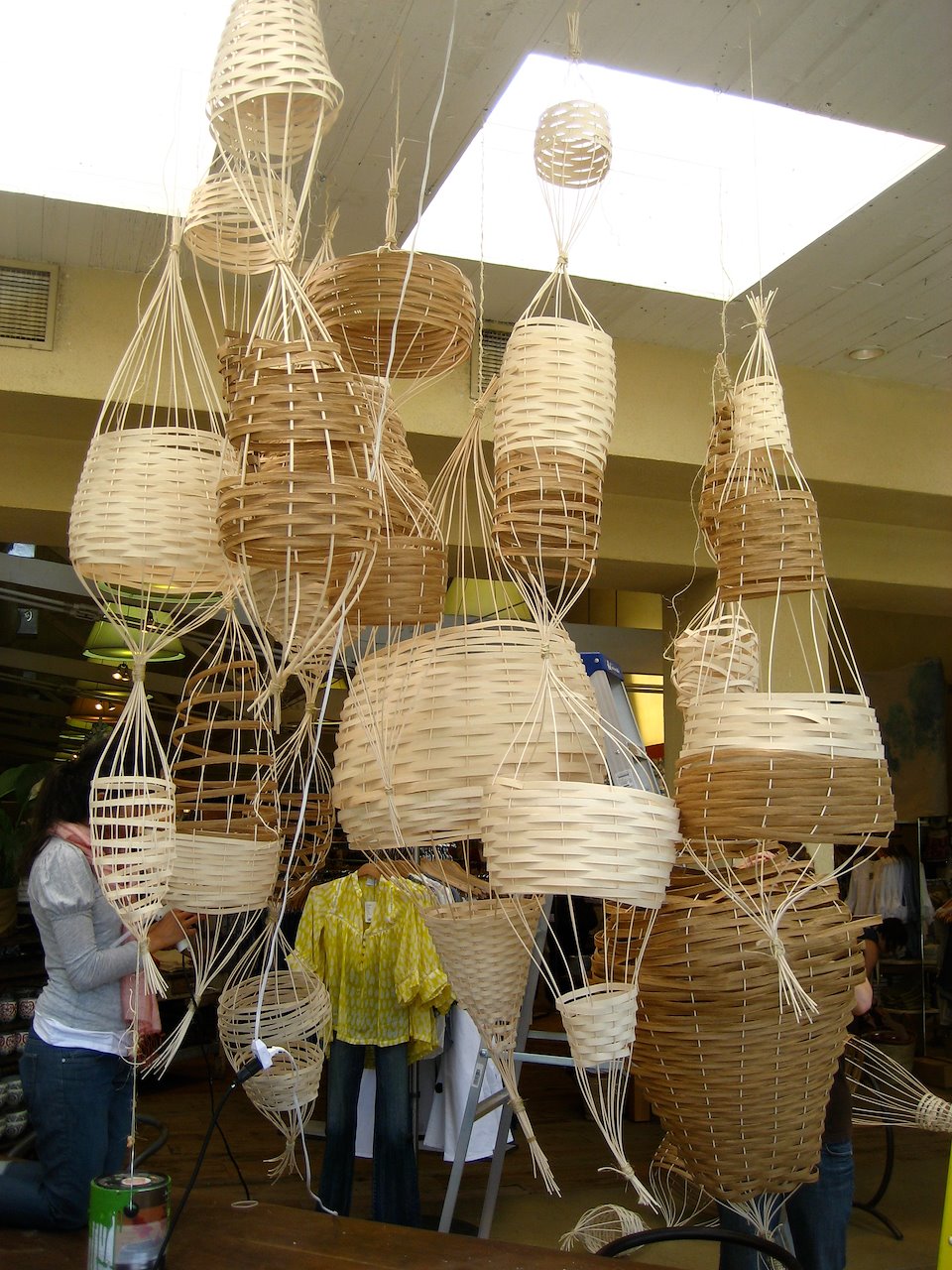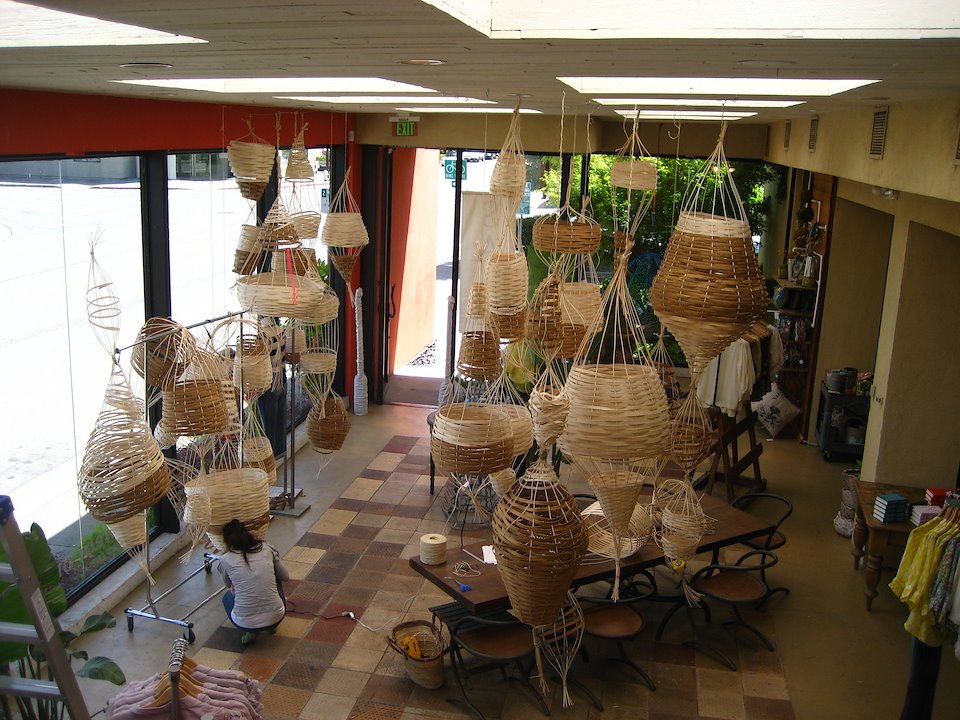 Finished basket display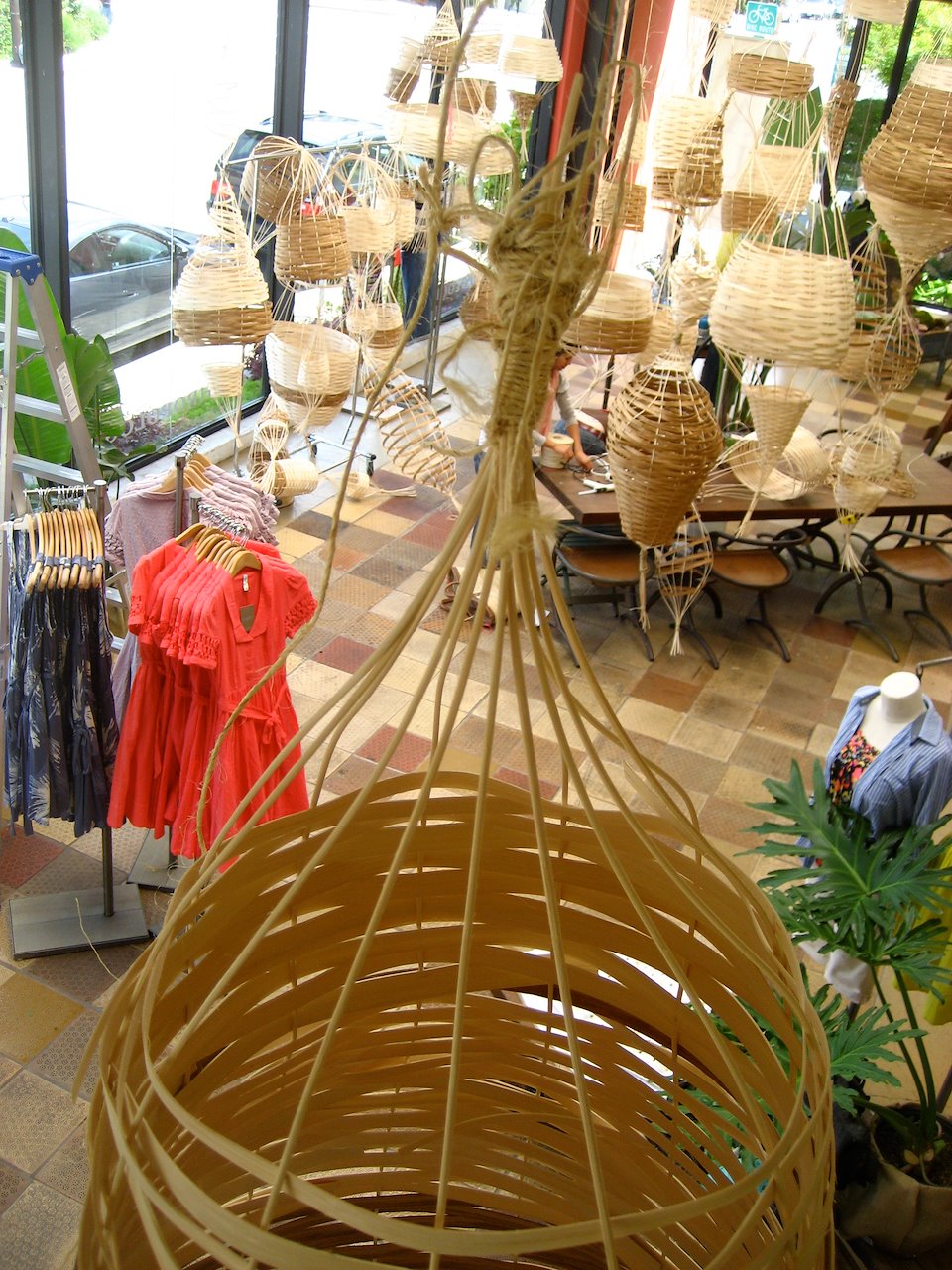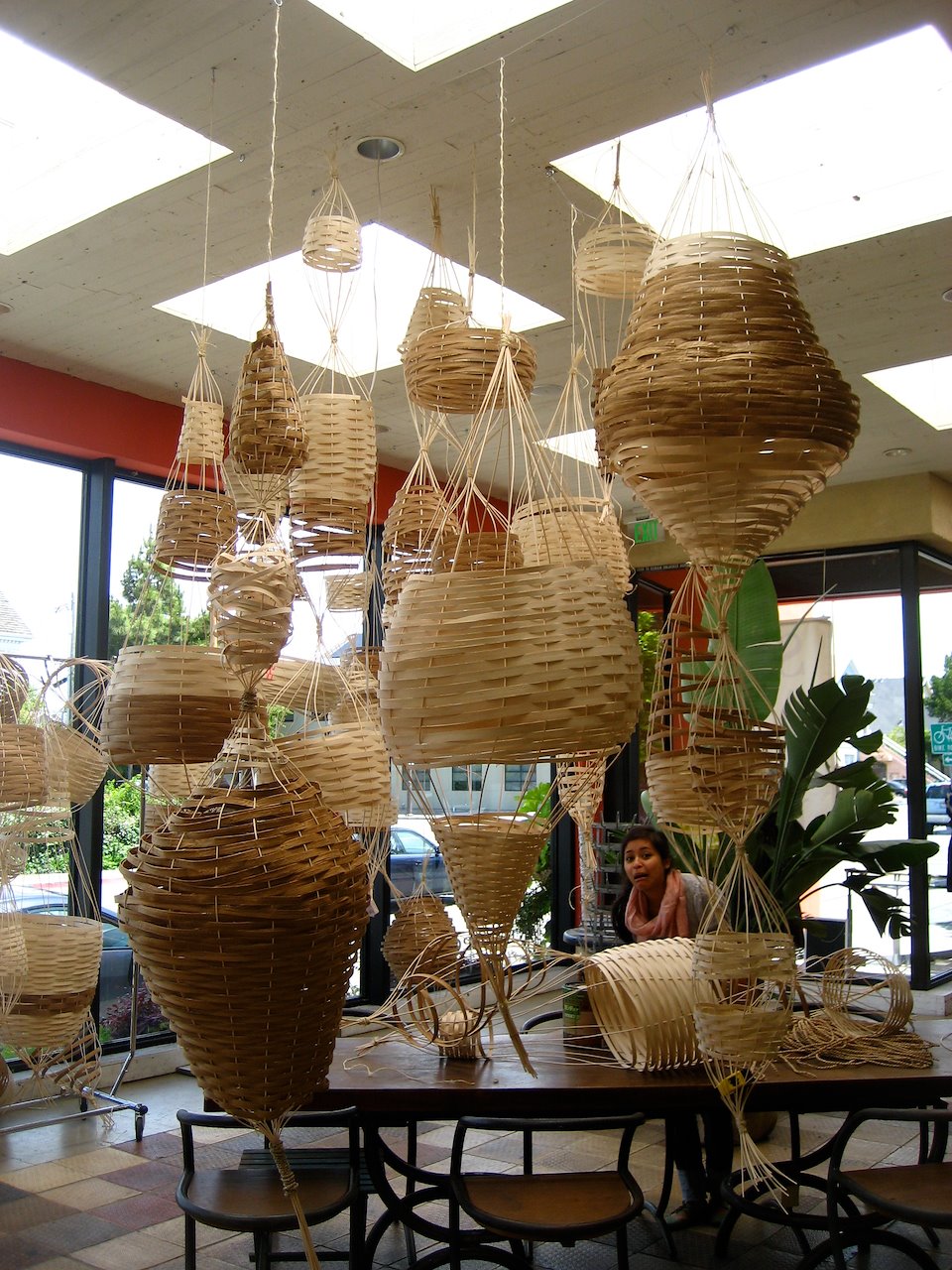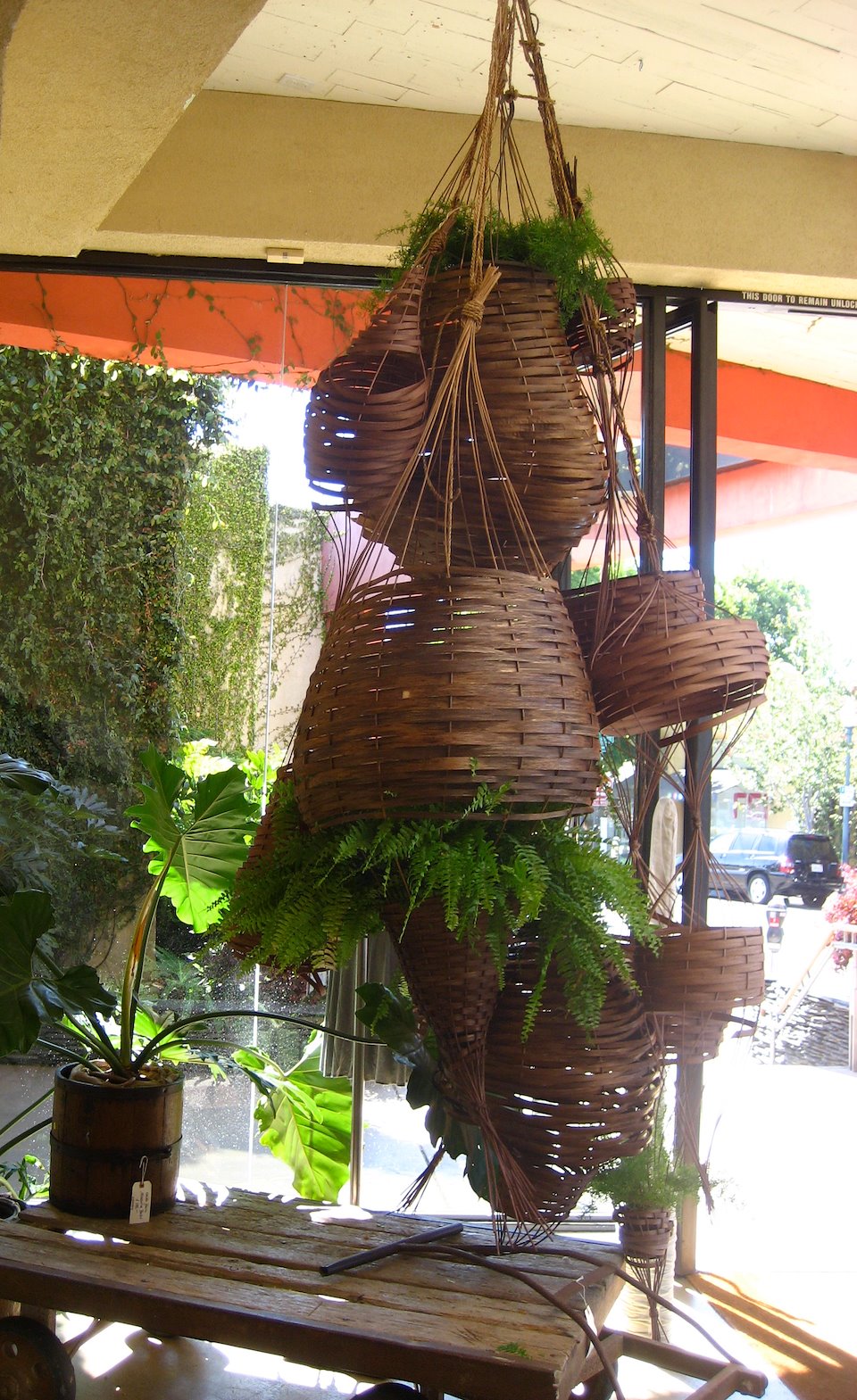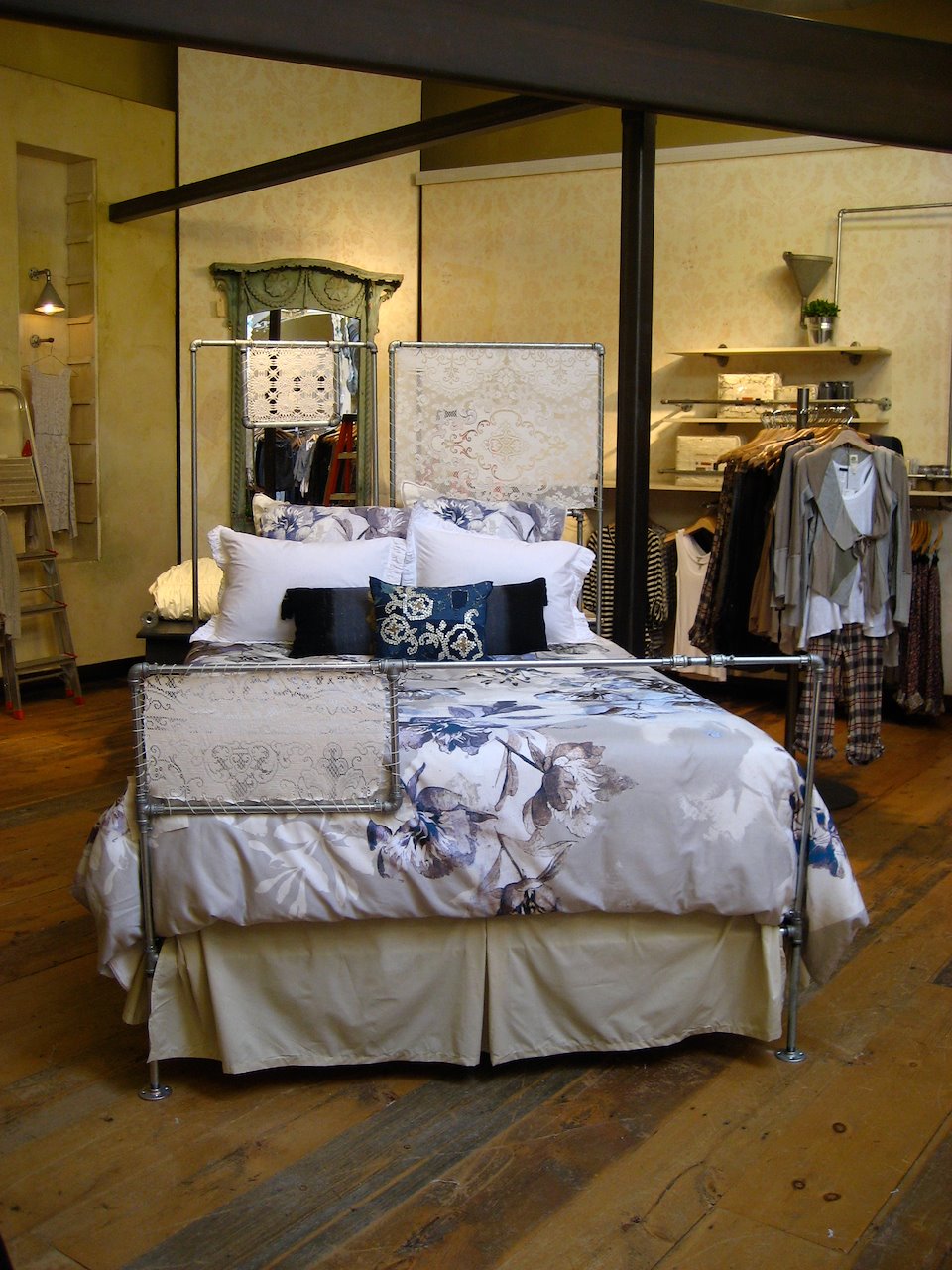 Industrial pipe bed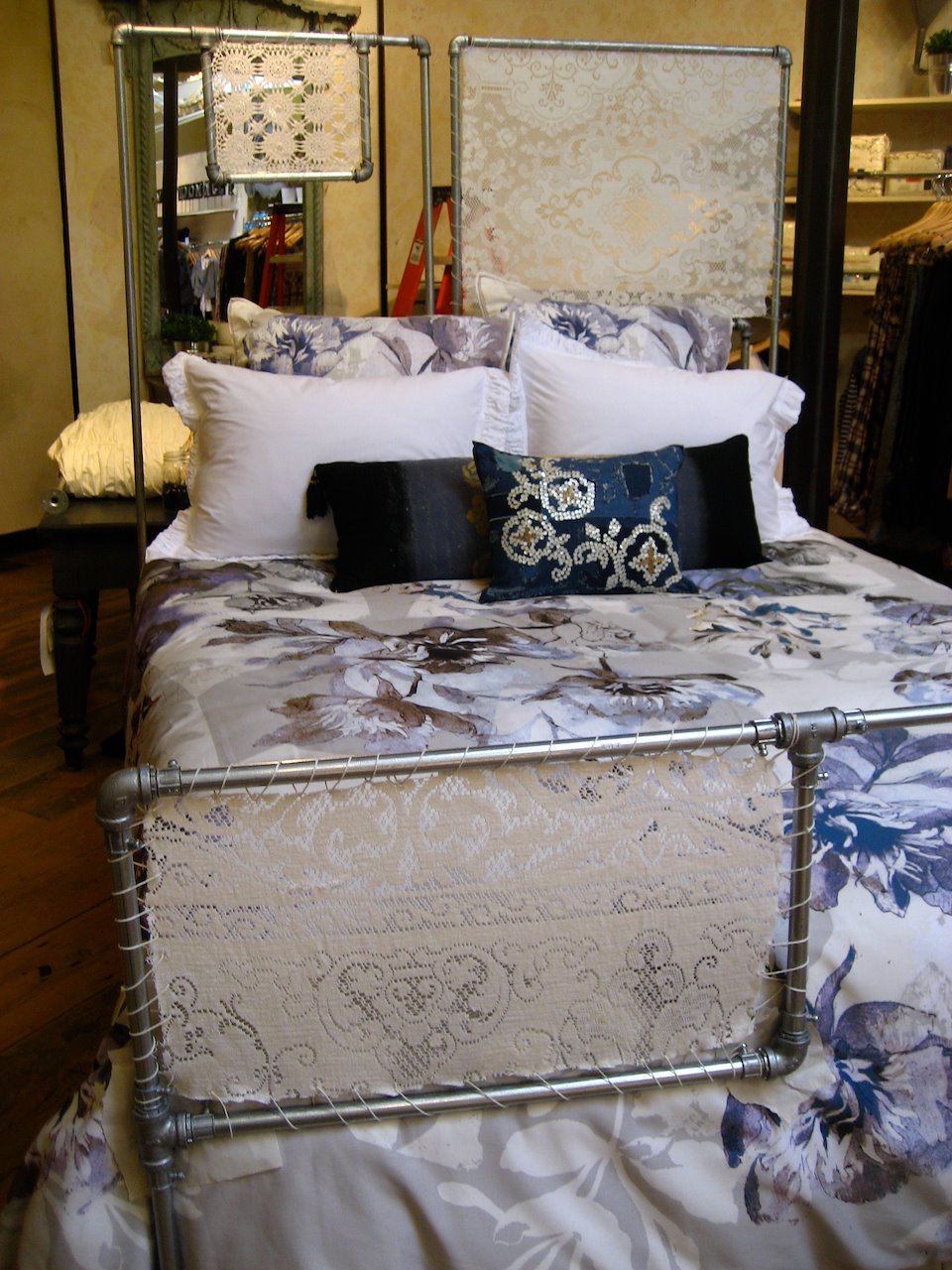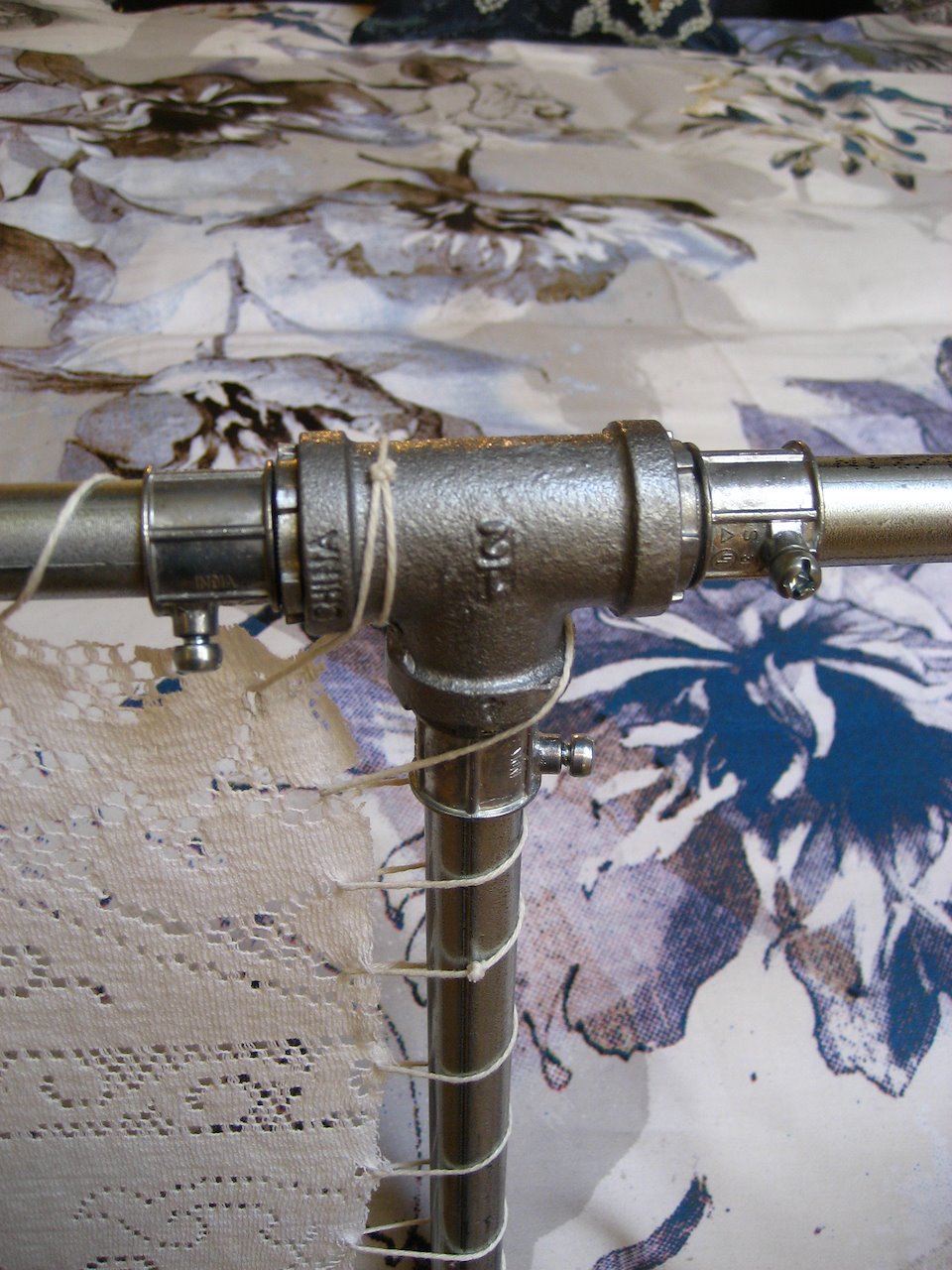 Detail of industrial pipe and lace bed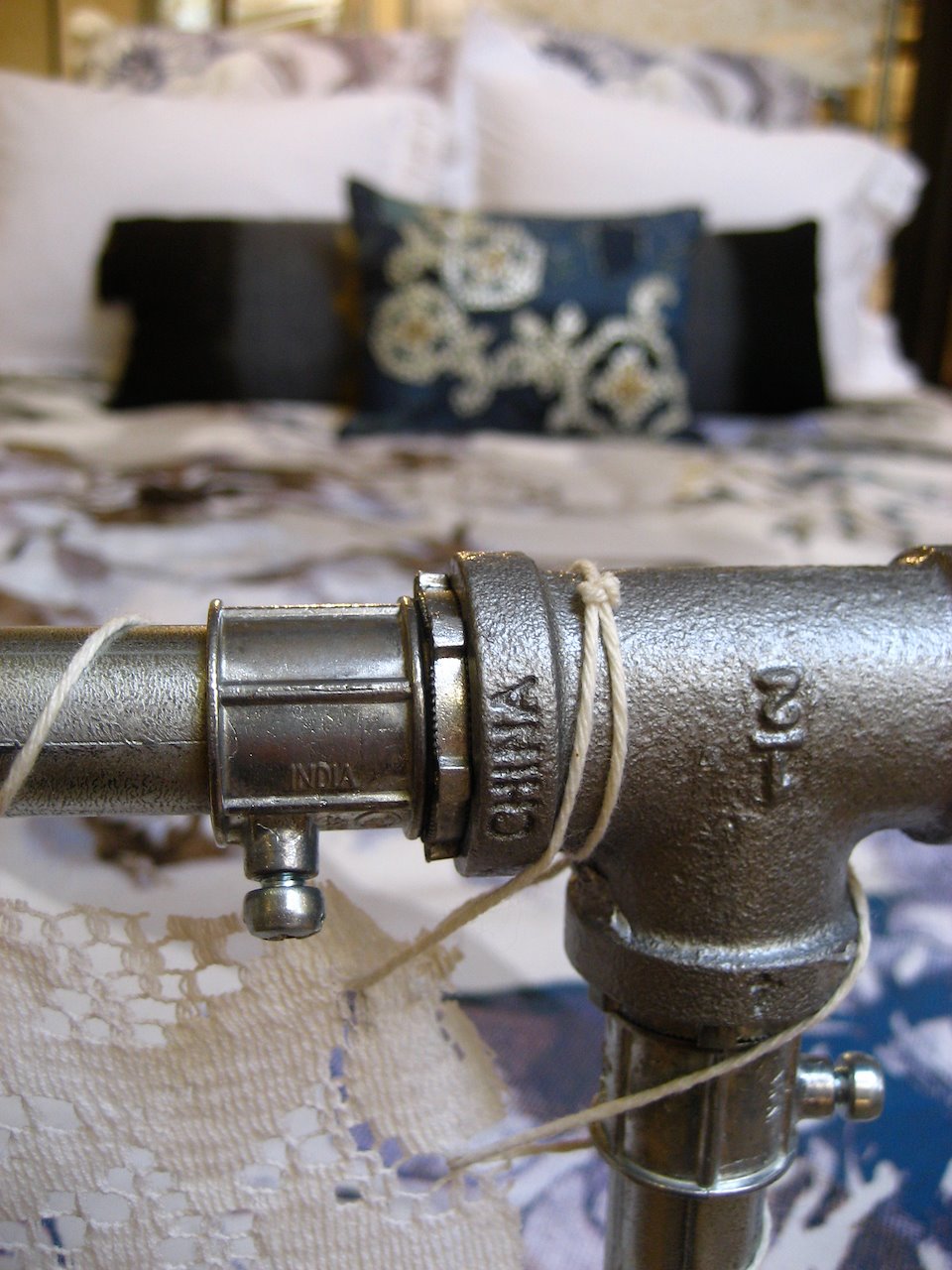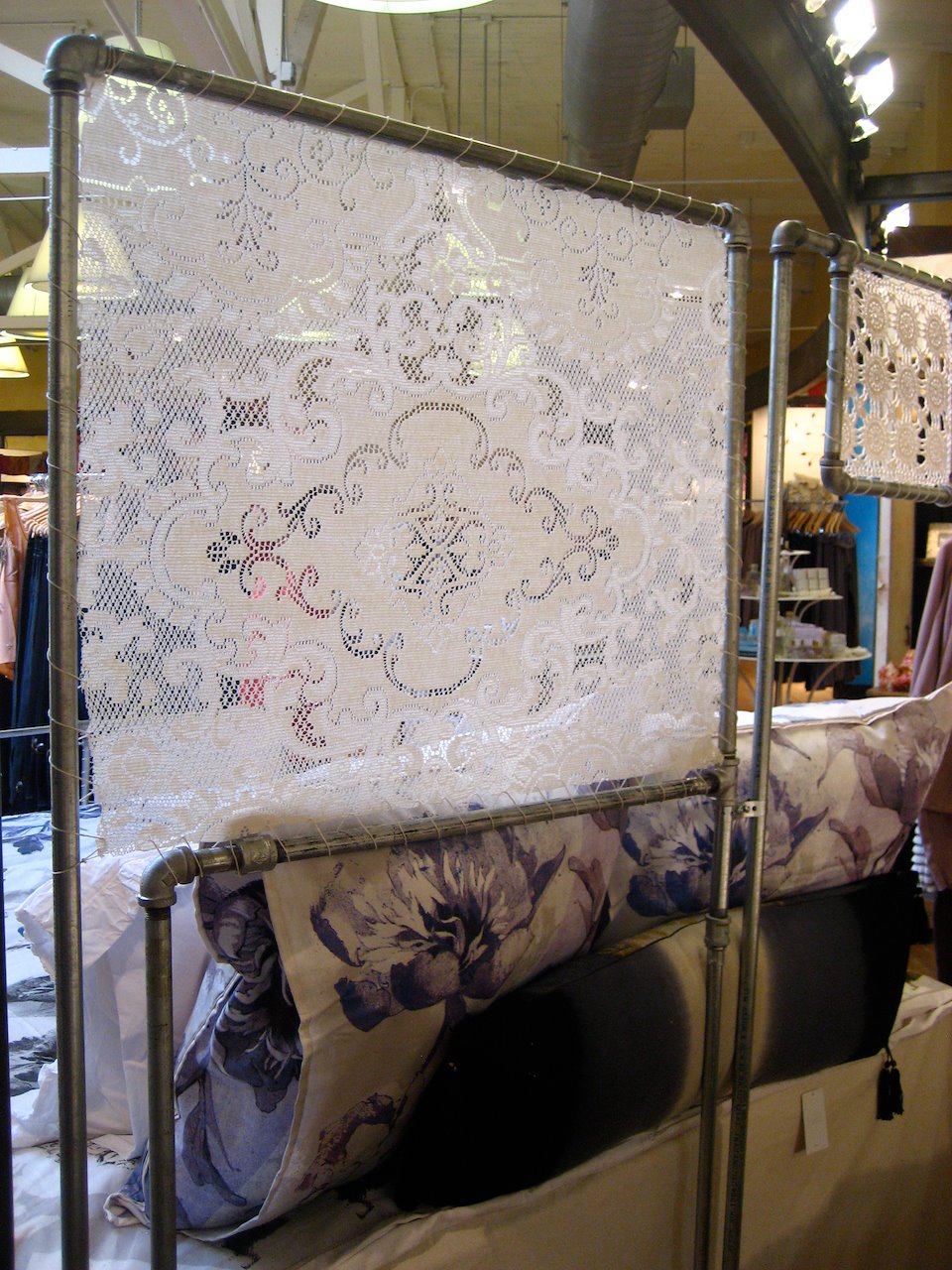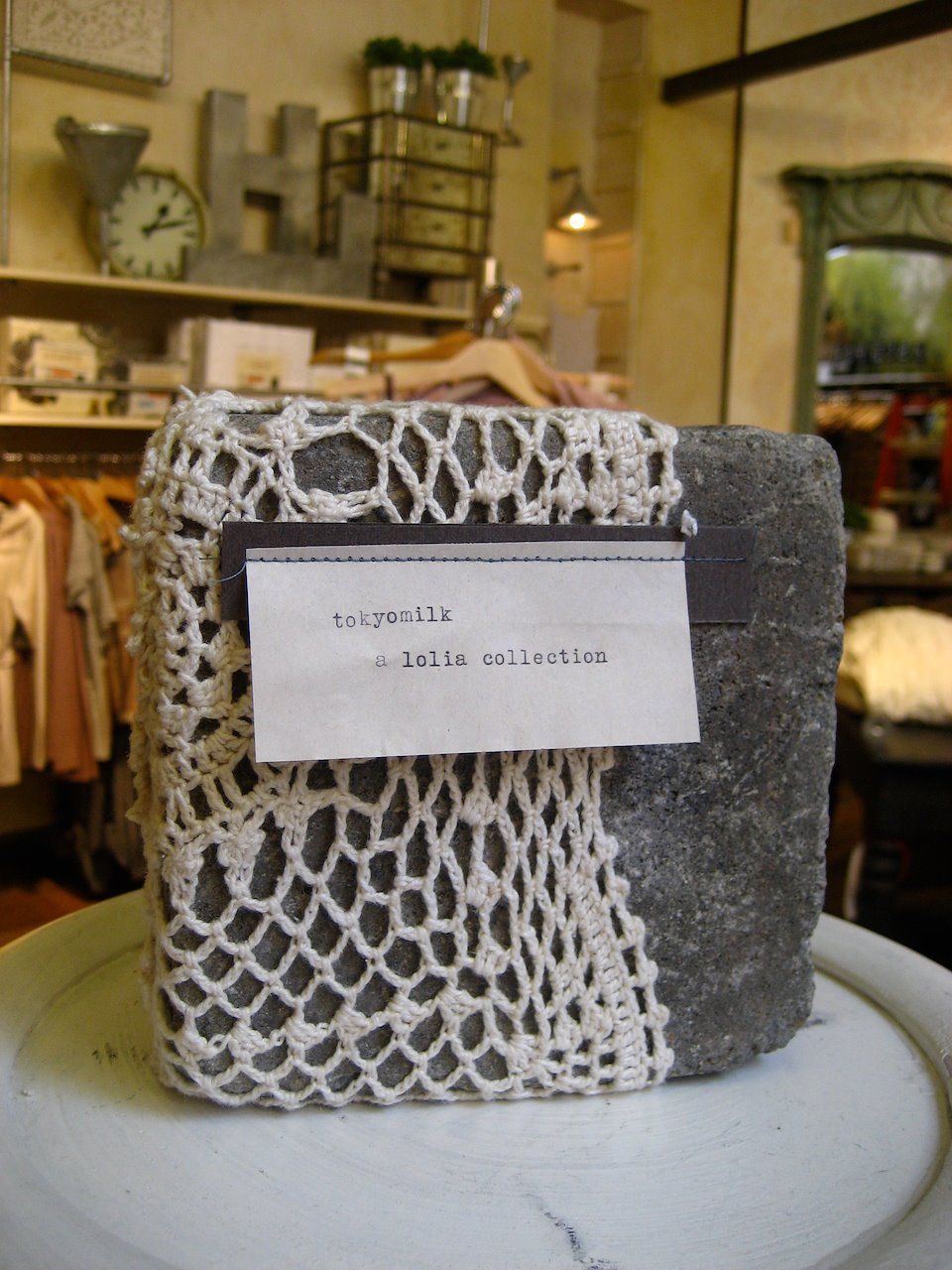 Contrast of lace and concrete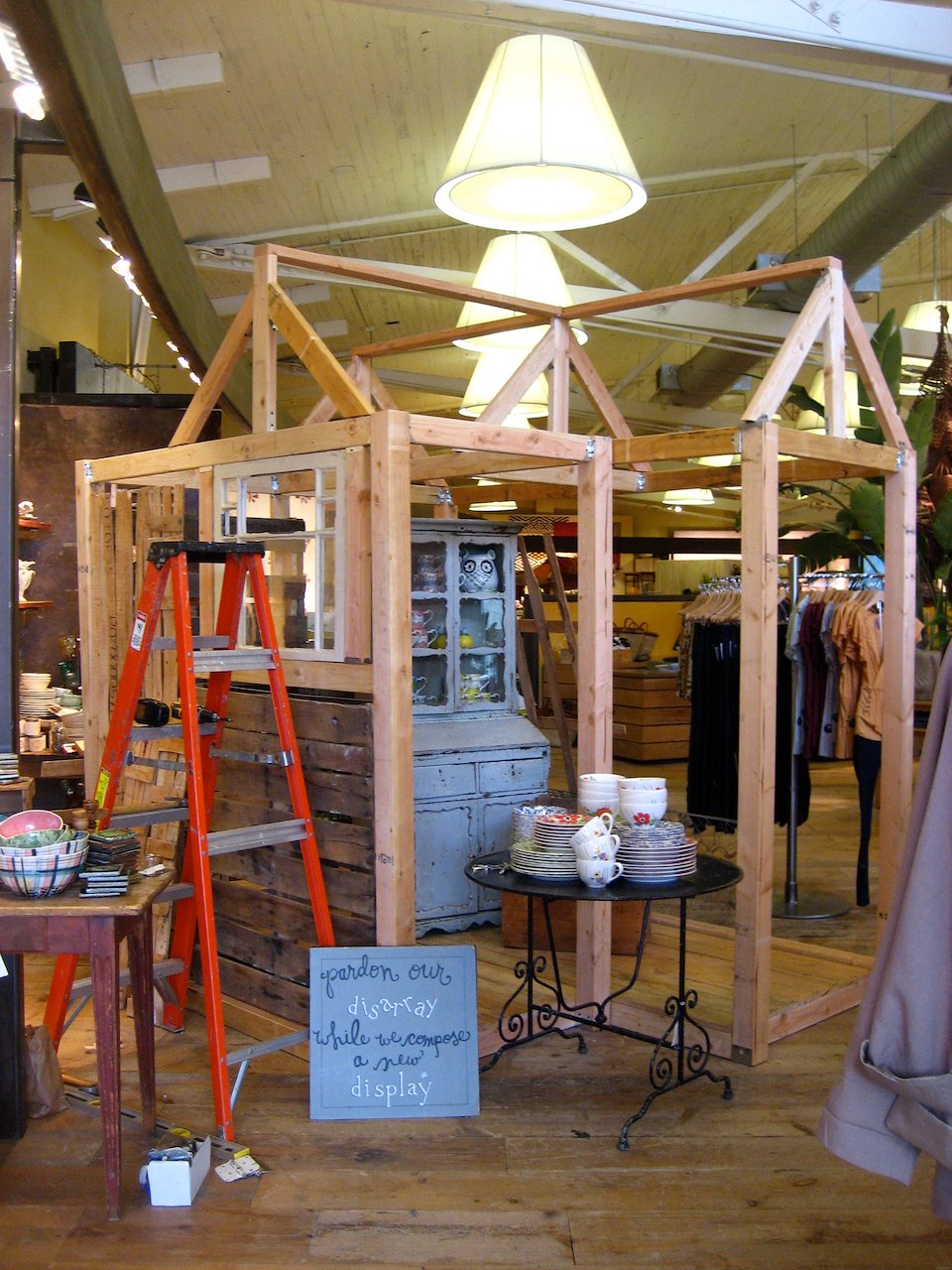 Building a painters shed from scratch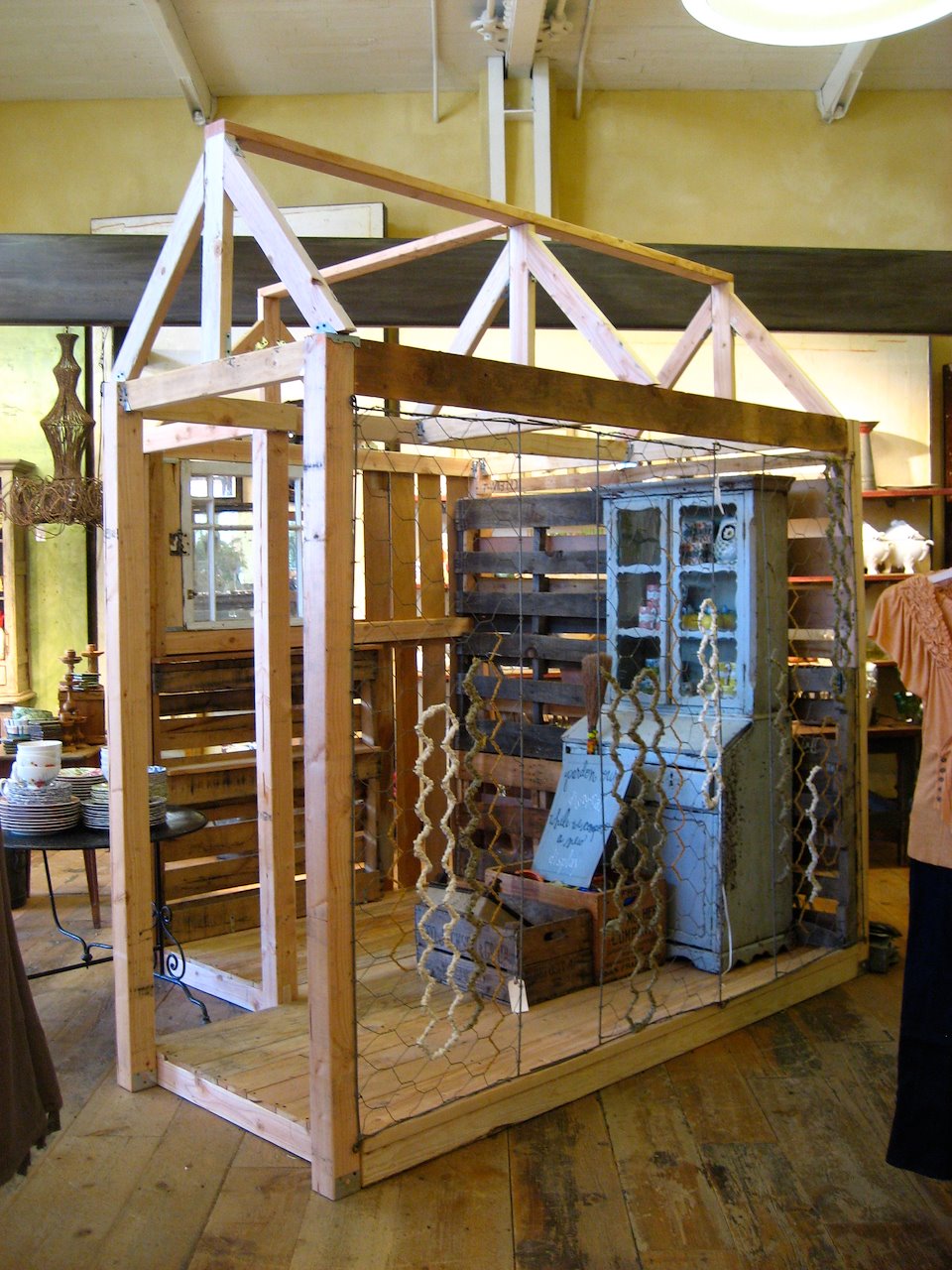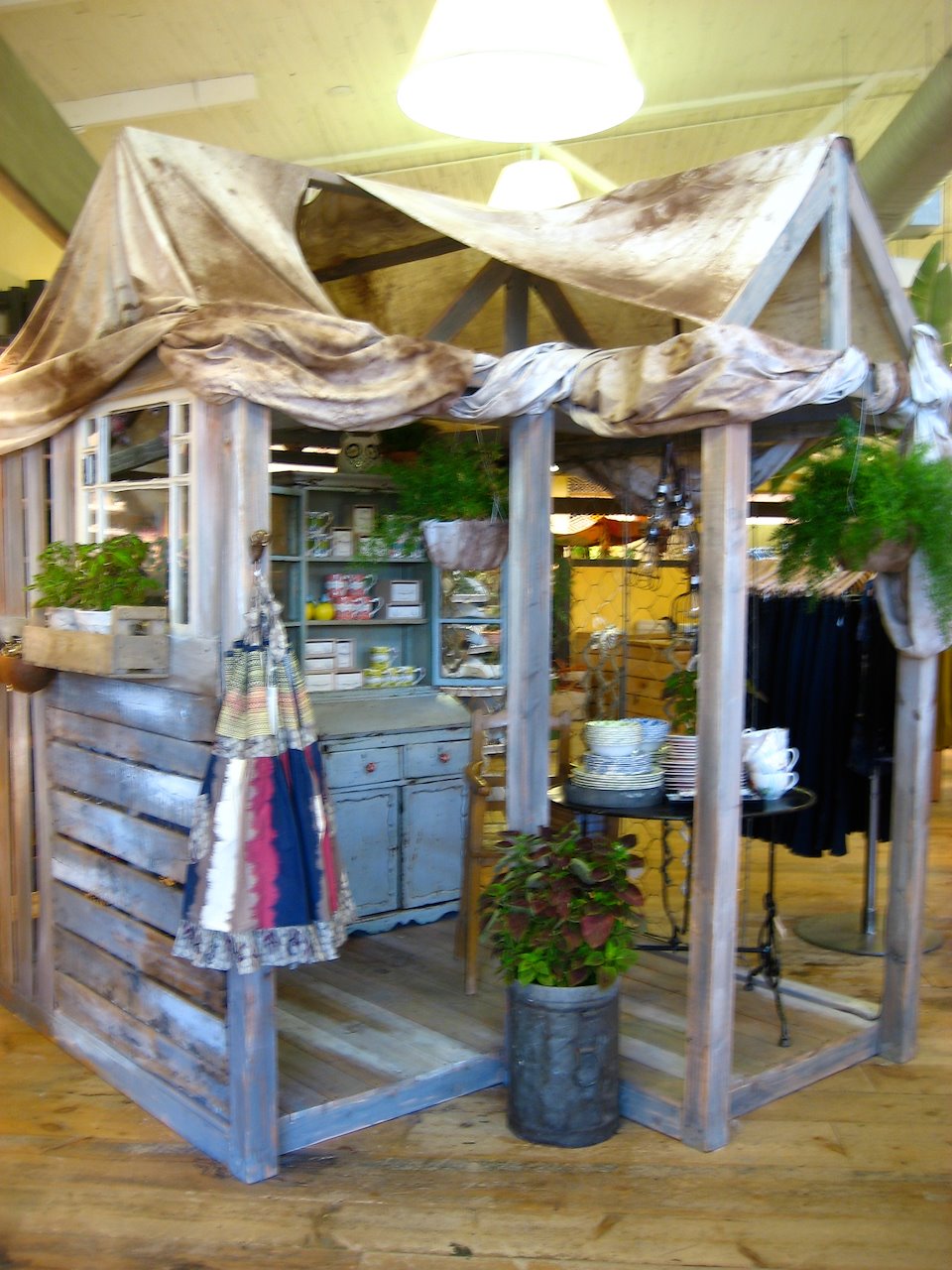 Finished painters shed display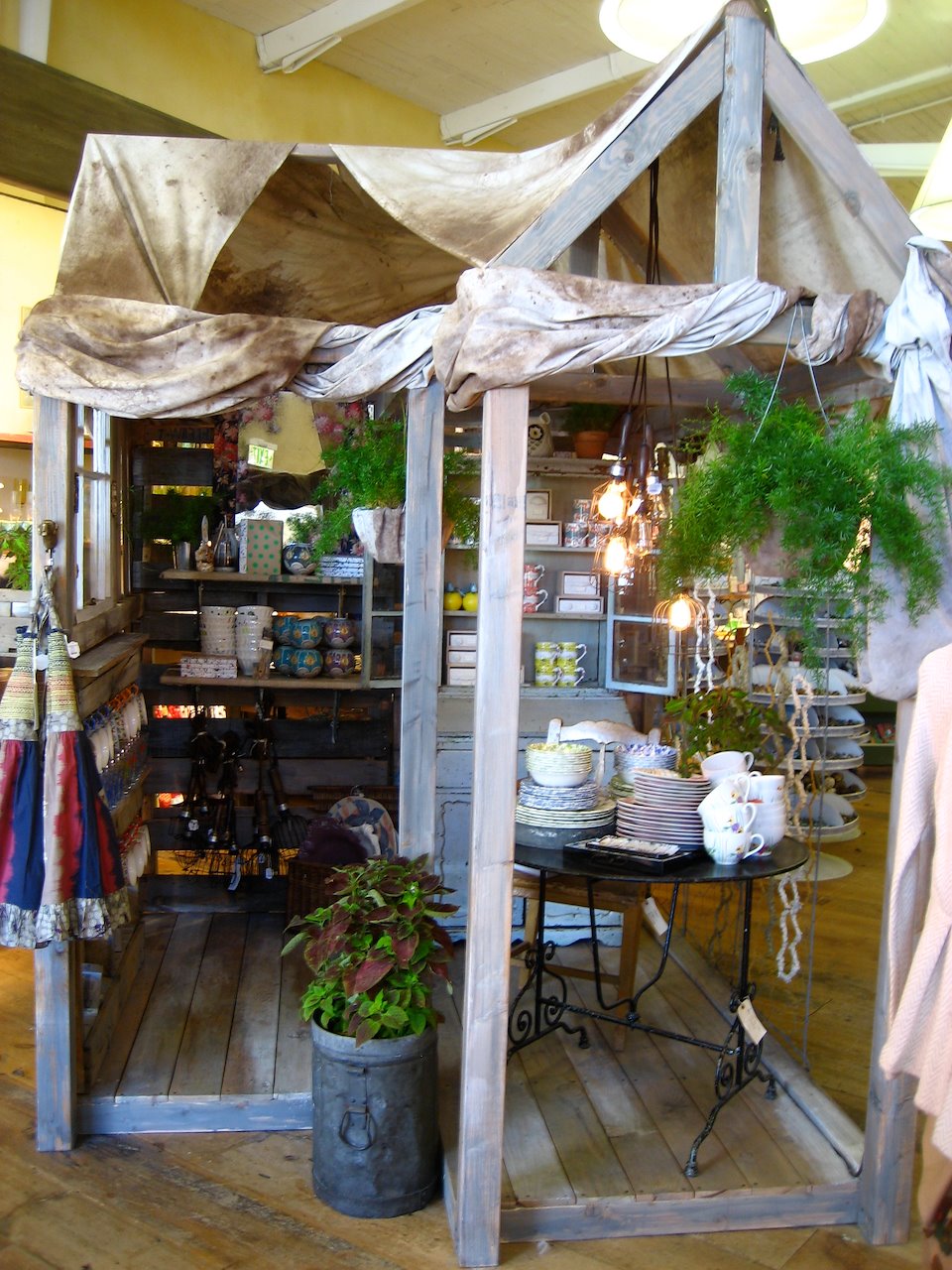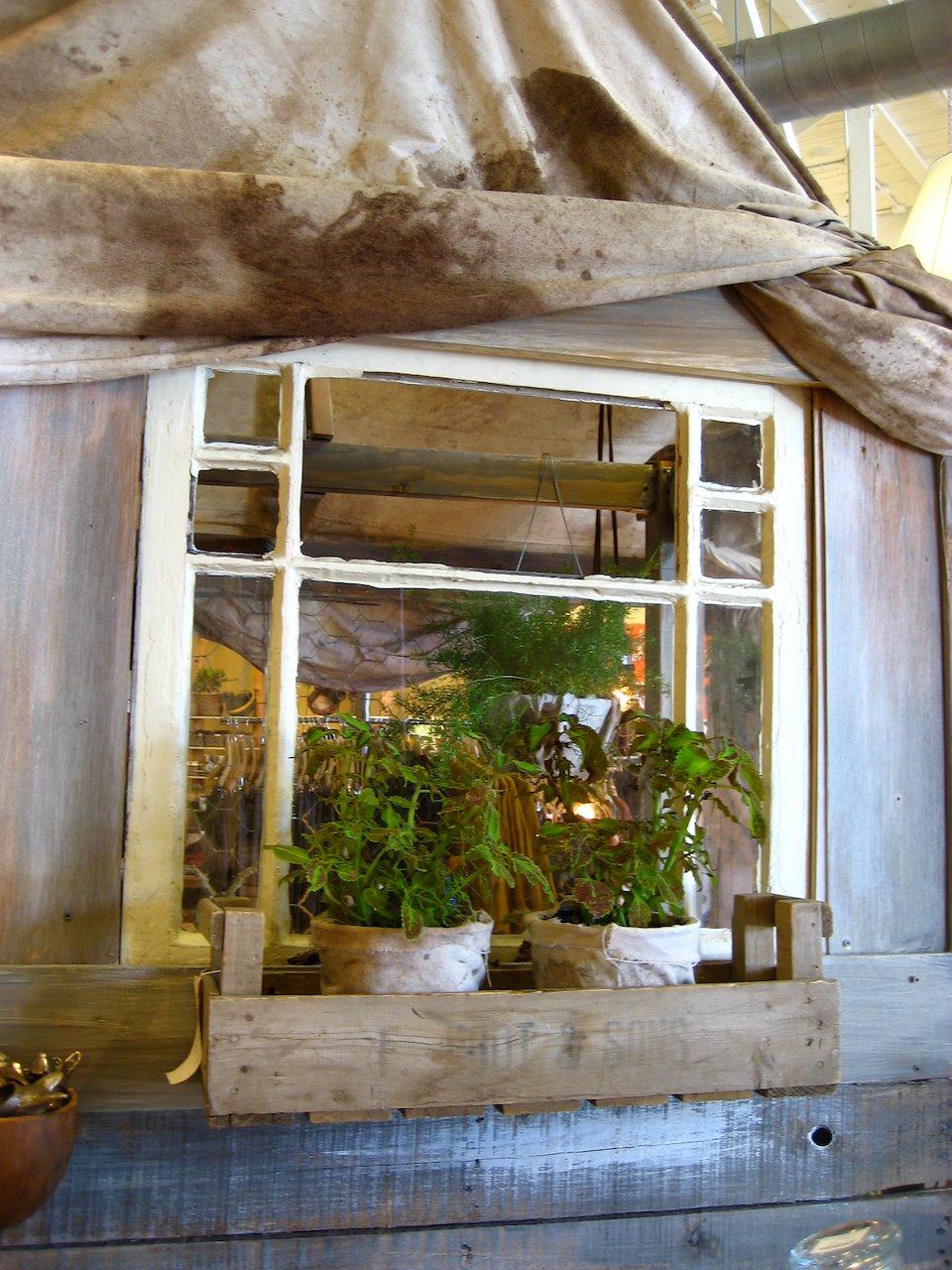 Hand dyed with coffee grounds sheets for roof
Anthropologie Display Internship
I worked directly with the Display coordinator Courtney Cerruti, I developed concepts and hand built three dimensional installations in which to house and promote a seasonal line of products. Merchandising Anthropologie range of jewelry clothes and home goods.I researched, sourced and purchased materials and utilized a great variety found materials and craft techniques to create wonderful over the top tactile one of a kind pieces of art installations.